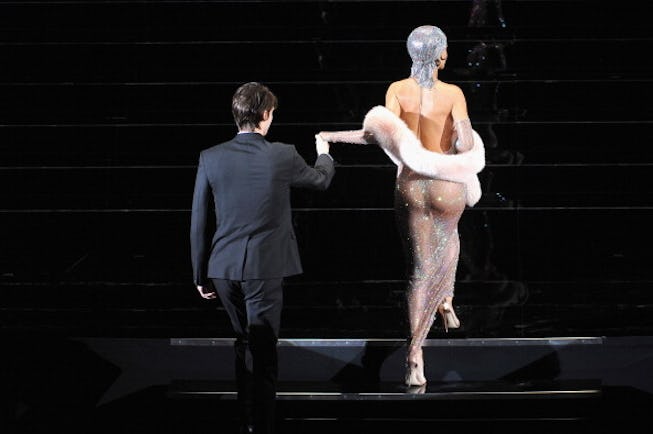 Photo by D Dipasupil/ Getty Images
The Evolution Of The Red-Carpet Naked Dress
19 of our favorite baring-it-all looks
Traditionally, the red carpet has been a place for celebrities to showcase the most expensive, ornate designer works. But after years and years of slinky silk gowns and draped chiffon dresses, it seems as if those very same celebrities have decided to take back the red carpet, making whatever statment they want while wearing whatever the hell they want. And while focusing on fashion—especially nearly naked fashion—may not seem the like the most "feminist" thing to do on the surface, the barely there red-carpet gown has become a huge political statement. By wearing revealing looks, female celebrities have started taking control of their bodies on their terms. And in doing so, they have begun promoting more healthy body images, showing that the female form is beautiful in any shape. 
Click through the gallery to see red-carpet history's most naked dresses. Because if popular culture in 2015 has showed us anything, it's that feminism is an ever-evolving movement, and more and more celebrities are willing to push its boundaries. And if that means more naked looks are to come, so be it. We're ready for it.
Amber Rose at the 2014 MTV Video Music Awards
We're not quite sure if "Runaway" was written about her, but if we know anything about Amber Rose, it's this: She is beautiful, fearless, and the very definition of "sex" personified. Those three qualities all culminated in her VMA Laura Dewitt getup. Sure, the Vegas showgirl ensemble is a homage to Rose McGowan's '98 VMA dress, but that's not what really matters. What does is the fact that Rose is helping to promote a healthy body image—one where women aren't (and shouldn't be) afraid of showcasing their bodies on their terms.
Bleona at the 2014 American Music Awards
The Albanian singer and reality TV star has always embraced her form, whether it be by way of a custom-made metal bodysuit, or a see-through dress. This Shahla Dorriz haute-couture dress was literally sewn onto her body, and apparently needed little but a few pasties and a thong.
Coco at the 2005 MTV Video Music Awards
In the words of Beyoncé, "If you got it, flaunt it." And if your idea of living up to this line means wearing a mesh dress sans pasties with a massive diamond choker, well, you do you.
Irinia Shayk at the 2015 Vanity Fair Oscar Party
This is the first of many negative-space dresses that we'll see on this list, but this Atelier Versace garment is the only one that we think Catwoman would wear.
Jaimie Alexander at 2013's Marvel's Thor: The Dark World premiere
Red carpet-goers (and the paparazzi, and therefore the entire Internet) could see everything when Alexander turned to the side, and while it's a wonder that nobody really made a big deal about it—after all, we all know how the media likes to latch onto so-called "salacious" details—it also says a lot about how far our society has come: We don't have to fuss about a woman's nude body. Instead, we can take it for what it is and admire it.
Jennifer Lopez at the 2015 Met Gala
As soon as the media started focusing on JLo's booty so many years ago, she made one thing clear: She would, too. She knew what the people wanted, and she wouldn't let them down. Her fashion since has stood testament to this, the ultimate showing being the Versace gown she wore to this year's Met Gala.
Lady Victoria Hervey at the 2014 Weinstein Company's Golden Globe party
If you're not familiar with Lady Victoria Hervey, she's a socialite who owns many mesh and sequin numbers. This is one of them.
Miley Cyrus at the 2013 iHeartRadio Music Festival
She's just being Miley. She can't stop, she won't stop. She can't be tamed. She's gonna do her thang. We could keep going with the same, tired Miley puns, but we'd prefer not to. Miley is one of the most badass, true-to-self 20-somethings to come out of the past few years. So let's pack up the Disney star references and whatever reservations society may tell us to have about a strong young woman already.
Rihanna at the 2014 CFDA Fashion Awards
By now, we've all had over a year to process this Adam Selman lewk. And while because still not quite sure if a word better sums it all up better than "wow," we won't even try. 
Rose McGowan at the 1998 MTV Video Music Awards
Sure, Marilyn Monroe wore a sheer dress in her day, but she never did it with half the ferocity that McGowan did in '98. So to us, this is the original naked red-carpet dress, end of story. 
Jennifer Lopez at the 2000 Grammy Awards
It was the dress that shocked and outraged many, and it was the dress that we're sure helped many a people discover their sexuality, but most importantly, it was the dress that launched Google Images.
Beyoncé at the 2015 Met Gala
You know a dress is good when Beyoncé decides to turn the car around and change into it. We don't know whether or not this Givenchy dress was worth putting the Met Gala at a standstill, but it happened anyway.
Chiara Mastalli at the 2014 Three Hearts premiere
There's a lot of nakedness going on in this look—from her exposed chest to her fuschia yonic skirt—and yet there is so much fabric.
Erin Wasson at the 2012 InStyle Golden Globes Party
Some see a nearly naked body, we see an homage to '03 Paris Hilton.
Jennifer Lopez at the 2015 Billboard Music Awards
At this point, you would think we filled our naked Jennifer Lopez quota. But there can never be enough naked Jennifer Lopez. We're sure she'd agree herself.
Kim Kardashian at the 2015 Met Gala
Remember when Kim showed up in this sheer dress that resembled Beyoncé's 2012 Met Gala gown, and then Beyoncé showed up in a sheer dress in 2015, and then we all stopped focusing on that when we found out that Kim was pregnant in this pic? Yeah, it was a lot of information to process.
Lil' Kim at the 1999 MTV Video Music Awards
Lauryn Hill's "Doo Wop" won Video of the Year, Eminem was declared the Artist to Watch, and Will Smith's "Miami" won Best Male Video, but the one thing that everyone will forever remember about the 1999 VMAs is Lil' Kim's manic pixie dream girl/mermaid/rapper getup. And by getup, we mean her left boob pasty, which surely paved the way for pasties to come.
Miley Cyrus at the 2014 amfAR LA Inspiration Gala
This Tom Ford bondage-esque gown feels like Mission Impossible in a dress. It somehow works.
Rita Ora at the 2015 Vanity Fair Oscar Party
Just when you thought you could get through an entire slideshow without using the word "slay," Rita Ora goes and poses over one shoulder whilst serving some buttcheek.