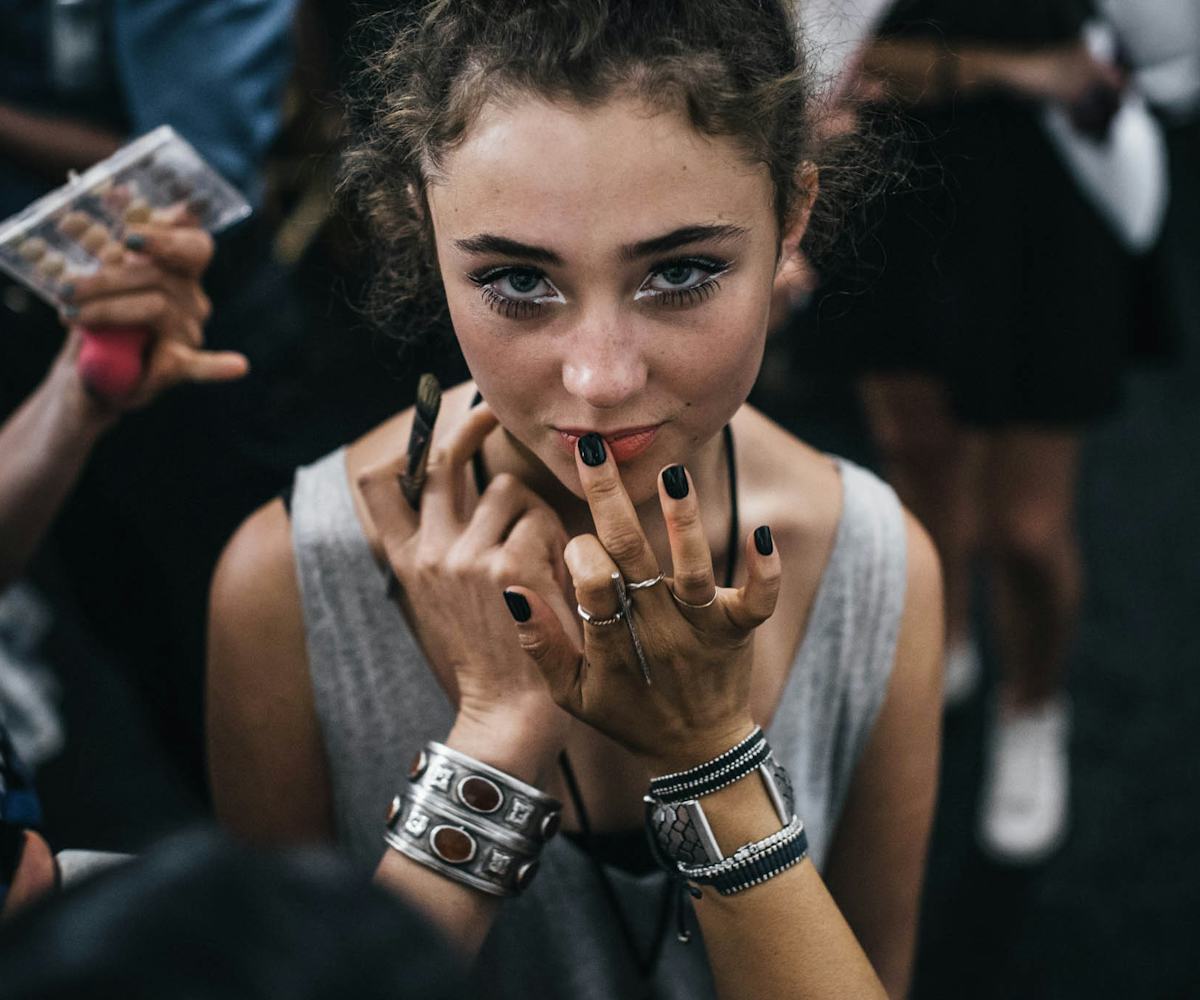 photo by simbarashe cha for lord ashbury, courtesy of nanette lepore
#nylonfw premiere: nanette lepore's spotify playlists
from the runway to your next coastside party.
Season after season, Nanette Lepore has offered up a bevy of rad, fresh items to stuff our closet with—fall's bordeaux separates, last spring's floral minis... This season, though, Lepore served up a particularly envious collection filled with feminine boxy silhouettes, printed swimsuits, strong halters, and even a black and white embroidered caftan(!!!). The only thing that could possibly match up to the early '60s California and the South of France-inspired looks? The runway itself. Not only did models sport one of our favorite beauty looks of NYFW, but they also walked to some of the best fashion week sounds, finishing off the show with one giant, infectious conga line.
If you missed the show, you're in luck. Nanette Lepore has just joined Spotify and curated four runway-inspired playlists for you to jam out to. Listen below, but first, find out more about the collection and its music selections straight from Lepore herself—you'll find out the secrets to throwing an awesome party and learn some killer dance moves along the way.
We loved your spring/summer '15 collection! You've said that it was inspired by early '60s California and the South of France -- was there any particular story behind the collection? 
As a kid, every year we would drive from Ohio to California and there was nothing like the anticipation of seeing the ocean. I always felt the same magic when visiting the South of France. I wanted to channel that optimism, that sunny happiness. 
How did you and Scott Mou decide which songs to feature?
I wanted everyone to feel happy. It was important to mix intriguing new music with feel-good favorites—that's where Scott is at his best. The "Girls Just Wanna Have Fun" remix [by STRFKR] was perfect! I had to be sure the show felt like a dance party. So we planned the music around the finale of our conga line.
photo by Simbarashe Cha for Lord Ashbury, courtesy of Nanette Lepore. 
What's the ideal activity for each playlist?
Sunshine is great for lounging by the pool with friends and family — feel-good vibes! 
Breezy California Dreaming is perfect for a drive down Route 1 on a breezy mid-summer day with the music turned all the way up and the top down.
South of France Savoir-vivre is the theme song to my fantasy New Wave film set in a bustling French port side café. 
I make a point to be known for throwing crazy dance parties so if you're looking to get people moving, Lepore Dance Party is the perfect mix. 
You ended the runway show with a conga line. What other dance moves should we bust out when listening to these playlists?
I could imagine that some samba, salsa, and even a few '60s surf rock grooves could be appropriate. It's only about having fun and feeling free! Dancing is a great way to remind yourself how exciting life can be.
What are your tips for throwing an awesome party? (Aside from blasting these playlists, that is.)
A great party starts with an eclectic mix of people and the right mindset. Don't stand on ceremony, dance on tables.
Can we look forward to any between-season playlists?
You bet!! I'm so excited to team up with Spotify.