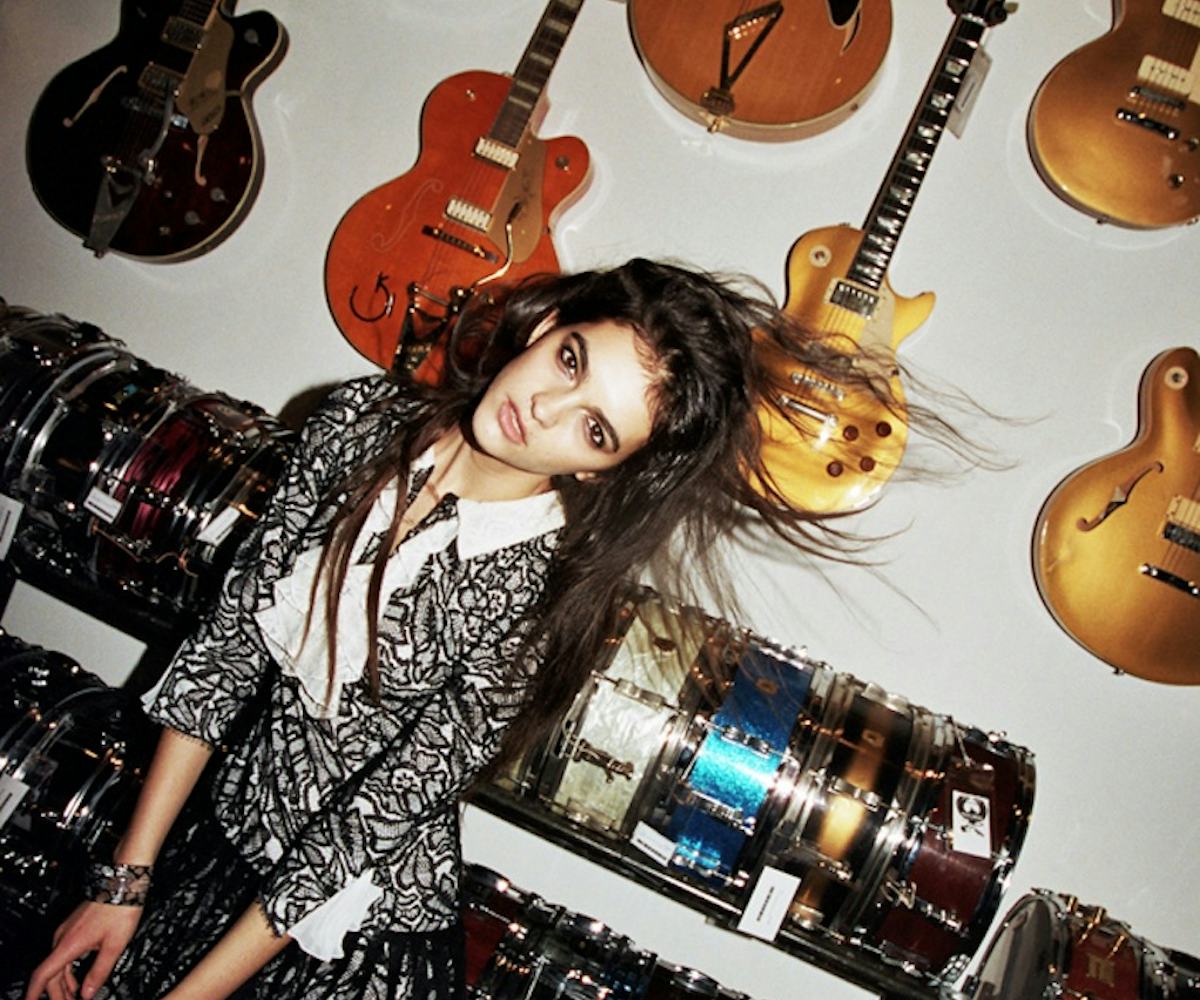 photographed by silja magg
48 hours in nashville
make music city your next weekend trip.
For a place with such a rich musical history, Nashville has not rested on its laurels. In fact, in recent years, the city has consistently sprouted some of the country's coolest new stores, restaurants, and venues. The best approach to 48 hours in Music City? Deftly hopscotch between the storied and the brand spankin' new.
DAY ONE:
11 a.m. Beeline from the Nashville airport to the Hermitage Hotel, a more than 100-year-old hotel ideally situated downtown. Stow your bags, then get your bathroom selfie out of the way—the hotel's black-and-green Art Deco-style downstairs restroom is as famous as these things come.
12 p.m. For a taste of the new Nashville, head over to Pinewood Social, a hybrid restaurant, bar, cafe, and bowling alley owned by the Goldberg brothers, who are behind a handful of the city's hippest upstarts. Start with the smoked trout dip and fried broccoli and see where things go.
3 p.m. Uber yourself to the Country Music Hall of Fame, which is much more lively than one might expect—thanks especially to the famous Hatch Show Print letterpress shop on the ground floor, renowned for its posters of everyone from Dolly Parton to Weezer.
4:30 p.m. Take advantage of the CMHOF's field trip option: Buses outside of the museum transport visitors to RCA Studio B, one of Elvis Presley's favorite places to record. Even casual fans will have a spiritual experience.
5:15 p.m. You'll need something snazzy for the honky-tonks tonight, so swoop into the new boutique Local Honey and set yourself up with some cowboy boots and a healthy dose of fringe. Need a bang trim, too? There's a salon upstairs.
8 p.m. There is a reason why Rolf and Daughters has become a national hit—its inventive take on farm-fresh fare would make it a star in any city.
10 p.m. On the corner of Broadway and 5th Avenue downtown, you'll find three of Nashville's most epic honky-tonks lined up in a neat little row for your bar-hopping pleasure. Start at Legends Corner, then do-si-do over to Tootsie's Orchid Lounge before making your final stop at Robert's Western World. There is a reason to save this one for last, and that reason is a fried bologna sandwich.
12:30 a.m. Arrange thee an Uber ride to The 5 Spot in East Nashville. It's a go-to for locals on any given night, but Monday nights are the best, when the weekly "Keep on Movin'" dance party gets everybody going with gems from the '50s and '60s.
DAY TWO:
10 a.m. A less intrepid traveler might take breakfast from the comfort of The Hermitage Hotel's absurdly plush hotel bed, but you're better than that: Head to Hillsboro Village to observe the scene outside of the ever-popular Pancake Pantry. Then walk across the street to Provence Breads& Cafe instead. Order a bacon- and-egg tartine, which is prepared simply and perfectly.
11 a.m. Still wanna shop, huh? Head over to 12th Street for perfect-fitting denim at longtime NYLON favorite Imogene + Willie. Nearby Katy K Designs has both an iconic exterior (RANCH DRESSING is emblazoned on the side in bright yellow letters) and an equally pleasing interior, filled with quirky vintage pieces.
12:30 p.m. Head over to East Nashville for lunch—the tiny Mas Tacos has drawn more than a few people from the city's tourist center. Make sure to order the grilled Mexican corn on the cob.
1:30 p.m. Five Points—where Woodland, Clearview, and 11th streets intersect—is ground zero of East Nashville's retail scene. Wander from shops like Goodbuy Girls (vintage), The Fiddle House (instruments), and Wonders on Woodland (antiques).
2:30 p.m. A bit farther from the epicenter of East Nashville, you'll find Fond Object, a record store, clothing boutique, music venue, and petting zoo (!) co-owned by the members of The Ettes. Ask nicely if you can pet the pig.
3:15 p.m. Take a minor detour south for a quick drive-by tour of "Little Hollywood," a quirky hot pink mini mansion where a wide range of influential musicians are said to have lived. Weird, considering it's not exactly discreet.
4:15 p.m. Stop into Peg Leg Porker downtown for barbecue that's as sweet and smoky as one could hope for. Don't pass up the amusing "Memphis Sushi" appetizer, which is composed of Saltines, sausage, and slices of cheddar cheese.
5 p.m. It's time to load up on some of the music you've fallen in love with so far. First, stop by Jack White's tiny, arcadelike shop, Third Man Records, then head over toGrimey's for a wider selection and a little more breathing room.
7 p.m. If you can snag a seat at the storied venue The Bluebird Cafe, it would be more than worth the trouble. The spot is basically a character on the ABC hit , and that friendly connection to both new and old Nashville makes it the perfect place to toast to a great trip.
Want to stay up to date with all the awesome stuff going down in Nashville? Subscribe to our NYLON Daily Nashville newsletter below to get the scoop on parties, sales, concerts, and more sent straight to your inbox on the reg!
The Bluebird Cafe
Imogene+Willie
Katy K
Pinewood Social
Local Honey
Mas Tacos
Hatch Show
Mas Tacos
Goodbuy Girls