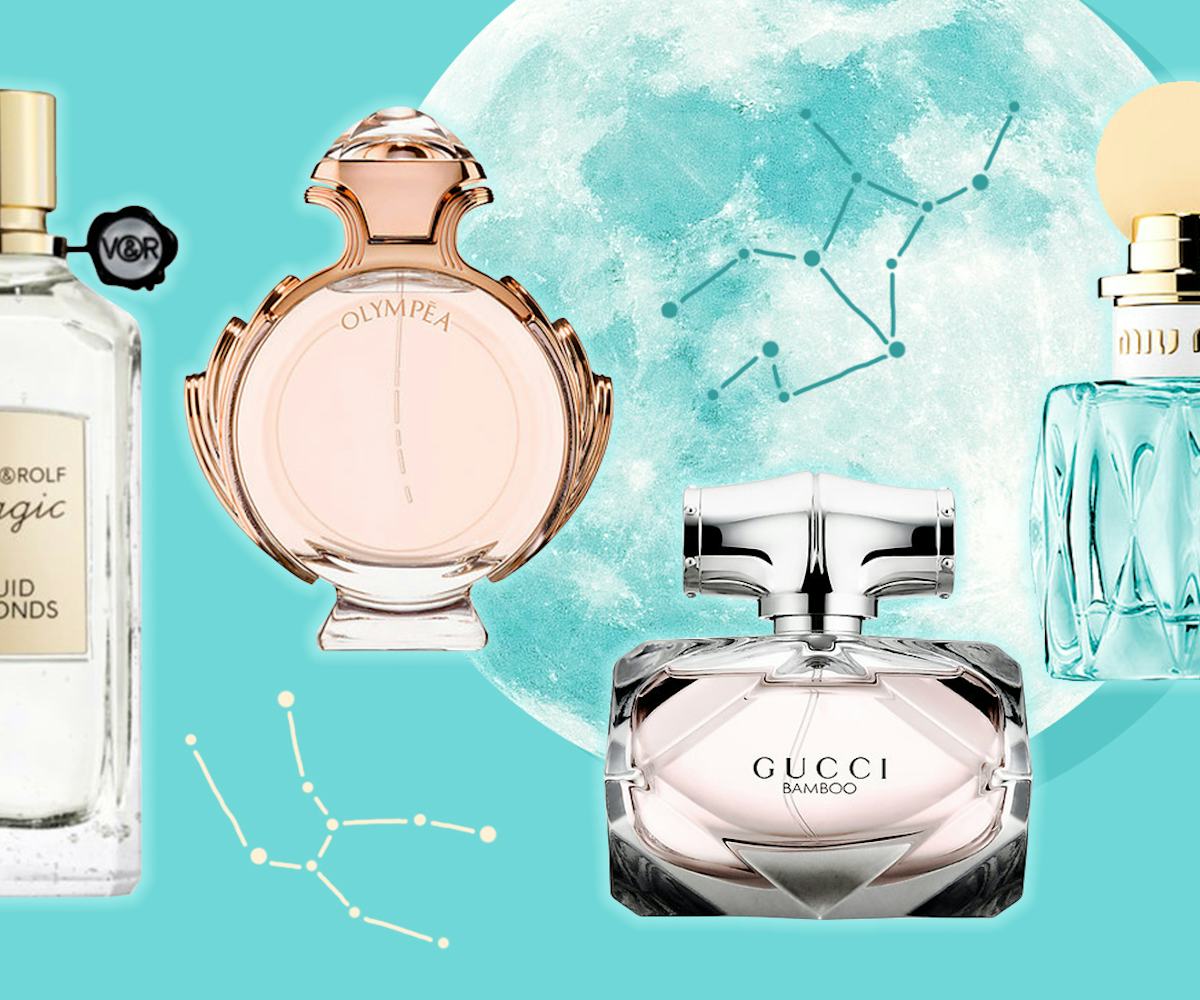 Based On Your Zodiac Sign, Which Spring Scent Is For You?
In time for National Fragrance Day
Not only is spring officially in the air (finally!), but today just so happens to be National Fragrance Day. Here, then, are the best spring scents for you to wear, all based on your astrological sign.
Aquarius: For many Aquarians, there's no greater pleasure than finding something beautiful about the world. When there is chaos, Aquarius craves an elegant moment they can fold into and become part of—even if for just an evening. And what's more chaotic than spring? The shifting weather, the ground bursting open with new shoots, flowers fighting their way to the surface, the chance of just one more storm. Where can a girl find elegance in all the tumult? Aquarius need look no further than Elizabeth Arden's White Tea eau de toilette, the perfect pairing for an Aquarian in their quest, an effortless scent to travel with them from day into night. Thanks to the beckoning fragrance of white tea, the bright notes of citrus and warm wood, all chaos melts away. Dressed in this scent, Aquarius can't help but communicate ethereal worldliness, a beauty that beguiles beauty.
Elizabeth Arden, White Tea, $49, available at HSN.
Pisces: When Pisces queen Rhianna sings "I might be bad, but I'm perfectly good at it," all Pisces can't help but sing along. That's because a Pisces knows when being good is just about learning the rules so they can break them. They are switchy, dual-natured sex witches who know when to swim with the current and when to swim against it. Consider then, Carolina Herrera's Good Girl eau de parfum spray. Sensual and full of contradictions, the scent balances the sweet, girl-next-door elements of jasmine and tuberose with sexy notes of cocoa, almond, coffee, and tonka. A Pisces wearing this fragrance embodies the enchantress they were meant to be. And, for every Pisces who's wondered what their essence would look like if it were a bottle, look no further than this dark blue high-heeled work of art.
Carolina Herrera, Good Girl, $115, available at Macy's.
Aries:
"He had been looking for her for months all over Los Angeles. This perfect stranger, with her fragile and elegant silhouette, was the perfect incarnation of the natural and fresh beauty."
This description, of Atelier Cologne's Clémentine California Cologne Absolue Pure Perfume, makes me wonder if they knew they were speaking directly to the romantic soul of the Aries. A young heart in love, Aries imagines the object of their affection long before they know them. They build a castle for their lover—a castle on the volcano's edge. They quest and fall, and ask questions after. They want total devotion yet freedom. A fireman who brings roses, an artist who builds sculptures with a tongue of fire, a lover who adores and knows when to leave them to their own secret world. Something both feminine and masculine in their affection, love like a bottle of clementines and juniper misting the air with hints of pepper, Haitian vetiver, sandalwood, and cypress—lest you forgot that within that young heart burns an enduring passion. But, truth be told, their lovers never forget.
Atelier Cologne, Clementine California Cologne Absolue, $130, available at Sephora.
Taurus: Is there any affection more enduring than that of a Taurus? Their energy is a lighthouse for wayward hearts and dinner table always open for another guest; so long as they respect a Taurus home, they can stay long as they like. What scent could capture such a strong and nurturing spirit? Carla lavender from Provence, sambac jasmine from India, album sandalwood from Australia, and vanilla tahitensis from Papua New Guinea, all in a gorgeous glass bottle designed in 1908 France to resemble an alchemist's elixir. A Taurus loves when the world comes to them. And, it doesn't hurt that this perfume was inspired by none other than Angelina Jolie, a woman who exudes strength, sensuality, and gives zero fucks about what you think.
Guerlain, Mon Guerlain, $94, available at Sephora.
Gemini: If girls just wanna have fun, then Gemini girls want that fun turned up to 10 with a dash of risk and a sprinkle of the unexpected. That's why Nolita by Bond No. 9 is the perfect fragrance for a Gemini looking for lavish play in the downtown streets. The scent is flirty and fun, bringing freesia and tangerine to the forefront, but it means to keep you hooked by the nose with undertones of lilies, rose, jasmine sambac, soft amber, musk, and sandalwood. And, if the sexy scent in a bottle covered in kisses isn't enough to grab a Gemini's attention (which is so easily diverted!), then the innovative matching lipstick, in the perfect red, that comes with the fragrance is sure to stop them in their tracks. When day turns into night and the streets are alight with beautiful women, a Gemini in Nolita is promising you love, and no one can resist, even if it's just on the dance floor.
Bond No. 9, Nolita, $350, available at Bond No. 9.
Cancer: A Cancer is a mystery. They want to get to know you, to bring you close to them, so that they know what they are working with. Cancer's got an outer shell that's bright and unusual, they're indirect but not shy. They'll come right up to you and ask you your name, but they might never tell you what prompted their curiosity. A Cancer knows how to make you feel cared for just by looking at you, and they know how to make you feel intimacy without giving up much of themselves at all. Once you get past that shell, it's all ocean, depths of emotions and passionate odes. That's why Paco Rabanne's OLYMPÉA, boasting fresh floral notes of water-grown jasmine, is the perfect scent for a Cancer in springtime, when hearts burst open like the first buds of May. And, with a salty vanilla accord, Cancer will feel right in their element, a small part of the wide romantic sea.
Paco Rabanne, OLYMPÉA, $75, available at Sephora.
Leo: One can't tell a Leo what to do—or what to wear. A Leo likes to make a statement, so long as it's a statement that's all their own. There's no doubt, however, that if a Leo were to come upon the scent of Bamboo by Gucci, they would be lured by it—enchanted, recognizing themselves in the powerful pink glass and the strong, take-charge notes of deep sandalwood, heady Tahitian Vanilla, and unique gray amber. They would be surprised, too, by the way it captures their softness with notes of soft casablanca lily, feminine orange blossom, and delicate ylang ylang. They would have no choice but to claim it for her own and, in claiming it, surrender to it. Surrender being, after all, an indulgence all powerful Leos crave.
Gucci, Bamboo, $94, available at Macy's.
Virgo: A Virgo woman is a woman who clenches a rose in her teeth. She's perceptive, seductive, and good at the dance—whatever dance that might be. She wants to be enthralled, swept off her feet, and showered with adoration. And, she's not afraid to work for it—so long as her work doesn't go unnoticed. Izea eau de parfum, by Sisley-Paris, is perfect for such an ardent heart. Boasting rose first and foremost, Izea is a scent that reminds Virgos what spring can do to a body. Wearing this fragrance, they're both floral and earthy, cloaking softened musks and a woody base. Taking your hand, they don't just want to walk you through the rose garden; they want to get you down on the ground—covered in roses.
Sisley-Paris, Izea, $150, available at Saks Fifth Avenue.
Libra: The way to a Libra's heart is through their mind, and anyone who tells you different has never had much luck with Libras. A Libra wants love notes, flowers, antiquated gestures of courting that will feel brand-new when they come from the object of their affections. When Viktor & Rolf developed Lavender Illusion for their Magic Collection, they must have had a Libra in mind. If love is a lie, then indulge me in lies, or at least in this fragrance composed of lemon caviar, lavender, black currant, musk, and pine, a scent suitable for both men and women. No Libra could resist such a boundless spell, and no Libra would want to. In spring, under a full moon and trees half-dressed in green, a Libra in this fragrance needs no calling card. They're in control of the mind and mean to be won over, so bring a book of poems and don't be afraid to read each one out loud.
Viktor&Rolf, Lavender Illusion, $220, available at Saks Fifth Avenue.
Scorpio: Scorpio's reputation precedes then, and many speak of the sting they leave in their wake (which is never meted out unprovoked, by the way). But Scorpios are also known for the tenacity of their devotion. When Scorpio crawls out of the doldrums of winter into spring's fertile air, they are brimming with passion that has gone unspent and mean to spend it. Love Relentlessly by Tory Burch is the perfect fragrance for Scorpio's desires, with notes of pink pepper, pink grapefruit, Sicilian lemon, sparkling pear, raspberry, lychee, rose essential, orris, jasmine sambac, patchouli heart, amber, Australian sandalwood, vetiver, cedarwood heart, and tonka bean absolute. Clutching such a fragrant and, yes, relentless bouquet, they are irresistible. And, only a fool would resist them anyway. Everyone knows there's no greater risk worth taking than the kind of risk that asks you to jump in heart first.
Tory Burch, Love Relentlessly, $86, available at Ulta.
Sagittarius: Youthful, curious, and opinionated, a Sagittarius is the kind of flirt that can charm you with their smile in one second and make you doubt everything you've ever believed in the next. Falling for a Sagittarius isn't for the weak of will; they want to know that you're ready to meet them at their level and a companion who is their equal. And, although a Sagittarius is a loyal lover, their spirit is half-human, half-horse, so they crave freedom and independence, a wide-open field. A herd animal at heart, a wild pony who loves its band, give them the space to find themselves and they will always return to you. Miu Miu's new fragrance L'eau Bleue perfectly captures Sagittarius's unconventional spirit, the scent of lily of the valley twisted with akigala wood, the color of a bright blue sky full of possibilities, in a bottle that insists that an individual who is free is also radiant, modern, and unstoppable.
Miu Miu, L'eau Bleue, $90, available at Sephora.
Capricorn:
Diamond life, lover boy/ He move in space with minimum waste and maximum joy/ City lights and business nights / When you require streetcar desire for higher heights.
-Sade "Smooth Operator"
If ever a Capricorn has searched for a scent that captures their precious heart, they should look no further than Magic Liquid Diamonds by Viktor & Rolf. Described as an exquisite precious stone liquefied into an enchanting remedy for reality, what more could a Capricorn want? They've been working all day and all night, tying up everybody else's loose ends, worrying themselves silly, cooking up storms and feeding every hungry mouth that finds them. Capricorn's care is boundless and commitment unparalleled, they mean to be the remedy for everyone in their life, and all the more reason why they deserve a little luxury. All work and no play makes Capricorn withered, and that just won't do when spring demands bloom. When Capricorn remedies their own reality, they are a sparkling smooth operator. The city streets heat up under their steps, and they are a part of it all. Caregiver and love-receiver, they are beacons of maximum joy.
Viktor&Rolf, Liquid Diamonds, $220, available at Saks Fifth Avenue.