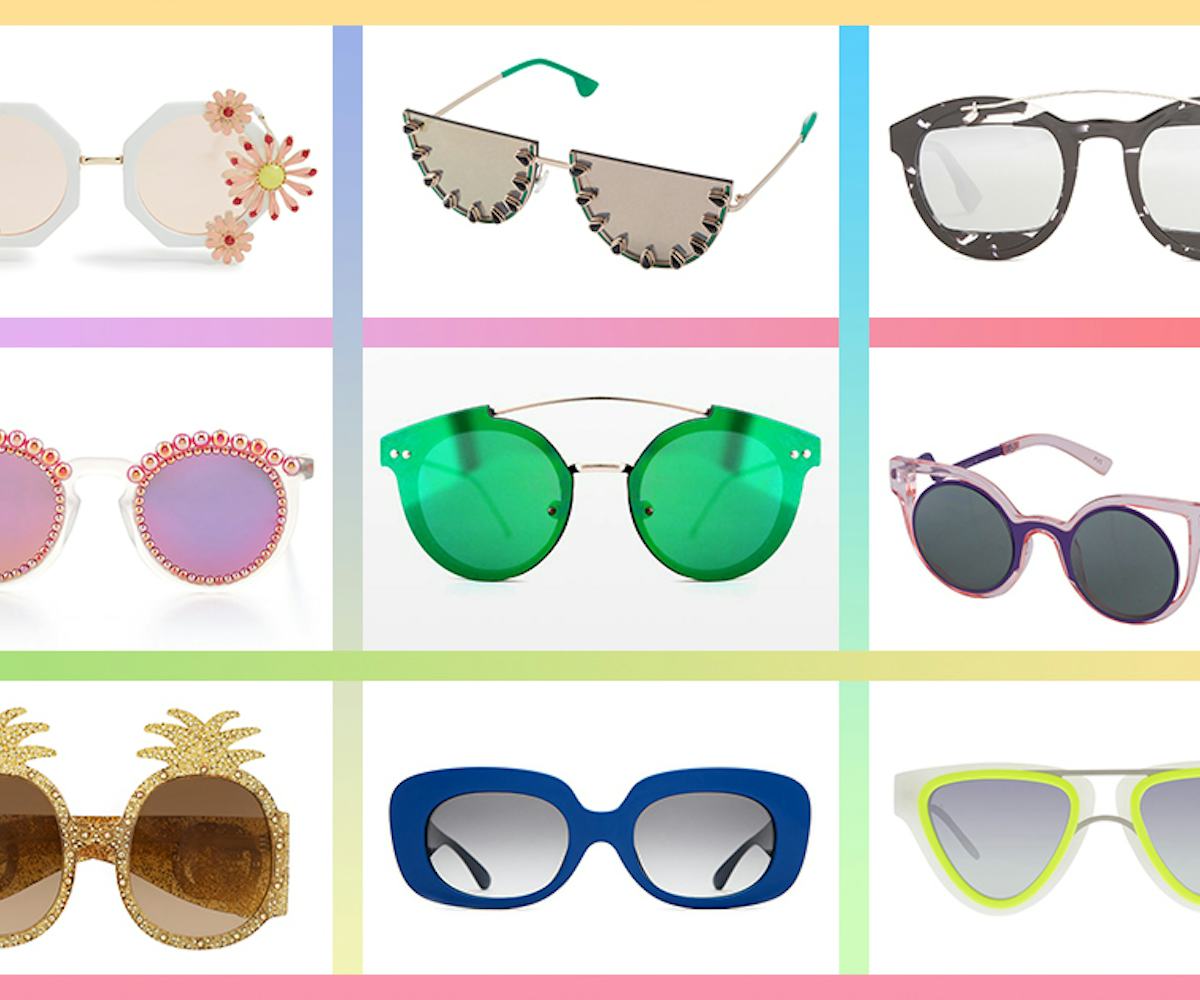 20 Pairs Of Sunnies To Help You Ring In National Sunglasses Day
It's time to celebrate our favorite summer accessory
Today just so happens to be one of our favorite (fake) holidays: National Sunglasses Day. This very special day serves to remind us of the importance of UV protection when it comes to our precious peepers, and we're always happy to honor our all-time favorite summer accessory.
Now, how best to celebrate? In style, of course. It's time to toss aside those plain old aviators for something a bit more eye-catching—and not only for one day, but for all days. To help you with this noble endeavor, we rounded up 20 of the craziest sunnies of the season. From Gucci's bedazzled pineapples to Topshop's starry-eyed shades, there's a pair for everyone and at every price point—whether you like things bold and bright or sparkling and shiny.
Get ready to throw some major shade. Click through the gallery below to check out our picks.
Krewe, Iris, $335, available at Krewe.
Poppy Lissiman, Lucky Star Sunglasses, $120, available at NYLONshop.
Gucci, Metal Sunglasses, $1240, available at Gucci.
Aldo, Dorer, $25, available at Aldo.
Crap Eyewear, The Velvet Mirror, $58, available at Crap Eyewear.
Karen Walker, Solar Harvest Superstars, $244.90, available at Karen Walker.
Pared, Moon And Stars, $290, available at Pared.
Smoke x Mirrors, Sodapop V, $395, available at Smoke x Mirrors.
Topshop, Star Frame Sunglasses, $30, available at Topshop.
Freda Banana, Fire Pink Mirrored Tosca Pearl Sunglasses, $210, available at Avenue 32.
Quay, Camden Heights, $60, available at Quay.
Alice And Olivia, Palm Canyon Sunglasses, $350, available at Alice And Olivia.
Dior, Mania Split Round-Frame Acetate Sunglasses, $312, available at Matches Fashion.
Le Specs, The Fugitive, $119, available at Le Specs.
ASOS, Oversized Square Embellished Sunglasses, $26, available at ASOS.
Saint Laurent, New Wave 181 Lou Lou Sunglases, $420, available at Saint Laurent.
Perverse, Alyssa Sunglasses, $45, available at NYLONshop.
Miu Miu, Square Frame Glittered Acetate Sunglasses, $480, available at Net-A-Porter.
Spitfire, Trip Hop 2, $45, available at Spitfire.
Jimmy Choo, Vivy, $595, available at Jimmy Choo.