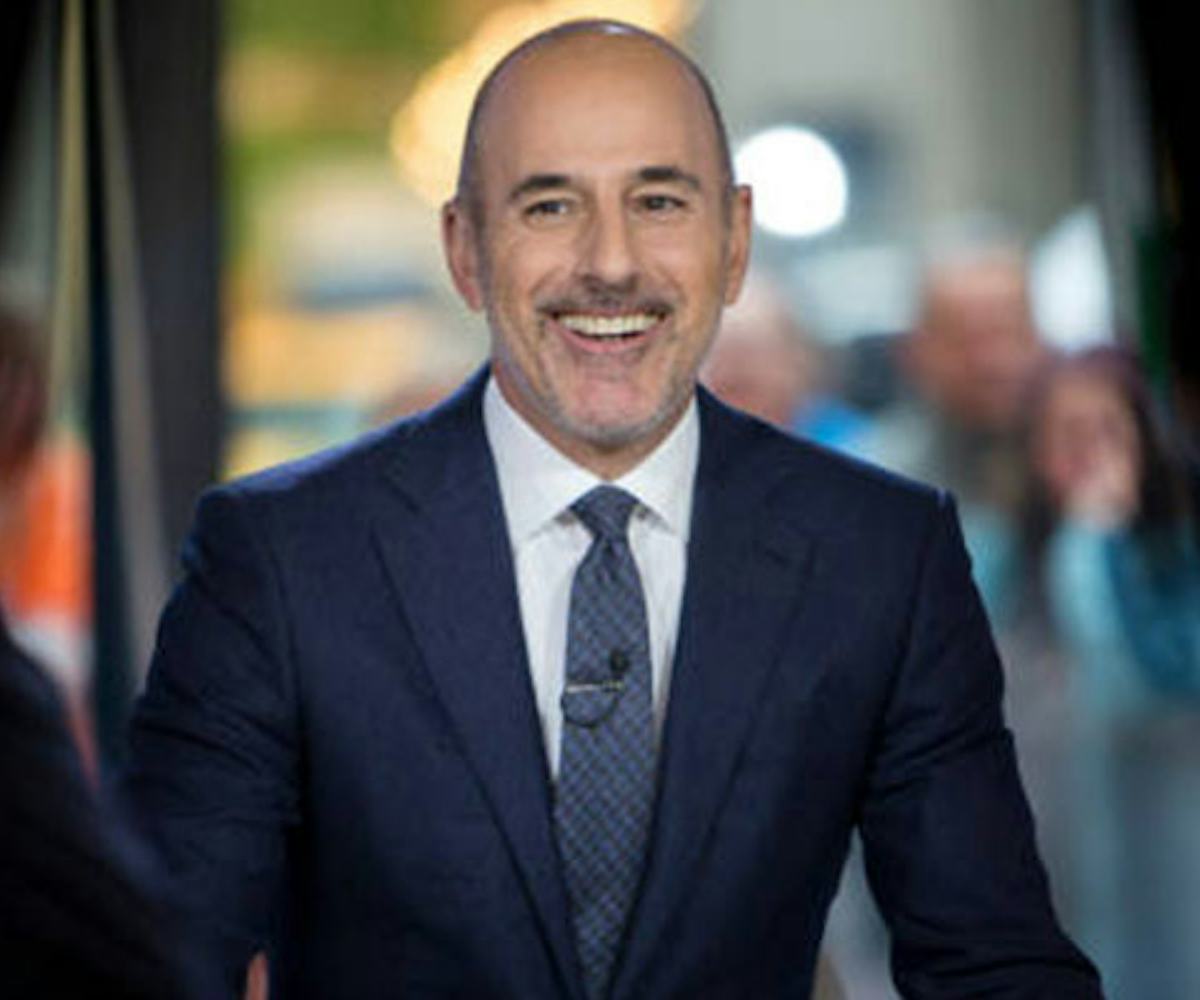 Photo by: Zach Pagano/NBC/NBCU Photo Bank via Getty Images
NBC Fires Matt Lauer Over Alleged Sexual Misconduct
They believe it wasn't an isolated incident
Earlier this morning, TODAY show host Savannah Guthrie began her segment on the verge of tears. As she held onto Hoda Kotb's hand, Guthrie announced that NBC abruptly fired host Matt Lauer after he was accused of sexual misconduct. "It's a sad morning here at TODAY and at NBC News," she said, before reading a note employees received from the company's chairman, Andy Lack, that explained Lauer was let go after they received a "detailed complaint from a colleague about inappropriate sexual behavior in the workplace." They had reason to believe it wasn't an isolated incident.
"Our highest priority is to create a workplace environment where everyone feels safe and protected, and to ensure that any actions that run counter to our core values are met with consequences, no matter who the offender," Lack wrote. "We are deeply saddened by this turn of events. But we will face it together as a news organization—and do it in as transparent a manner as we can."
Lauer has been under investigation for months, by both The New York Times and Variety. "There were multiple victims," Variety's New York bureau chief Ramin Setoodeh tweeted. The TODAY host was reportedly told of the network's decision Tuesday night. 
While it's commendable of NBC to handle this matter so swiftly, particularly when it comes to one of their most valuable employees, many are quick to point out that NBC decided not to publish Ronan Farrow's explosive exposé on Harvey Weinstein. It was this same exposé that has sparked what Guthrie referred to as a "reckoning."  
"[It's] important," Guthrie said of the ripple effect from Weinstein's downfall, "it's long overdue, and it must result in workplaces where all women, all people, feel safe and respected." 
Only, if the exposé had never been published by The New Yorker, would NBC have held Lauer accountable? From Roger Ailes to Charlie Rose to Lauer, more and more men at the forefront of media are being exposed for being misogynistic predators. It isn't shocking, then, when you think about the role they played in ensuring we elected a misogynistic predator. 
Donald Trump tweeted about Lauer's firing after the news broke and tried to shift the attention onto "fake news," a term he co-opted after the election that's now lost all meaning. "Wow, Matt Lauer was just fired from NBC for 'inappropriate sexual behavior in the workplace,'" he wrote. "But when will the top executives at NBC & Comcast be fired for putting out so much Fake News. Check out Andy Lack's past!" 
Despite Trump's attempt to shift the focus from sexual misconduct to politics, it's impossible to forget that the leader of the free world has multiple sexual assault allegations against him and that more than 65 million people voted for him anyway. While it's great that the "reckoning" is finally here, it can feel like it's too little too late, and it's difficult not to wonder how differently things would look if women were in charge.