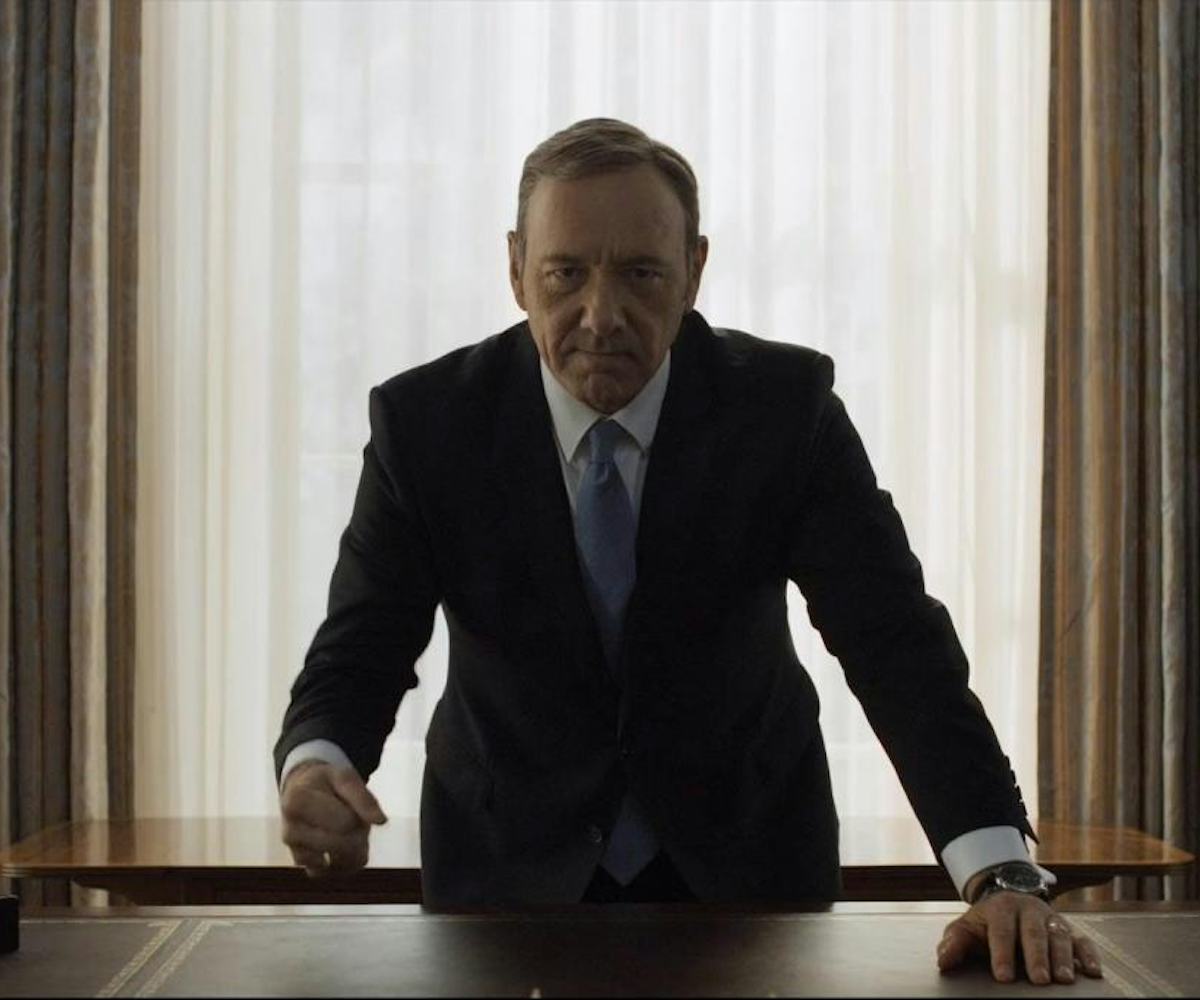 Photo courtesy of Netflix.
'House of Cards,' 'Daredevil' Lead Netflix's Superb March Lineup
If you thought the amount of quality shows currently in the midst of brand new seasons felt overwhelming, you ain't seen nothing yet. Come March, Netflix will debut new seasons of House of Cards and Daredevil, meaning that any hope you had of maintaining at least some semblance of a personal life is all but lost.
The fourth season of House of Cards, which will pit Frank and Claire Underwood against one another, premieres March 4. As for Daredevil, its second season arrives March 18, and will introduce Marvel anti-heroes The Punisher and Elektra into the fiery inferno that is Hell's Kitchen. But despite the return of two of their most popular original series, it's the premiere of a Netflix original movie that has people most excited. 
On March 18, the same day that Daredevil drops, everybody's favorite '80s man-child returns in Pee Wee's Big Holiday, Netflix's bold attempt to revive the cult icon, and possibly start their first real movie franchise.
If Netflix originals aren't your thing, the streaming giant has plenty of films and television shows to keep you occupied well into spring. Click through for all the titles premiering on Netflix this March. 
March 1
Adult Beginners
Ahora o Nunca 
American Pie Presents: The Naked Mile 
Before We Go
Blue Mountain State: The Rise of Thadland 
El Desconocido 
Groundhog Day
Heaven Knows What 
Hot Sugar's Cold World
Narcopolis 
Road Trip: Beer Pong 
Robin Hood: Prince of Thieves
Scarface 
Star Trek: The Motion Picture 
Star Trek II: The Wrath of Khan 
The Young Kieslowski 
March 2
For Grace 
March 4
House of Cards: Season 4 
For Grace 
Lab Rats: Season 4
LEGO Friends: The Power of Friendship 
LEGO: Bionicle: The Journey to One: Season 1 
Louie: Season 5
March 5
Hell & Back 
March 7
Cuckoo:
Seasons 1-2 
Halo: The Fall of Reach 
Sin Filtro 
March 8
Digimon Fusion: Season 2
March 9
The Returned: Season 1 
March 10
Comedy Bang! Bang!: Season 4, part 3
Hateship Loveship 
March 11
Flaked: Season 1
Netflix Presents: The Characters: Season 1
Dinotrux: Season 2 
Popples: Season 2
March 12
Shelter 
March 15
10,000 Saints 
4GOT10
The Falling 
Final Girl 
Finders Keepers
Power Rangers Dino Charge: Season 1, part 2
War Pigs 
March 16
Are You Here 
Charlie St. Cloud
Gridiron Gang 
Happy Valley: Season 2 
Larry Crowne Promised Land
March 18
Marvel's Daredevil: Season 2
He Never Died 
Jimmy Carr: Funny Business 
The Mr. Peabody and Sherman Show: Season 2
My Beautiful Broken Brain 
Pee-wee's Big Holiday 
March 22
The Art of Organized Noize
The Ouija Experiment 2: Theatre of Death
March 24
The Forbidden Kingdom
A Promise 
March 25
VeggieTales in the House: Season 3 
March 28
Trailer Park Boys: Season 10 
March 31
Bachelor Party 2: The Last Temptation 
Fright Night 2 
Murder Rap: Inside the Biggie and Tupac Murders 
Yu-Gi-Oh! Bonds Beyond Time 
Yu-Gi-Oh! Zexal: Seasons 1-2