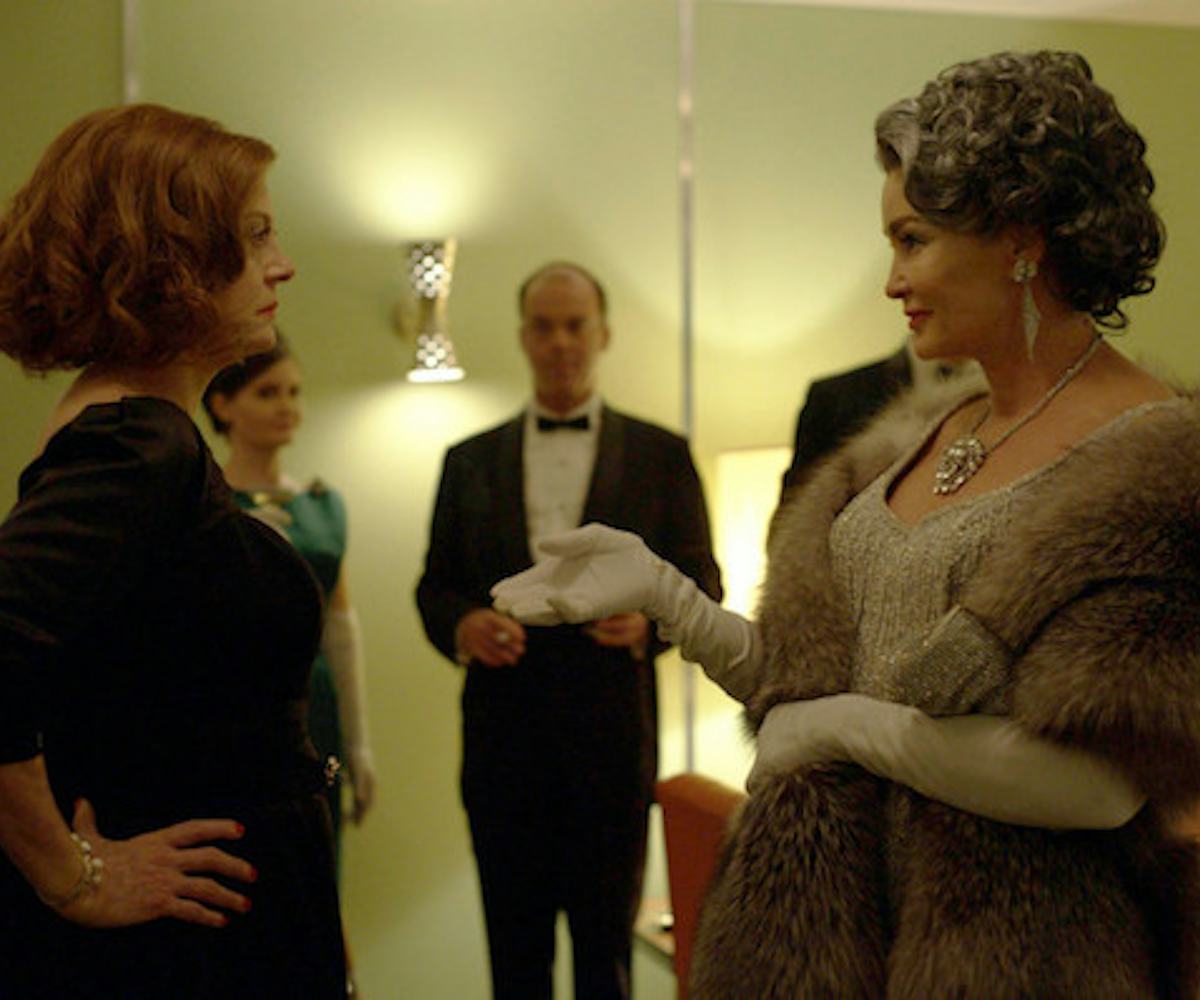 Photo by Suzanne Tenner/FX
See The First Images From Ryan Murphy's 'Feud: Bette and Joan'
Hollywood loves a good rivalry—something about glamorous, well-dressed backstabbing just gets people going. The first teasers for Ryan Murphy's new series, Feud: Bette and Joan gave us just the right amount of cold, old-world glam and cattiness one might expect from a show about the historic bad blood between Joan Crawford (played by Jessica Lange) and Bette Davis (played by Susan Sarandon). However, three new teaser pictures from FX gives us an even better sense of what the show is going to look like.
The three shots are all pretty different: the first shows Davis giving Crawford a death stare as the latter extends her gloved, glamorous hand out. The other shows Crawford in a wheelchair for a role, and the last one sees Davis smoking a cigarette, decked out in huge designer sunglasses and a fur coat. What ties them all together is a stiffness that seems akin to two snakes coiled just before a strike, but also seems to illustrate two women forcing themselves to feel like they still belong in a world prizes youth above all else.
Recently at FX's TCA panel, show creator Ryan Murphy said, "I was interested in the idea of sexism, ageism, misogyny. Turning 40, 45, 50 and feeling like you're at the height of your powers and people saying, 'Well, you're done.'" While some will no doubt tune in to see if there's a scene where Davis kicks Crawford in the head, hopefully Feud will deliver on its promise to show this darker reality of Hollywood that exists for women, but that few people ever really highlight.
Feud: Bette and Joan debuts on FX on March 5th. Check out the rest of the teaser pictures below.
(Via Indiewire)