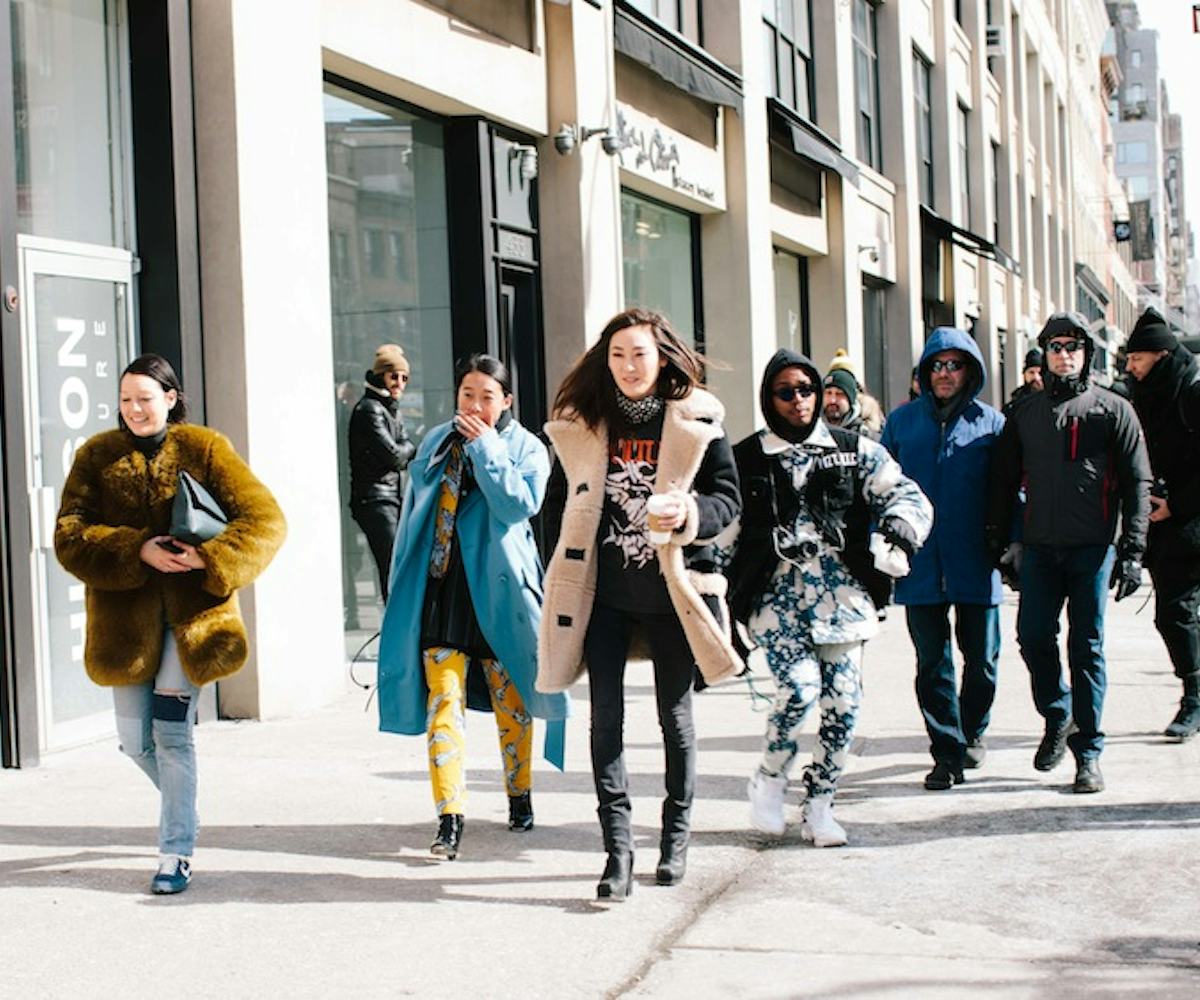 photos by atisha paulson
the best street style looks at nyfw, day five
because the cold never stopped an it-girl
Don't let the sunshine of NYFW's fifth day fool you: It was literally freezing. But somehow, that only made our favorite style stars look chicer. The more layers they piled on, the cooler they looked. Sure, there were amazing layering moments on the runway, but yesterday we found ourselves most captivated by the IRL layering moments we witnessed on the street. Leggings under jeans, wide-brim hats, and monochromatic outfits have never looked so good.
Click through to see the bundled-up it-girls and guys outside the tents and Made Fashion Week. 
There's nothing like a good beanie on this sort of day.
Military-inspired jacket + cat-eye sunglasses = instant win.
When it doubt, monochrome is the way to go.
Winter whites have never looked so good.
Note to self: leggings under jeans.
Bundle up!
Sometimes simpler is better.
Just because the weather is miserable doesn't mean your outfit has to be! We're loving these fun prints.
Lipstick queens.
We're seriously jealous of women who can show skin without becoming hypothermic, even if it's just a few inches of leg.
These shoes are giving us life.
Can we talk about this mouthy clutch?
Let your style make a scene.
Say yes to the maxi dress.
This silver bag elevates the whole look.
The prettiest shoe + jacket combo of all time.
It's important to make warmth a priority, but that doesn't mean you can't also look adorable.
Navy blue: Like black, but friendlier.
Open-toed shoes on a day like this are a risk, but warm tights help.
Oh hey, Maddie Ziegler!
Meet our hair icon.
Does this make you want to get bangs? Us too.
Jewel tones are having a serious moment. 
It's never to early for some pretty pastels.
The wider the hat, the better.
The case for wearing jeans to NYFW.
All about these wide pants.
We're having warmth-envy...
This mix of chic and sporty is on-point.
Putting your arms through sleeves is so  2014. 
A classic all-black outfit is always the right thing to wear.