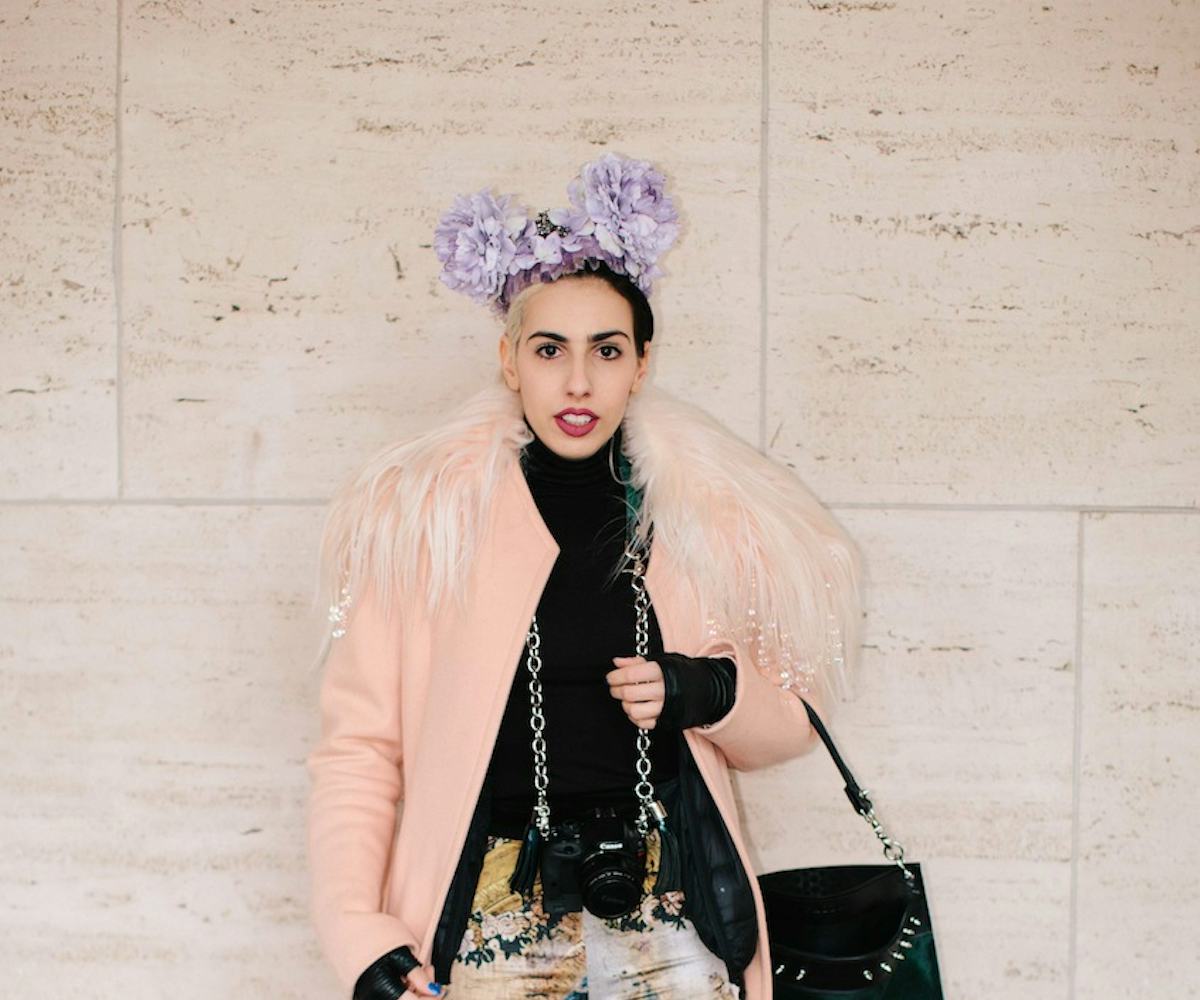 photos by atisha paulson and getty images
the 35 best street style looks at nyfw, day two
The second day of Fashion Week has some of our favorites: Wes Gordon's incredible offerings for tropical business ladies; Cushnie Et Ochs ladylike technowear, and Chromat's super-sexy lingerie for a dystopian future. But, as usual, the real fashion is how those who brave the cold manage to turn it out without becoming small, stylish popsicles. We hunted some of our favorite looks all over town, from our spot at Made Fashion Week at Milk Studios, to the tents, to offshoots (like at Suno, where the well-heeled turned out in droves). So, just because it is below freezing (and very, very windy) doesn't mean that it has to be all full body puffers. Or, if it does, at least those full body puffers look rad.
Check out our day one street style finds, too!
Now THIS is how you mix prints.
Sometimes a bold lip and a simple 'do is all you need. Who said jeans don't belong at Fashion Week?
Toasty, casual, and super chic.
We are loving this new athletic-wear vibe.
Super casual, with just a dollop of pink!
Bluish-grey hair plus lilac is officially our favorite new color combination.
Typical New Yorker—looking rad in all black.
The contrast between the dark lipstick and the bright bag is a perfect graphic look.
Pro tip: Put a bow on it.
Pairing tough faux fur with fun florals is unexpected and fun.
Wish we had cool built-in face warmers...
A super bloggy look that somehow seems refreshing.
Those Stella McCartney platforms will never, ever get old.
"Oh, this? I just #wokeuplikethis." Effortlessness, perfected.
Just when we thought we were getting over matchy-matchy...
Ladies and gentleman, we have found the perfect dress for every occasion.
To-do list: Go to thrift store, copy this exactly.
We want to wear this every day, forever.
Zosia Mamet is bringing the boho at Rebecca Minkoff.
Leandra Medine will never stop her voluminous, awesome, Man Repelling ways.
Dear Olivia Palermo: Please come to our house and tie our belts like this every day. Love, NYLON.
Coco Rocha strikes a pose at Rebecca Minkoff.
Can we come into your coat with you and hang out?
Ear muffs! A MUST.
Pink hair, don't care.
Quilted pants are an all-weather solution to staying chic.
Showing up to a NYFW show wearing head-to-toe the designer you are seeing (Chromat) is the exact opposite of showing up to a concert wearing the band's T-shirt. 
A warm way to work it, at Wu.
Another wonderful Wu look. Hope that's faux?
Who knew all black could be so vivid?
Make up game on fleek, with a great vintage coat.
Leigh Lezark is killing it.
Yes, we will take one giant carpet, and make it look awesome, thank you!