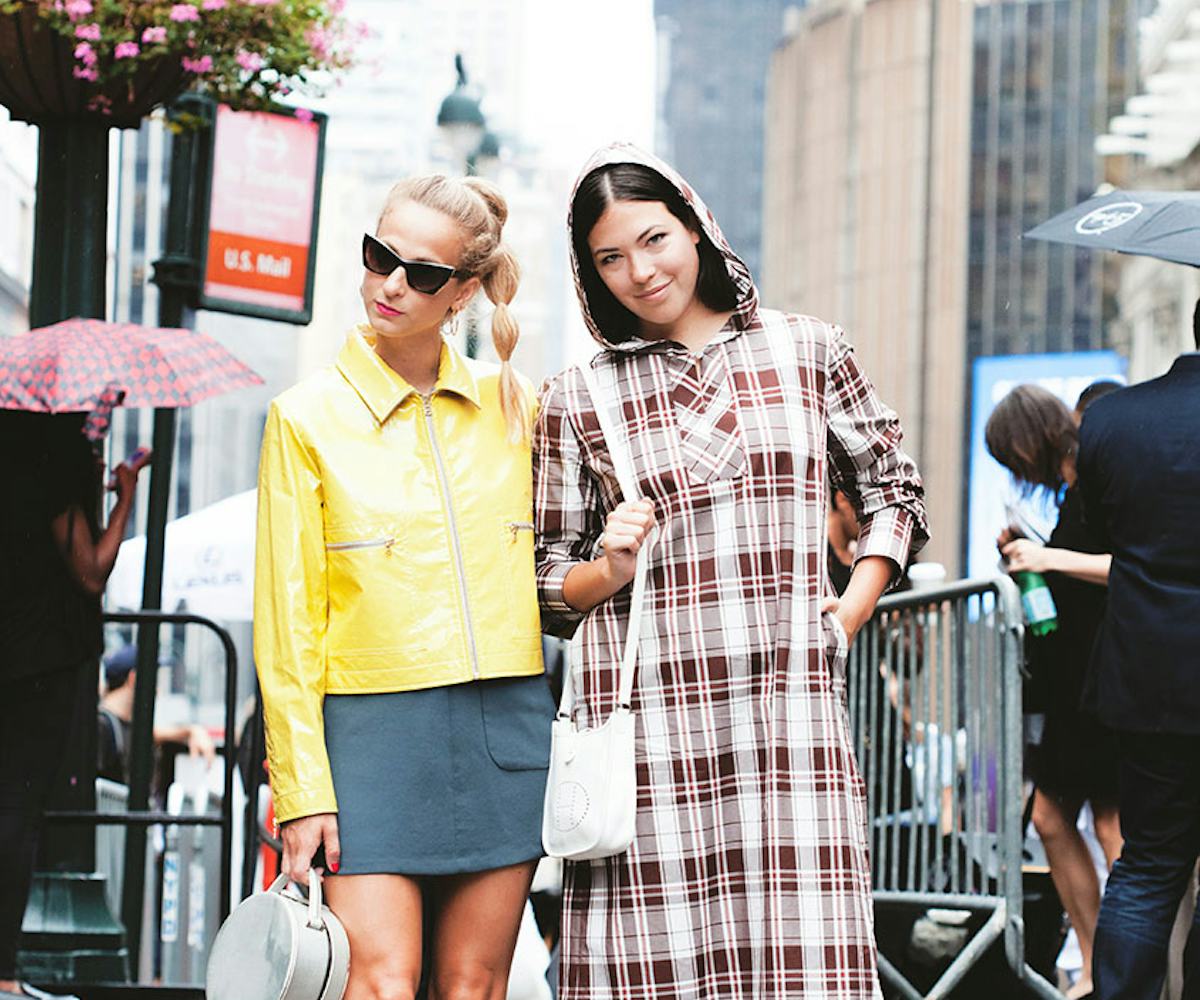 Photographed by Alexandra Gavillet
rainy-day street style from nyfw, day one
the cutest raincoats, ever
New York Fashion Week kicked off yesterday, and, as everyone knows, that means that all the editors, bloggers, models, photographers, and It-girls flooded the city streets with pretty outfits and seriously cool looks. And although there were clouds in the sky, and the occasional downpour, the ladies and gentlemen of the fashion community didn't run and hide under a scaffold; they soldiered on, running from venue to venue in sky-high platforms and pristine leather kicks. And while that happened, we made sure to snap some pics and document it all, in true 2015 style. 
Click through to see our top picks of the styles we saw. And stay tuned as we continue to cover the best outfits of the week.  
Stripes on stripes for the win.
Proof positive that boho-chic will never go out of style. 
Let's let this color speak for itself.
Thais Oliveira and Isabella Sulzbacher with seriously on-point ponytails.
Junyi Wang in fresh kicks.
Who needs this colorful raincoat in their closet? We do, we do!
What a beauty.
The delicate details deliver.
The prettiest shirt of them all.
Erin Framel's matching shoe and bag basically make the world go 'round. 
She gets it: A little rain shouldn't stop you from wearing your favorite fun, flirty dress.
Maura Sebastião looks stunning in these vivid colors. 
Anfisa Kuzmina and Lina Baz are total cool kids.
When in doubt, always wear black ruffles.
Having an intense case of glasses envy right now. 
Annie Georgia Greenberg and Rachel Besser proved that raingear can be totally chic.
Sugar, spice, and everything nice.
Who says you can't rock white after Labor Day?
Absolutely adore how the nude lip complements her fun jacket.
Beachy hair is what we all need to make it through a rainy day.
Never understimate the power of a black dress and a nude stiletto.
Wonder what the fox said about this?
If you don't like this dress, clearly you're a square (sorry, had to!). 
Okay, this is convincing us to get bangs.
Preach.
Mental note: Wear a dress with sneakers tomorrow because it's cute af.
So classic.
Fire and rain.
The edgy take on such a delicate style is so fun for fall.
So fun!
Laura Stoloff is great. That bag is great. The jacket is great. Everything's great, okay?!
Ah! So casual, so fun, so chic!
Top knot + suede envy.
Black and white never looked so nice.
Look, look, look, at those shoes.
Can we be this cool, please?