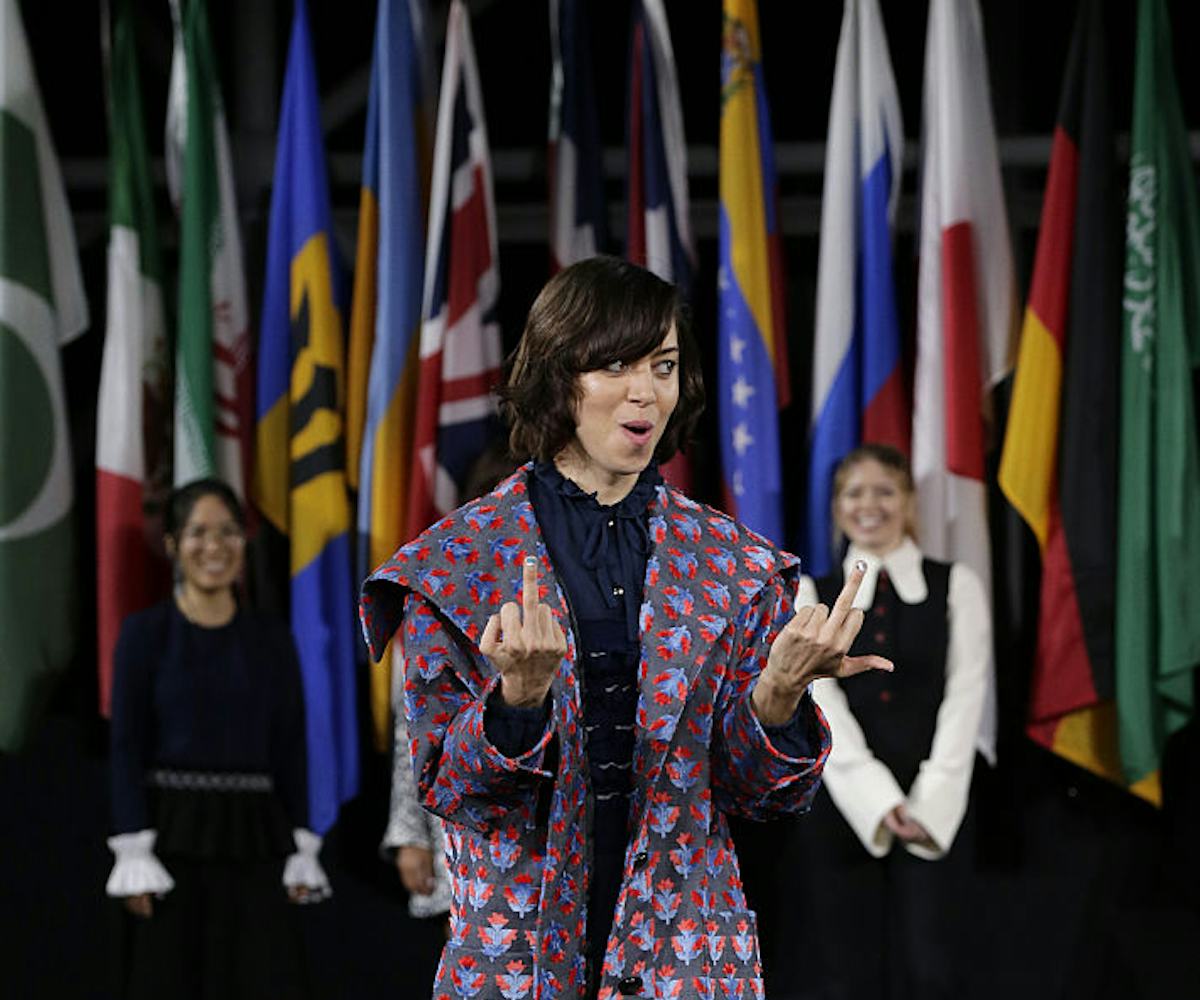 Photo by JP Yim/Getty Images
The Fashionable Is Political: Why Opening Ceremony Was Peak Fashion Week
Pomp and circumstance and more pomp
In the era of Instagram, Twitter, and Snapchat, when constant peeks inside the private lives of some of our world's most public people leave us knowing more of the minutiae of celebrities' routines than those of some of our close friends and family members, why bother showing up for anything anymore? After all, we exist now in the age of inclusiveness, #SquadGoals, and social media stalking. Sure, all this information might be relatively superficial and comes from a carefully curated stream, but it's still possible to feel like a part of a very elite club even if you gained membership simply via logging into your Instagram account. All of which is to say, why even bother attending fashion shows?
Some background: We are currently in the midst of New York Fashion Week, that magical, biannual time of year when the city's streets are overrun (well, more so than usual) with fashion-forward people heading off in a huge rush to one show or another, usually loudly talking to each other or into their phones about what a nightmare the week has been and how they've had no sleep. The sound of air kisses (both cheeks, of course) is a constant presence. Models in Birkenstocks (or even just padding around the sidewalks in socks, resting weary, overworked feet) are everywhere. It can be exhausting to witness for those who are not even peripherally involved. And for those who are involved (peripherally or more substantially), it can be downright debilitating. Prior to ever working at a style-focused magazine, I read Cat Marnell's excellent piece on sleeping through NYFW (and why she wanted to do it again), and related almost too strongly to the feeling of attending a glamorous (or "glamours") event, the kind which I'd always wanted to attend, and spending the whole time looking for the exit, any exit. New York Fashion Week felt like something I'd be just as happy to witness from the comfort of my own phone screen, rather than in real life.
And yet, this year, firmly in place at NYLON, I found myself at the Opening Ceremony presentation, "Pageant of the People," and wound up with a revised attitude about the power of simply showing up. Opening Ceremony's show, while not exactly a Fashion Week anomaly in its reliance on celebrity wattage and over-the-top showmanship, was notable for how completely it seemed to focus on the potential for fashion to be not just implicitly political, but explicitly, even earnestly, so. The fashion world has long had an interesting, oftentimes troubling, dichotomy where political activism is concerned. At the same time that many in the fashion world have promoted positive political agendas, via fundraising and advocacy campaigns for things like AIDS awareness or marriage equality, it has also been the target of valid concerns about things like labor rights, in terms of ethical factory sourcing and underage models, and the lack of racial diversity on the runway. The fashionable can't help but be political, and it's up to the people involved in the industry to make it so in a constructive, positive way.
Which brings us back to Opening Ceremony. The company, founded and run by Carol Lim and Humberto Leon, is known for its branding genius; its clothes are worn by the coolest celebrities (think: Chloë Sevigny and Rashida Jones) and its campaigns and fashion shows often have people like Spike Jonze conceptualizing the artistic direction. The fact that this season's show featured clothes from its Fall/Winter collection (almost every other fashion label is now showing Spring 2017), and that most of these clothes are already on sale at the Opening Ceremony website, demonstrates the importance of a show's message even, at times, over its sartorial content. (Which is not to say the clothes weren't good; they were: eminently wearable, actually affordable, easy to imagine sporting all winter long.)
Rather, Lim and Leon have taken the fact that we're in an important election year (as well as on Olympic year) and decided to run with it, interspersing socially conscious celebrities amongst the runway models, and having them interviewed by the show's masters of ceremony, Fred Armisen and Carrie Brownstein. The show (which started a cool 45 minutes late, with all of those 45 minutes filled with the sound of Hans Zimmer's xylophone theme for True Romance... ON LOOP) was traditional only in the sense that there were models and they were wearing and walking in clothes, but was otherwise totally unorthodox in everything from Armisen and Brownstein's running commentary about the models ("one of them is a robot," "this one is CGI"), as well as the fact that the clothes parade was frequently put on hold so that celebs like Aidy Bryant, Alia Shawkat, Diane Guerrero, Natasha Lyonne, Jessica Williams, Rashida Jones, Rowan Blanchard, Ali Wong, and Whoopi Goldberg could answer questions put to them by Armisen and Brownstein on topics ranging from the refugee crisis and feminism to why New York City's Houston Street is such a fucking mess. (Truly, that is the problem of our times.) The answers ranged from the wholly sincere, with transgender activist and press secretary for the Human Rights Campaign Sarah McBride being particularly poignant ("I believe that being an American is an action"), to wildly irreverent (Aubrey Plaza said she was inspired by a "single ant," and walked down the runway flashing her middle fingers).
Despite the unevenness of the answers, though, the message was consistent: Get involved and make a difference. And as I sat on my mildly uncomfortable metal bleacher seat (admittedly, I had it much better than all the people who had to stand for the almost two-hour long presentation), it was hard not to admit to myself that this was the point of coming to fashion shows, to being out in the world period; it's easy enough to feel like you're involved because you like other people's photos in which they're doing things, but it's essential to actually get out in the world and do things yourself. There will always be times when I will be looking for the exit, but then again there will also be the times when I won't be. And it's all too easy to disdain or fear or even hate the things with which you have had no real engagement, but if your involvement has, to that point, only been passive, then it's impossible to form a real opinion, tempting though that may be. So while my first foray into fashion week was the very definition of pageantry, it also proved to be as much about substance as it was about style. (And there really was a lot of style; one man, in particular, was wearing some truly spectacular toucan-printed pants.) Besides, as Whoopi Goldberg said when asked why it's important to vote: "If you don't go out and vote, then you don't get to bitch." So go out there, get involved, and then bitch. Or just, you know, enjoy.