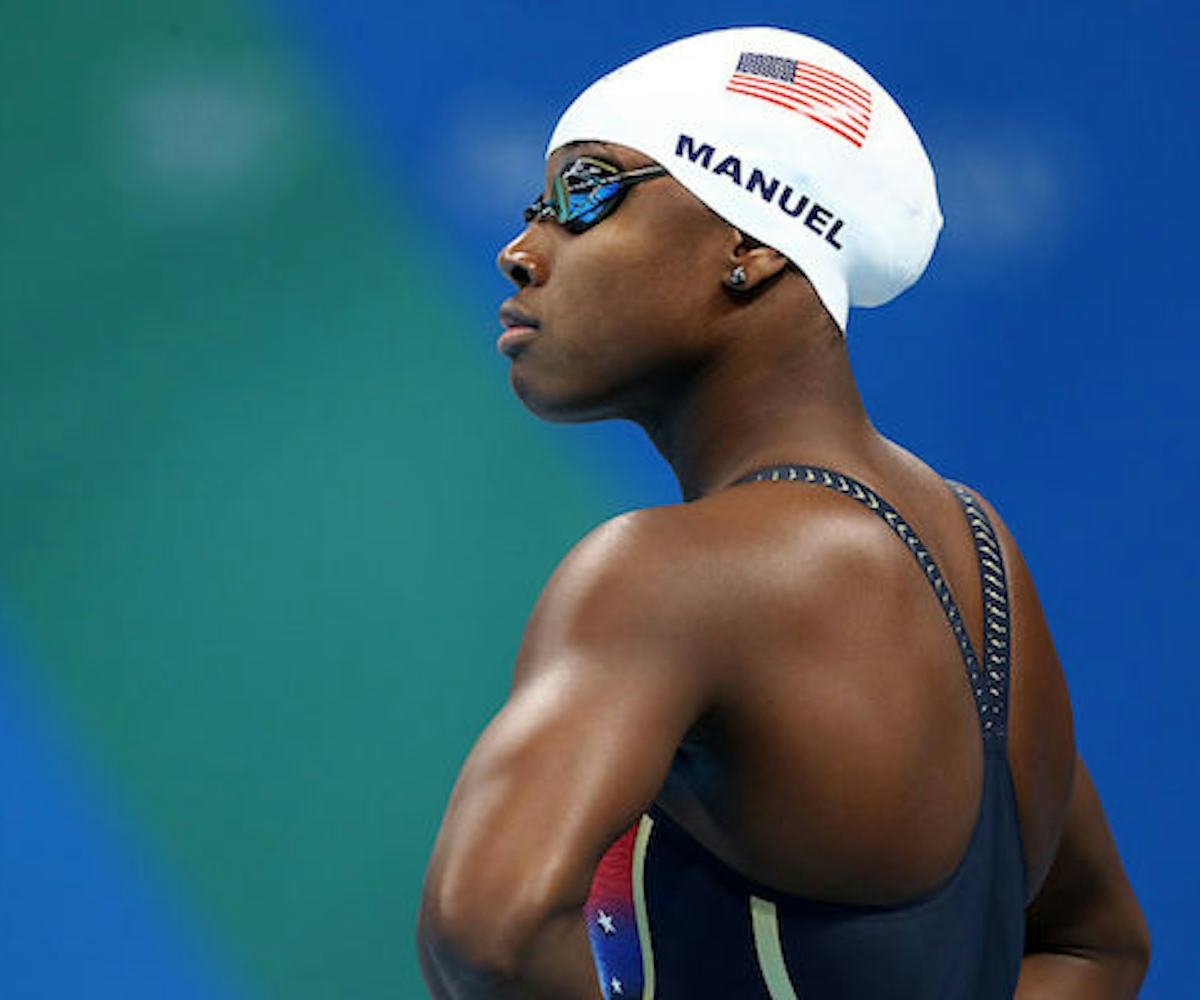 Photo by Al Bello/Getty Images
Newspaper Apologizes For Insensitive Simone Manuel Olympic Headline
"My color just comes with the territory."
San Jose's Mercury News has apologized for a major headline blunder. The newspaper originally titled an article and subsequent tweet "Michael Phelps shares historic night with African-American," referring to Olympic swimmer Simone Manuel, who made history as the first African-American woman to win gold in an individual swimming event.
The original headline was immediately criticized for offensive phrasing and omitting Manuel's name entirely. Even staff members from the Mercury News spoke up, such as Tim Kawakami, who tweeted: "This is a terrible headline. It's my paper. I might get in trouble for saying it, but it's a terrible headline." This also follows in the wake of several sexist gaffes by journalists covering the Olympics, such as when the Chicago Tribune identified another female Olympic gold medalist, Corey Cogdell-Unrein, as simply the "wife of a Bears' lineman." Though the Mercury News deleted the tweet and issued a formal apology, screencaps of the original article still circulate and many wonder how and why it was published to begin with.
This particular headline hit a double-whammy, coming across as both sexist and racially insensitive, given the current political climate of the United States. Manuel's 100-meter freestyle win in Rio came at a crucial time, shining a positive light amid a racism-fueled election and police brutality at the forefront of the news.
"It means a lot, especially with what is going on in the world today, some of the issues of police brutality. This win hopefully brings hope and change to some of the issues that are going on. My color just comes with the territory," Manuel said after her win.
The 20-year-old Stanford junior also acknowledged that her historic win will hopefully have a positive effect on other young people who share her skin color.
"Coming into the race I tried to take weight of the black community off my shoulders. It's something I carry with me. I want to be an inspiration, but I would like there to be a day when it is not 'Simone the black swimmer.' The title of black swimmer suggests that I am not supposed to win golds or break records, but that's not true because I train hard and want to win just like everyone else… This medal is not just for me. It is for some of the African-Americans who have come before me. This medal is for the people who come behind me and get into the sport and hopefully find love and drive to get to this point."