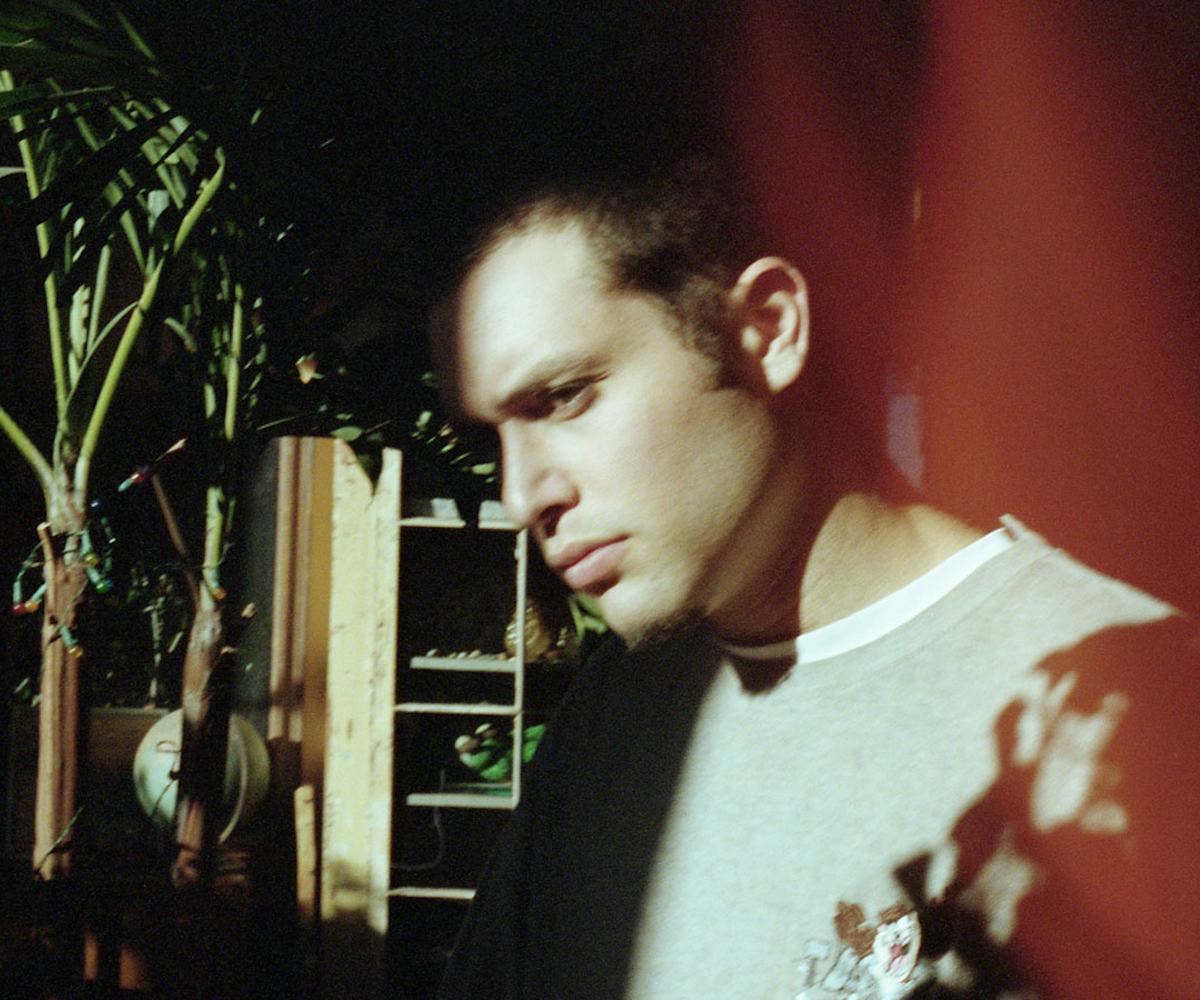 Photo courtesy of ATO Records by Ebru Yildiz
Nick Hakim's New Album Is The Mystical, Intimate Experience We've Been Waiting For
'Green Twins' comes out May 19
When Nick Hakim arrives at Chicago's Schuba's Tavern for a show in early March, he's dressed for a winter night far more harsh than this comparatively mild evening. The singer-songwriter, who now lives in New York after being raised in D.C. and studying music in Boston, is wearing cargo pants, a hat, and a hoodie, all of which are entombed in a massive gray coat. Beyond just being practical though, the outfit does a decent job of capturing what makes Hakim's music, a beguiling blend of guitar folk, psychedelic jazz, and trip-hop, so appealing: It's unpretentious yet off-kilter, opaque in some ways but also decidedly unique and inviting.
"I grew up in a musical household and in a musical city where a lot of my peers and everyone around me had some kind of relationship with music, including myself. I never took it seriously, but I always loved listening," Hakim said. "I started teaching myself piano and singing when I was 17."
Hakim's debut album, Green Twins, will be released on May 19, and if the early singles are any indication, it's sure to be one of the year's early indie highlights, an album that grounds its astral harmonies and imagery in crackling percussion and Hakim's soulful, lilting vocals.
Though his records seem like rich ground for deep, philosophical musing—in particular, the recently released "Bet She Looks Like You," a spiritual query dressed as a love song, or the album's ephemeral title track—Hakim is hesitant to dissect any of his songs with too fine a blade or go deep into a self-reflective rabbit hole while discussing his early career.
Hakim is by far his most animated when he talks about the joy of creating music and his fellow musicians, particularly those who accompanied him on this tour, including his brother, who plays drums in his live band. The opener for this set, Solo Woods, a charismatic singer-guitarist, was his roommate for three years in Boston (they overlapped at the prestigious Berklee College of Music) and one in New York and they greet each other with a huge hug when Woods arrives to set up.
"There are a lot of really important people in my life that I feel lucky to still be around. It feels nice to play a show with my friends, literally people I know and really care about and really respect and admire," Hakim said. "Everyone that's playing these shows on the co-bill is someone I look up to in a lot of ways."
Hakim came to New York in 2014 having already recorded his two breakout EPs, Where Will We Go Pt. 1 and Pt. 2, which introduced the world to his meditative, celestial sound. There are shades of Citizen Cope to his work, but many of his songs are even more loose and languid, like the sprawling "Sleep" from Pt. 1, or the neo-soul daydream "I Don't Know," his first major hit on SoundCloud.
Now settled in New York, Hakim wants to push his music in a new direction, something that inspired the percussive thrust of Green Twins. 
"When I got to New York, I was just trying to figure out a new sound and a new way of writing. I got a bunch of drum machines, really cheap shit," he explained. "I got, like, a $40 Yamaha keyboard that had built-in drum beats in there, and I had a Wurlitzer drum machine. I started collecting things and using them to write."
It's been close to three years since he's released a new body of work (not counting the vinyl re-release of both parts of Where Will We Go), which for some artists would be a nerve-racking stretch of time to go without putting another project into the world. When asked if he felt any pressure to release something during that window, Hakim seemed perplexed; to him, the idea of releasing music for any other reason than it being ready to come out is fundamentally flawed.
"Things take a while because it's the way it works sometimes. In the little world I've created around music that's just how it happens, things marinate a lot," he said. "There's a part of me that likes the idea of working quick and committing to a recording. If you take three years it represents a scattered mindset, but if you record something in like a week or two days or two months it's a specific time, and I like that idea."
If Green Twins is more scattered than the rest of Hakim's catalogue, that's hard to tell live, where his set is engaging and atmospheric, if light on banter. He seems emboldened by being surrounded on stage by friends, and his quietest, headiest songs burst to life.
Schuba's is a perfect venue for Hakim, a warm, dimly lit rectangular hall that often feels like a Sofar Sounds venue on steroids. The magic of Hakim's music is that it feels like he could turn a 2,000-person venue into something this intimate. While so many artists work to create mystery and intrigue in their records and personas, and though Hakim does have some of the trappings of your typical mercurial singer-songwriter, nothing seems to matter more to him than crafting these songs and being able to play them with his friends.