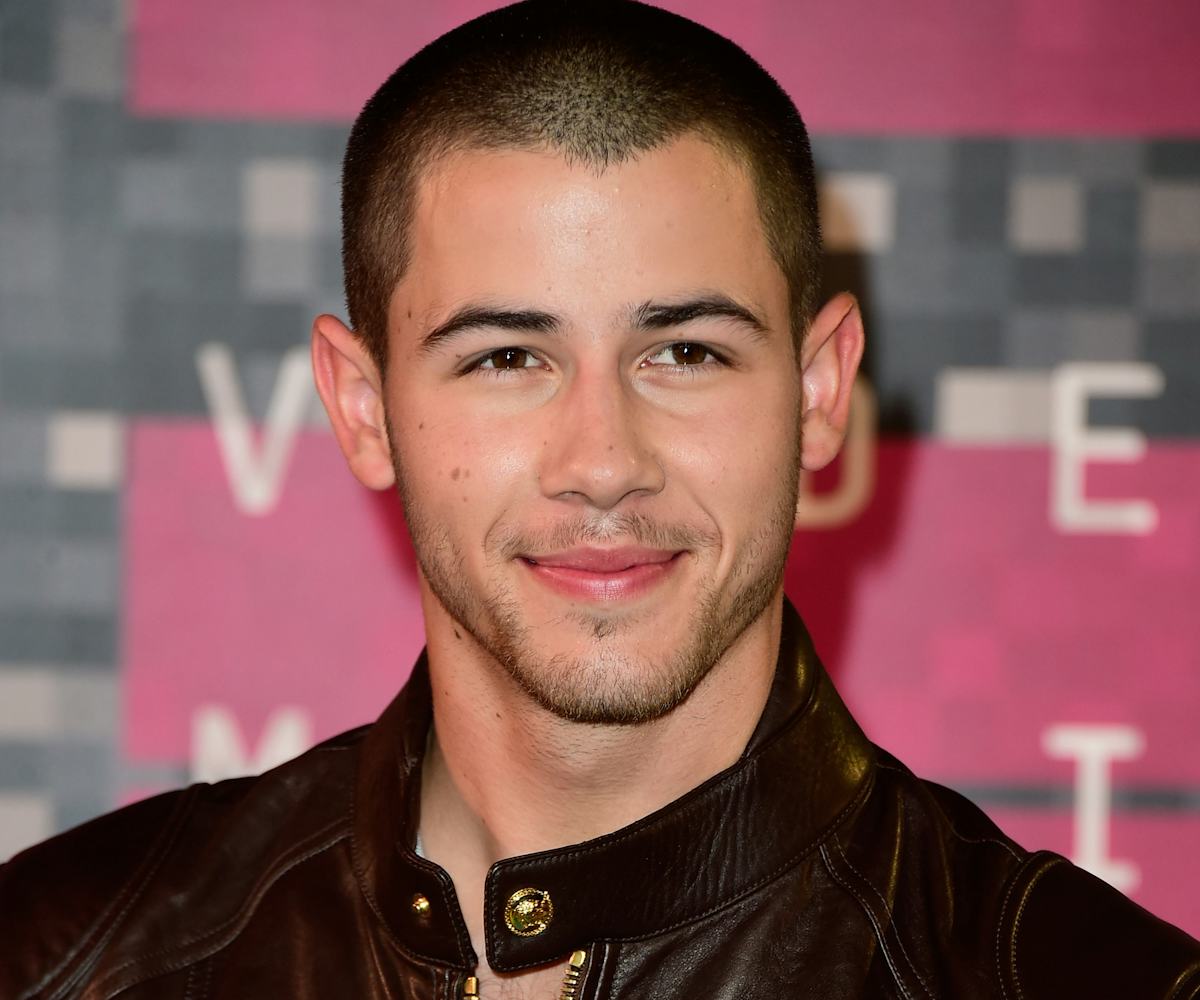 Photo by Frazer Harrison / Getty Images
nick jonas on his new album, $1'scream queens,' the vmas, and kanye
Creating a credible career after Disney Channel stardom has proved a challenge for many Mouse alumni, but Nick Jonas is navigating his post-JoBros life with ease. Last year's self-titled album saw him swap out saccharine pop-rock for sensual R&B, while his new adult aesthetic of close-cropped hair, tight abs, and a propensity to mislay his shirt in front of cameras drew in new fans from all corners. Less than 12 months on and he's back with "Levels," a rubbery funk jam that's arguably his most blatant attempt yet at dethroning Justin Timberlake. Add in upcoming appearances in Ryan Murphy's new slasher-com Scream Queens, and in the fraternity drama Goat, and 2015 might just end up the Year of the (Nick) Jonas. We caught up with him before his set at Island Records' Island Life showcase in New York to get to know the man behind the muscles.
Your debut performance of "Levels" was live at the VMAs. Was that nerve-racking?
Very nerve-racking. Premiering a new song live for the first time is always intense, but doing it on one of the biggest stages in the world is really intense. But I had a great time and the reaction to the performance felt really great. I think that doing something unique like we did, tracking through the red carpet and having fun with it, was key. It's been great to see the song grow.
You put out the song on Safehouse Records, which you founded earlier this summer with Demi Lovato. What's your role in the label?
Safehouse was set up when Demi and I looked at each other and said we were both at a really important moment in tour careers when it's imperative that we set ourselves up as writers and artists and performers, but also as businessmen and women in our adult years. We teamed up with our manager Phil and Universal and built this record company. The intention is to set up a safe place for us to create and live our artistry and eventually develop other artists. It's a process and it's been great. Her new music and the music that I'm now putting out as our first work together has been really special.
You previously mentioned you'd be re-releasing Nick Jonas sometime this year. Is that still happening?
I thought that might happen until I looked up and realized I had a lot of music ready to go for a new album. "Levels" is the first single off that, and it'll come out at the beginning of next year at some point. I'm looking forward to releasing the full album with a lot of music that I feel is my best work yet.
You produced two songs on that album. Are we going to see more of you behind the decks?
Yeah, I think so. I genuinely love the production side of things. Obviously the artistry is the best but being behind the scenes and building a sound is really liberating and something that I really enjoy. I'd been around it for so long that I picked it up on my own and eventually learned from someone who knew it well. It was a pretty organic thing.
On your new track "Area Code", you show off some new hip-hop stylings. Are we going to see more of that on the next album?
It's all for me about being as creative as possible. With "Area Code" I was with some friends, we were drinking, and I wrote this song. It's really important as an artist to spill your heart out and not be afraid how to say it and what the sound is. I'm inspired by a lot of different records, anything from classical to more of the hip-hop/R&B side. I stay as open as possible, and with a song like "Area Code" it's the perfect representation of the way I felt.
You tweeted that you were seriously vibing Alina Baraz & Galimatias' new album. Are you considering working with more leftfield producers like them?
Definitely. That's one of my favorite records of this year. I think it's incredibly creative. I got the chance to work with one of my favorites of this year and last year as well, one of the guys from Purity Ring. We wrote a really great song that I'm really excited to finish up and see where it goes. I'm always down for new inspiration. I'm working with people that to an outsider might seem leftfield but in reality it's just a really great creative vibe you can catch with the right people.
Who would be your dream collaborator?
Kanye, for sure. I really feel like he and I would do something special together. Hopefully I get the chance to work with him some day.
What's your take on his VMAs speech?
I didn't hear all of it. I still haven't. I was actually backstage at that point in the show. I think Kanye is incredible and a creative genius and someone that continues to redefine sound and pushes the envelope with his personal life as well. I'm all about it.
Outside of music, you're also featuring in Scream Queens this fall. How did that happen?
The acting's been a big thing for me in the last couple years. There's this television show Kingdom that I'm part of where I play a fighter. We just finished our second season of that. For Scream Queens, Ryan Murphy called me for a meeting and talked to me about the show. At first it was impossible because of the schedule, but I moved some things around because I really wanted to be part of it. I'm excited for people to see it. I think it's going to throw them off guard. It's a very fun show but it's very different and I think it'll surprise people.
Can you tell me about your character?
I can say a little bit. Ryan Murphy's very protective of his material, so I won't say too much, but basically my character is part of a golf fraternity at the college. He takes a lot of twists and turns in ways people wouldn't think. He's a little douchey, in a funny way, and I think it's fun to play characters like that who are so opposite to the way you are in real life.
You're also playing a lead role in Goat, your first serious drama.
It's a really intense story. It's a movie based off the book by the same name about two brothers and college fraternity hazing. The story really pulls apart the social standards of masculinity and shows the good, the bad, and the ugly. I got to work with an incredible actor, Ben Schnetzer, playing my brother. I had to dig deep and pull out some real shit and let it all play out. I haven't seen a cut of it yet but I think it's an important story to tell and as an independent film I hope it sees success.