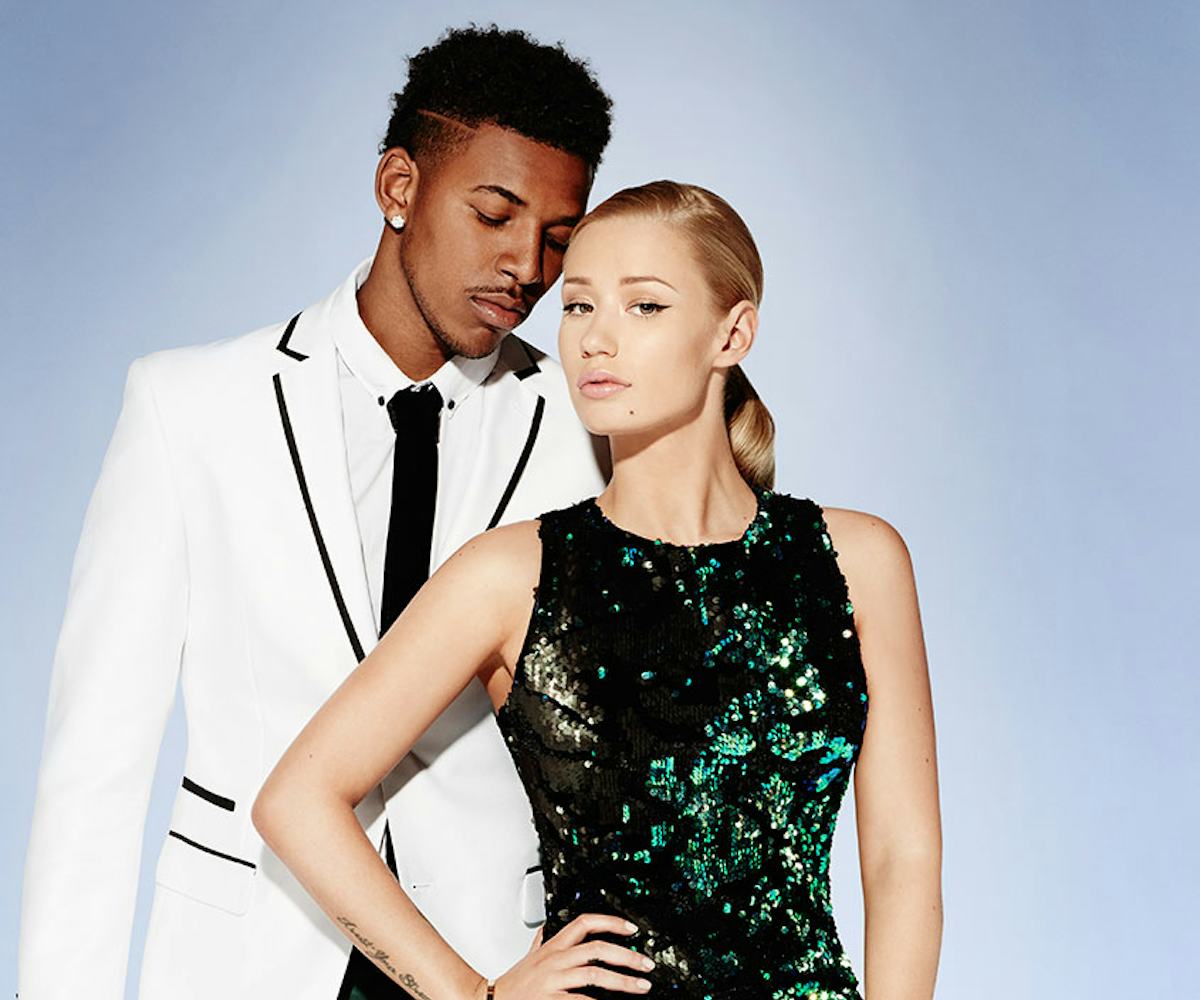 photo courtesy of forever 21
this is what it's like to date iggy azalea
straight from her boyfriend, lakers player nick young.
Ever wonder what it's like to date and live with one of the year's greatest emerging female rappers? One whose booty rivals that of JLo's? One whose name is constantly stuck in our heads (I-G-G-Y)? Well, L.A. Lakers Guard Nick Young is giving you a bit of an idea with his new DuJour cover interview. Hint: Even when you are 6'7" (or whatever he is), you get a little overshadowed.
After tweeting that Iggy was his #WCW (Woman Crush Wednesday) last September, the two got together and started dating almost immediately. "From her songs, I thought she'd be all about going to clubs and partying, but it's the opposite of that," Young told DuJour. "She wakes up early every morning to take care of her dogs, and she cooks for me. From her rapping, I was very surprised that she could do all that. She's a really cool, down-to-earth person." The couple now live together, star in Forever 21 campaigns, and have impromptu dance offs—all the makings of a present-day love affair, strong social media presences included.
"I wear the pants in the relationship." 
Still, a celebrity relationship isn't always easy. After all, they have to deal with some serious issues: "We fight over the TV remote because she watches TLC and the Weather Channel all night," Young said. "We argue all the time, but we get it worked out. We understand each other." One thing the two are still grappling over, though? Fashion. "I like shopping a lot, but Iggy's been on my back saying I should get a stylist," he said. "She picked out my outfit for the ESPY [Awards] and everybody loved it, so now she thinks she's my stylist!" (Cue the crowd-sourced "awwwwwww.")
"We've been getting really close lately," Young added. "I've never been with somebody like this. So I'm taking it as a challenge." That begs the question: Where is the relationship going? Marriage? That's one thing the basketball player is keeping to himself, for the most part. "It's come up a couple of times," he said. No other details, other than the fact that he "wear[s] the pants in the relationship." That's something we don't doubt—especially since Azalea is not really a fan of them.
photo via @thenewclassic instagram
photo via @thenewclassic instagram
photo via @thenewclassic instagram