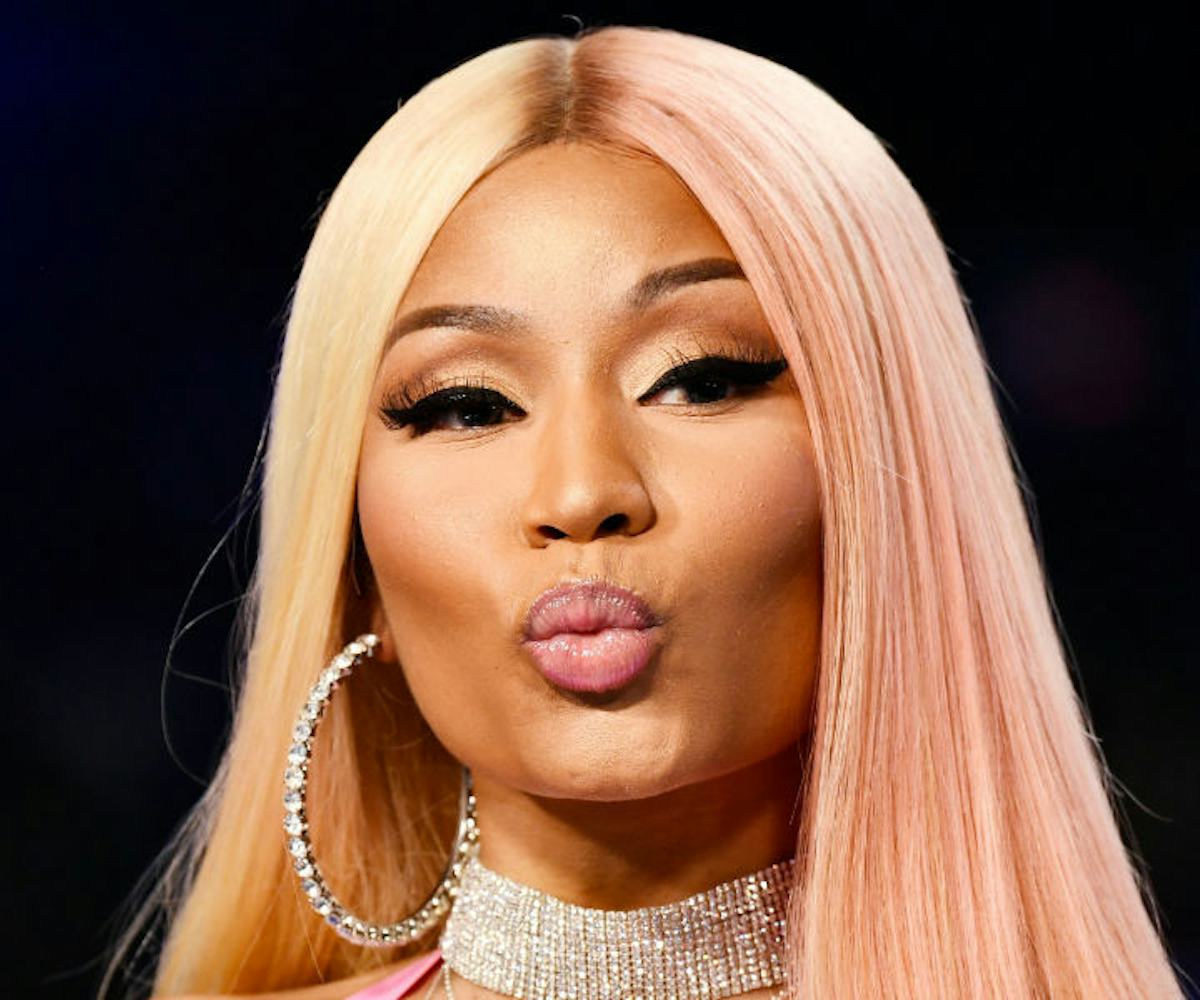 Photo by Frazer Harrison/Getty Images.
Nicki Minaj Drops Two New Songs & Opens Up About Cardi B Drama
And a new album is on the way
It's been almost a year since we last heard from Nicki Minaj, or Nicki Lewinsky, or Onika, or Roman, etc. Well, the wait is over, and the rapper is back with brand new music.
Today, she went on Zane Lowe's Beats 1, not only to debut her songs "Chun-Li" and "Barbie Tingz," but also to explain her brief hiatus. She told Lowe she took time off from social media to focus on her new album. (Oh, by the way, she's dropping an album. Release date is still TBD.) "This is the best album I've ever created in my life," she said, hyping us all up in the process. "I wanted to make sure I was writing something that was meaningful to me and that was inspiring and that would capture my audience."
And in order to do that, Minaj took social media off her phone completely, and got a new number—which she only gave out to 1 percent of her contacts. She also casually mentioned that she's shooting a documentary.
Now, about the new music. The first single, "Chun-Li," was inspired by the popular animated Chinese fighter of the same name, and includes bars like: "Oh, now she trynna be friends like I forgot." And: "They need rappers like me." Ad for "Barbie Tingz" (which, in our opinion, is the strongest of the two), it includes mixtape-reminiscent jabs like: "How you steal some disses/ still can't find a hit?" Hmmm.
Minaj referred to both tracks as "pop shit type records," but stressed that the new album—which will be her first since 2014—is, as a whole, "very layered." Some may point out that the release of Nicki's new music is interesting timing, seeing as Cardi B just released her debut album last week. There were also rumors that "Chun-Li" is a Cardi B diss record. Adding fuel to the fire, while Nicki made sure to congratulate Cardi on her new release, she also mentioned that she felt like Cardi didn't give her the respect she thought she deserved after "Motorsport" came out. She told Lowe: "Up until this recent interview [Cardi] did, I had never seen her show love in an interview. And I can only imagine how many girls wished they could've been on a song with Nicki Minaj." She also said she was upset with Quavo who she claims never stepped up to defend her from rumors that she dropped her verse on the song after Cardi's. 
Regardless, as we know, two successful and talented female rappers can exist at once! We're happy to see them both thriving—and coming with bars, at that.
Listen to "Chun-Li" and "Barbie Tingz" now.
And watch the teaser for "Barbie Tingz," below.