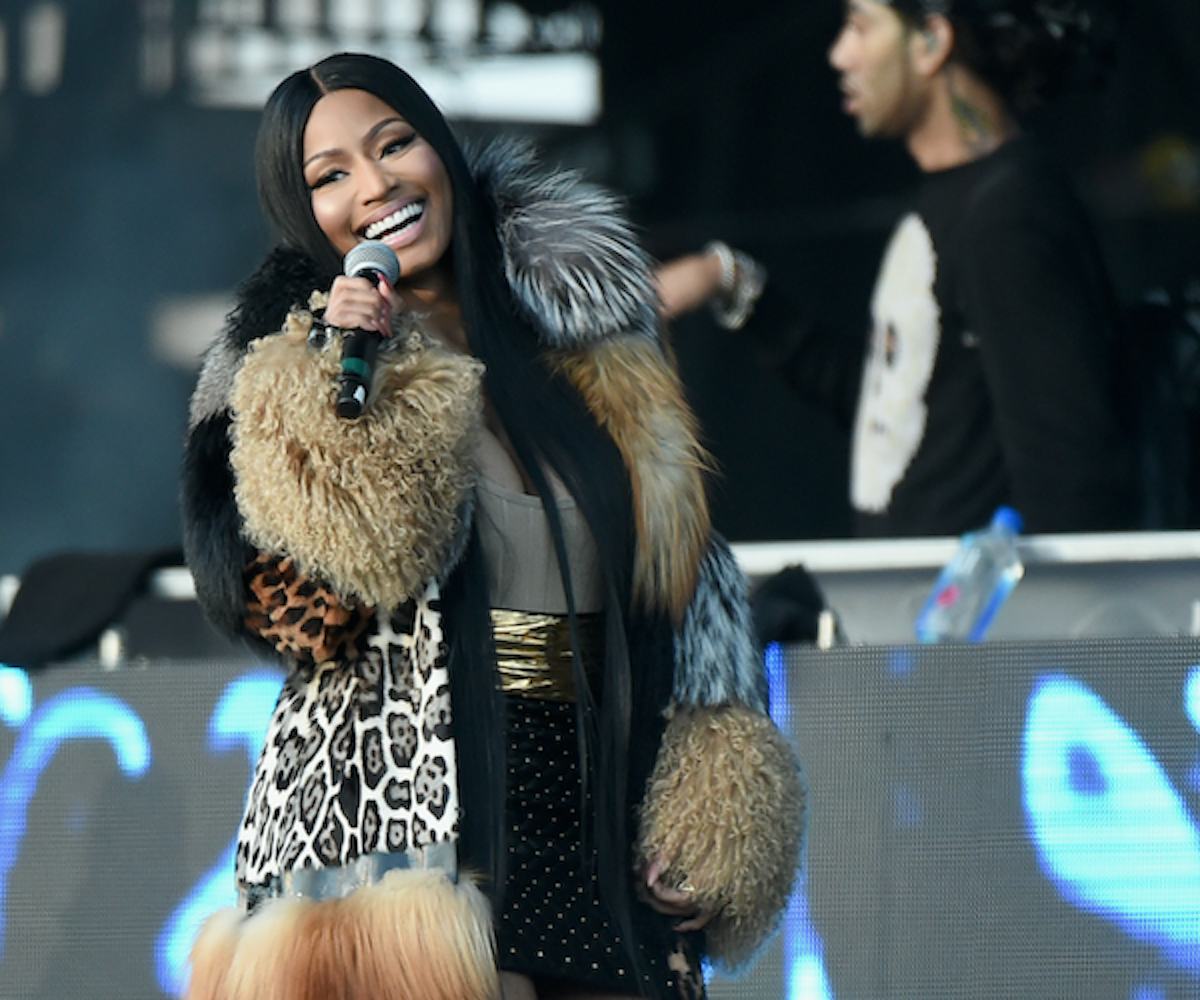 photo by Nicholas Hunt / getty images
Nicki Minaj Addresses Criticism Over Sex Worker Comments
"I was critiquing MYSELF more than ANYTHING"
Nicki Minaj is addressing critics who called her out for shaming sex workers and being hypocritical.
The rapper—who came under fire last week after telling Elle that she was surprised at "how many girls were modern-day prostitutes" and insinuated that women who are in sex work don't "know their worth"— responded to one of many Twitter user Jerome Trammel who wrote, "Dear Nicki Minaj, Your lyrics are hypocritical. You went over to @ElleMagazine to slut shame certain types of women, cause that wasn't your route (allegedly). People need to STOP trying to dictate & police women & THEIR bodies! If you can't HELP, don't HURT! @NickiMinaj." 
His tweet included quotes from her Elle story, lyrics from her songs that preached sexual empowerment, and a recent tweet Minaj wrote asking fans if they'll be playing her new single, "Bed (feat. Ariana Grande)," on their way to their next "d*** appointment."
In response, Minaj said that he misread the interview and claimed that her comments were not about her criticizing other women but herself. "Had u read the article, I was critiquing MYSELF more than ANYTHING," she said. "What I SAID was: I HOPE my overt sexual LYRYCS & PHOTOS don't make my fans THINK that I'm telling them to be promiscuous & to know their worth! Lyrics, photos & FUCKING r all 3 diff things."
She continued in a follow-up tweet: "A woman can be a 'freak' w|her man, sexual, spit explicit lyrics, an exhibitionist, love freaky girl talk w|her girlfriends, require men to treat her like a QUEEN, etc. NONE OF THAT EQUATES TO SELLING PUSSY. Now pop my dick outcho mouf. The Nicki hate train has left the bldng." 
While it's great that Minaj believes that women should have self-respect, her tweet still indicates that she thinks "selling pussy" or engaging in sex work doesn't fall under that umbrella. Despite being addressed by the rapper, Trammel didn't back down from his argument. "I said what I said," he said. "I'll add to it before I change it. You did slut shame women in the @ElleMagazine article! Why call ONLY me out? Oh, because that truth stung!"
Minaj has yet to respond to his last comment.