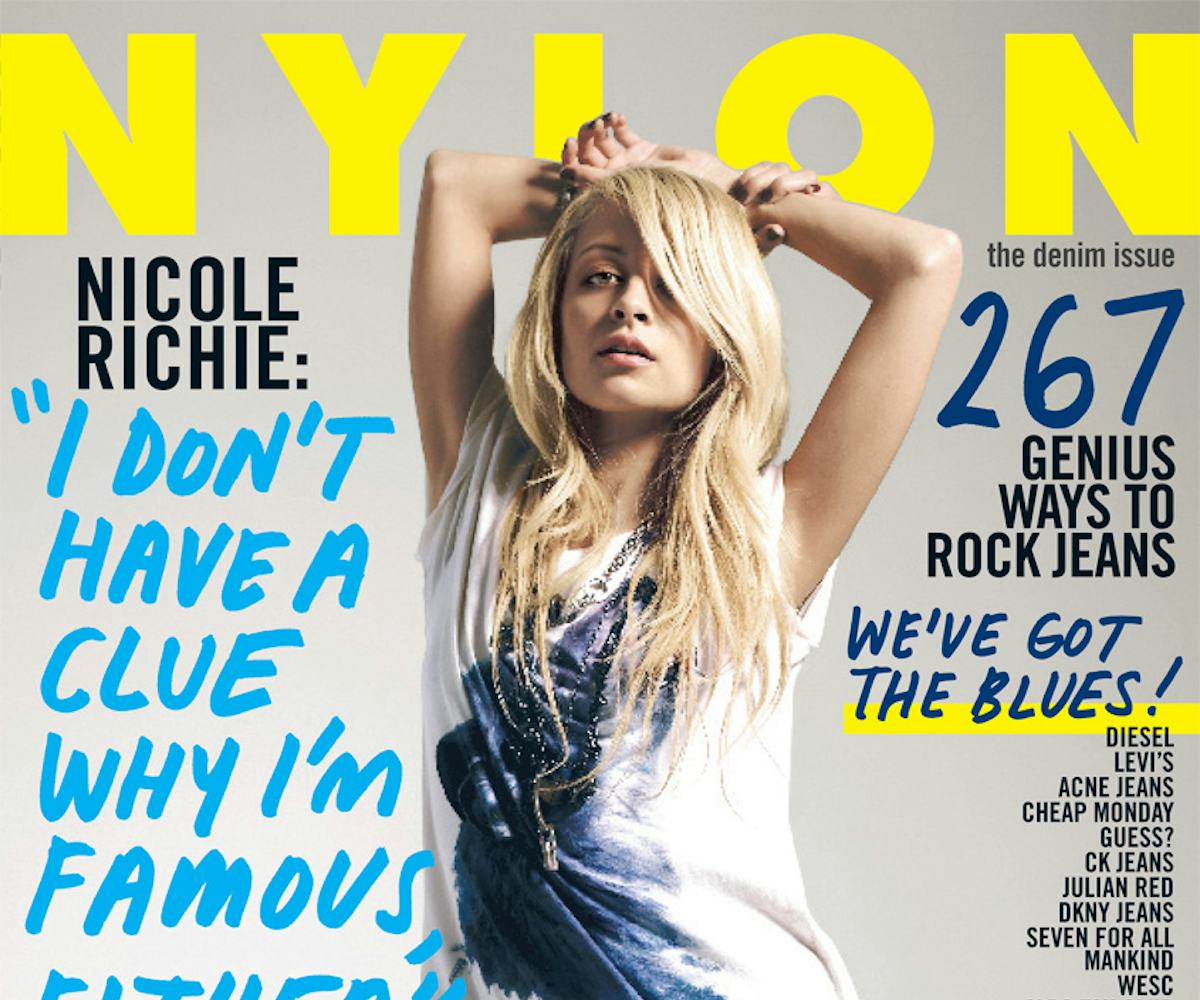 photographed by marvin scott jarrett
flashback friday: candidly nicole
reread nicole richie's august '07 interview!
"Ask me about rehab," says Nicole Richie to Ryan Seacrest during a commercial break in his KIIS FM show, on which she's appearing this morning as a guest. "I want to get that whole thing cleared up."
It's nine a.m. and already a sticky, soporific day in Los Angeles. On the other side of two thick slabs of soundproof glass, Richie is perched on the edge of a stool in Seacrest's studio in West Hollywood, swinging her feet in the air, holding a pair of headphones over her ears, and twisting around, distractedly. For someone so slight, Richie has an arresting presence: Her blonde hair is held back with braids that wouldn't look out of place on the head of Helen of Troy; she is wearing a floor-length, backless dress in a nude hue much paler than her golden skin. Two small angel wings are tattooed in color on her shoulder blades. In the fluorescent-lit studio, decorated in masculine blues and gray and full of monitors and microphones and odd little boxes covered in blinking LEDs, and juxtaposed with Seacrest in his scruffy polo-shirt, Richie seems to glow like a sprite.
When the commercial comes to an end and the red "ON AIR" sign starts flashing, Seacrest duly asks Richie about rehab and she answers with an obdurate but witty eloquence that not only clears it up (just because she wasn't photographed for a few weeks doesn't mean she was getting treatment—she was actually on tour with her boyfriend, Joel Madden of Good Charlotte), but has everyone working on the show laughing hysterically. "I never realized she was so fucking funny," one of the phone answerers says to another. "Me neither," he replies. "I'm actually just realizing I don't know all that much about her at all…"
Well, take notes. Nicole Richie was born Nicole Camille Escovedo in September, 1981 in Berkeley, California. When she was two she was informally adopted by Lionel Richie and his then-wife, Brenda Harvey-Richie; when she was nine the couple went through the legal proceedings to make the adoption official. They divorced soon afterwards. "My earliest memory is from when I was about four," she says. "I was a huge Shirley Temple fan and I turned part of my dad's studio at the house into a stage and every night I would have my mom, my dad, the housekeepers, the nannies, the chefs, everyone be my audience and I would do a performance. It's all I cared about doing. I had a microphone, I had costume changes…" Nicole's coming-of-age years coincided, unfortunately, with the most successful of her father's career. "I wasn't focusing at all on what Nicole was doing," he told a reporter in 2004. "I wasn't there."
"My childhood was definitely very dramatic," Nicole recalls. "I think my parents have been really hard on themselves because yes, they did make mistakes with me. I don't think I should have had that much freedom. My life was very chaotic, and I think my struggle right now is to try and find comfort in things not being chaotic. I'm so used to high drama and high energy all the time—I always sleep with the TV on."
Left to her own devices, Richie started using progressively more serious drugs culminating, when she was 19, with heroin. "When I pictured heroin I pictures some crazy crack-head with no shoes under a bridge," she says, with a chuckle. "You never think that is going to be you. And it never was me. I was never under a bridge, and I always had shoes. But, of course, that's not necessarily what a drug problem is. I just started off with marijuana, graduated to coke, then to prescription pills and then someone was just like 'Do you want to try this?' and I was like 'Sure, whatever…' When people were like 'Don't do it!' I was just like, 'Who cares? Fuck you…' You have that visual of it being really dirty, and here it's so glamorized and it doesn't seem that bad because you're at a nice house party. But it is. Doing heroin on Sunset [Boulevard] or on Pico [Boulevard]: it's the same thing."
The first time Richie began to "wrap her head around what famous means" was, she says, at school (the prestigious Buckley School, the alumnus of which includes the Hilton sisters, Bret Easton Ellis, Albert Hammond Jr., and Rashinda Jones), and later at college in Arizona. Slowly, public interest in Richie seemed to be escalating. Then, in 2003, Paris Hilton, her best friend ("I've known her since she was two years old, she's like my sister. From my dad's balcony I could see her mom's dressing room; we would sit and megaphone each other"), asked her to be in a reality show with her called The Simple Life.
Four years later and Nicole Richie is among the most photographed women in the world. She is one of only a handful of celebrities to whom various publications and TV stations have assigned a specific team of reporters and photographers whose job it is just to follow her every move. When she wakes up in the morning they are already outside her house. When she leaves, they follow her. When she gets back, they wait outside until she leaves again. The rabid tabloid interest in Richie's life disrupts one of our interviews: On the way to meet her for dinner at the Chateau Marmont one day I get a call from her publicist telling me that Richie had become inundated with paparazzi at a nail salon. Fortunately, I am told, another publicist at the company had been driving past and, noticing the interest, stopped to see if it was one of her clients. Richie had to abandon her car and get a ride to the office, where I was told I should come immediately. Some three hours later, when Richie returned to the salon to pick up her car, photographers were still swarming around it.
"My dad never had to go through this," Richie says in a plush corner office later that day. She's sitting on a large, comfortable couch with her legs tucked up to her chest and wearing a navy blue mini=dress over a white tank top. The evening is spread out against the sky and the light seems to glance off her delicate features—the tapered nose, the dark-rimmed honey-colored irises, the perfect teeth peeking from the wide mouth—which today are barely touched with makeup. Around her right ankle and running down onto her foot is a tattoo of a Rosary. On the ottoman between us are the remains of a take-out Italian meal. When she talks she holds you in her gaze as if daring you to look away. "I think there is a crazy obsession with people's personal lives—it's disgusting," she continues. "The only thing I can do is to just have some sort of serenity and go about my everyday life and preteen that they're not there." 
They are there, though, of course, and Richie's dismissive attitude towards the tabloid press has only fueled increasingly vituperative headlines. SCARY SKINNY! screamed the cover of In Touch the week I was with her in L.A. Inside, the magazine reprinted an e-mail Richie had written to her friends the weekend before, inviting them to a Memorial Day barbecue. It ended "There will be a scale at the front door. No girls over 100 pounds allowed in. Start starving yourself now."  
"That fucking email rhymed!" Richie says with a laugh (the rhyming part isn't quoted here). "Is anyone really going to take an email that rhymes seriously? I have a very sick sense of humor, sure, but I wrote that as a private email to my friends and I don't think anyone thinks of me as a very serious person. I'm a sarcastic person. I'm allowed to make jokes. I'm on a comedy show, what do you expect from me?" The response to that question, week in, week out, in the tabloid magazines and newspapers, on the talk shows on the TV and the radio, and by two women I overheard talking in The Coffee Bean & Tea Leaf on Hollywood Boulevard, is something along the lines of "a little sensitivity." 
"Clearly, she is thumbing her nose at people in rehab," said one Dr. Joyce Brothers in the aforementioned issue of In Touch. But Richie is a long past caring what Dr. Brothers, or anyone else for that matter, thinks about her weight. 
"That was one thing where I actually tried to stand up for myself and say 'If you think I have this problem let me just tell you that I don't," shy says. "I didn't want someone that doesn't know me that is struggling with [an eating disorder] thinking that because I have a problem it's OK. So I had to address it and say 'No, I don't have an eating disorder.' Now I'm just done with it. I've said it. It's two years old. People have just got to get over it. It's really sad how obsessed America is with weight. It's sick. I see these magazine covers of celebrities who are on there because they lost 20 pounds in for days. That's not normal, or healthy. But they're praised. Everyone asks 'How did you do it?' That's the best selling cover for those magazines. I've never gone a day without putting food in my mouth. I've never sewn my mouth shut. I've never gone on a liquid diet. So I want to know why I'm the face for a problem."
When Richie talks about the media she is unwavering in her derision. The scorn practically drips from her every word on the subject. "I feel attacked," she says. "I just feel like, 'Why can't they focus on someone else?' I'm not walking down Robertson Boulevard everyday, I'm not at Fred Segal shopping everyday, and I'm not sitting at The Ivy everyday, so I don't understand why they feel the need to drive all the way over to my house just to follow me and try to find something that's not right about me." She has a point: When was the last time you saw a picture of Richie out partying? Whereas many celebrities seem to court tabloid press even while attacking it, Richie is unequivocally contemptuous and has been since the interest in her started in earnest—when she entered rehab in 2003 prior to filming the first season of The Simple Life. 
"I knew then, instantly, what it was like to be exposed and feel exploited," she says. "But I wasn't going to apologize for it. That's the mindset I have to this day because I get accused of a lot of things, but I know that I'm not doing anything wrong, so I'm OK with it. I don't feel the need to defend myself as much as people think I should." Why are you so famous? I ask. I think a lot of people don't understand that.
"I don't have a clue why I'm famous, either," she says. "But I didn't make myself famous. I'm not doing it; you're doing it. But I'm going to live my life whether people are interested in it or not. I mean, yes I'm on a TV show, but that isn't an open invitation to be interested so in my personal life. I think that people just want to say 'Oh she doesn't do anything, she doesn't have a job, she doesn't do anything.' They get off on that. But I do have a job, just like everyone else." 
She's leaning forward in her seat now, not breaking eye contact. For such a small person, Nicole Richie can get very angry. "I think that once you step into that world and start explaining yourself then people expect that of you," she continues. "They think that you owe them your life, and I don't." She pauses for a beat. "It's just exhausting to care what tabloids think. It's a false world. It's paper with writing on it and pictures of you. That's your world? That's ridiculous. My world is my home, my dogs [she has a pit bull, a Shih Tzu, and a Pomeranian], and my friends. That's real life. Tabloids aren't. They are what some weirdo in some office is making up about you because it makes them money." Her delivery is taut, and compelling. "Look, I'm 25 years old. I make mistakes [Richie is unable to talk about her impending hearing for the DUI she was issued earlier this year for legal reasons. At press time, no ruling has been made.]. people make mistakes. People go through things emotionally, especially girls. I'm very happy with my life and I wouldn't take back any mistake I've made because it's made me who I am today. I don't walk around pretending that I'm perfect, so I don't think anyone else should hold me to that and not expect me to fuck up occasionally. Because I do, and you do, too. I live a very honest life, and I'm very happy with the way I'm leading it."
"I don't consider myself a role model," she continues. "But when you cross the line to being in the public eye someone is going to consider you one whether you like it or not. I'm 25, but I think the dangerous thing is that now there are 16-, 17-, and 18-year-olds that people consider to be role models. You think I make mistakes now!? I'm so happy that I wasn't famous back then because you'd think that I was the fucking devil."
For many people, Richie's behavior on The Simple Life has solidified an impression of her as a dumb, dim-witted, spoiled girl with no grasp on reality. This is in part because it is promoted as a "reality" show. "It's not a reality show, though," she says. "It's unscripted television; that's what the audience likes. No one wants to see a show of Paris and I talking about the war or who we think the next President should be. That's not what the show is about. The show is for one purpose only: to keep people laughing." (Richie is, in fact, a producer on The Simple Life and so has control over what airs and what doesn't.  
For a lot of people, that show is their most significant exposure to you, I suggest. And I'm sure those people actually believe that, for example, you can't turn a kettle on.
"Well, I actually don't, but that's OK," she says, laughing. Then, more seriously: "I don't really care about the dumb thing. Actually, last night I was at a video store buying some DVDs and I was really thirsty for apple juice. So I asked 'Do you guys have apple juice or is that a stupid question?' And right when I said that this typical goth girl with a black sweatshirt and piercings with her hood over her head—exactly the type of girl that would hate the girls like me on TV—walked by me and scoffed, like 'Ugh! Typical blonde girls! They're so stupid!'"
As Richie's profile has risen so she has become involved in more and more projects, which she sits down to discuss one afternoon at a party in the garden of Quincy Jones's spectacular mansion high in the Bel-Air hills. The occasion is the launch of a jewelry line that Kidada Jones, Quincy's daughter and one of Richie's closest friends, has done in collaboration with Disney. (Quincy Jones is one of Richie's two Godfathers. The other is Michael Jackson.) A vast marquee is done out like a Disney princess's Wonderland: everything is pink and glittery. Before the large, ornate mirrors that line the walls people are getting all manner of beautifying treatments. Candy and cupcakes are everywhere. Over by a stand of sparkly things in the corner Denise Richards is talking to some friends, bouncing her excited baby gently. Next to her is someone dressed as Snow White. The Rihanna track "Umbrella" is blasting from speakers. 
First up for Richie will be her second book, a style guide which has as its main focus "the fact that a lot of my inspiration for what I wear is pulled from different decades," to be published later this year by Simon & Schuster. "I'm focusing on appreciating the good parts of the past, like the '20s, '30s, and '70s, and making them current without it looking like you're in costume," she says. Richie has long been known as a style inspiration—even more so after she fired the stylist Rachel Zoe in November last year. Richie, who already has a makeup line in Japan, is also working on an accessories line, which will debut in seven months. "It's jewelry, head and neck scarves, and sunglasses," she says. "I have a '50s line, a '60s line, and a '70s line." She's also working on a full collection. "My heart hasn't been into it until now," she says. "Now, I'm ready." As if that wasn't all enough, she is also working on developing her own TV show and, yes, an album. "I'm a huge classic rock fan," she enthuses. "The Doors, Janis Joplin…So I want to mix that into what's current now. Like what it would sound like if Pharrell worked with Zeppelin…"
"Hey Tiny," calls Kidada, walking past to the house. Richie waves a half-hearted wave. Is that your nickname? I ask. "Yeah, she's always called me that," she replies, then sighs quietly. Through her oversize sunglasses she stares out over the city sprawled out below us. "I remember when we used to play up here as kids," she says, wistfully. "We didn't have a care in the world."  For a moment, she's gone: immersed in what I like to think are thoughts of tree-houses and ice-cold lemonade, sleep-overs and hide-and-seek. Then there's a call from her publicist, on the other side of a topiary; a TV crew are waiting to get five minutes with Richie. She turns and gives an apologetic 'what are you gonna do?' shrug, gets up, and walks away.