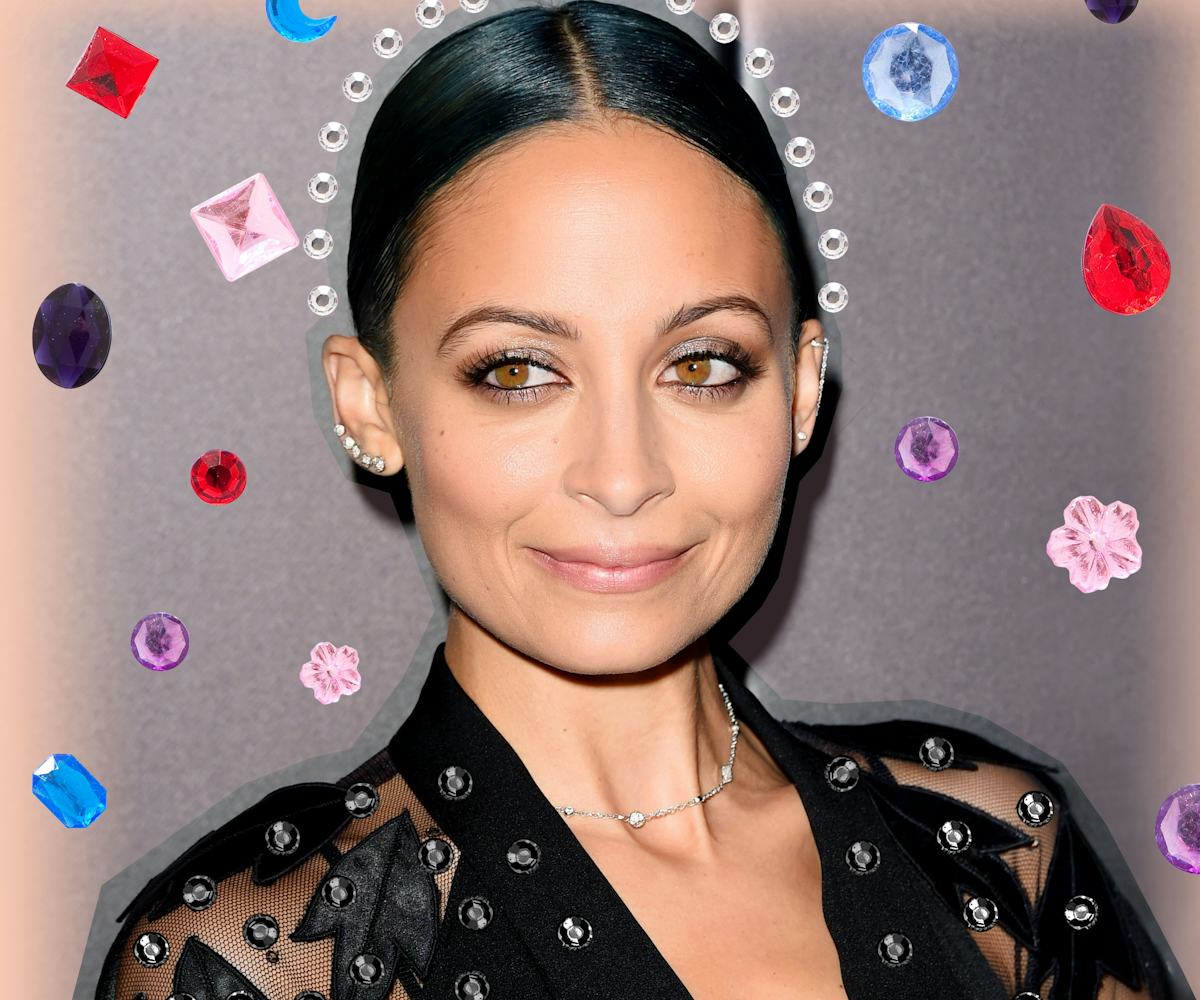 Photo by Jason Merritt/Getty Images
nicole richie shares her style advice
+ how to pull off colored hair
If Nicole Richie taught us anything, it's that finding yourself, your style, and your artistry requires more than a few experiments and phases. Since entering the forefront of pop culture in 2003, Richie has redefined herself in nearly every way. Now, after saying goodbye to her Von Dutch trucker hats, extensions, and pleated mini skirts, Richie is no longer seen as simply Lionel Richie's daughter, or a reality TV star. With a family, fashion brand, book, and web series under her belt, the 33-year-old is redefining what it means to be a young, successful woman.
This week, Richie is launching her . With vintage-inspired walls and never-before-seen apparel and jewelry, the shop is a trove of style inspiration. We caught up with Richie earlier this week to talk about the new project and bask in her infinite style and beauty wisdom.
Click through the gallery to read our interview.
What advice would give to those who are trying to find their own personal style?Don't focus on trends, just go with what you like and what looks good on your body. That's what's going to make you feel the most confident, and that's how you're gonna develop your own personal style. That's also the fun of fashion-—to have fun with it.
As a major aughts icon, do you have any favorite aughts fashion trends that you would still wear today?My whole thing is that I kind of try not to focus on trends. I'm always trying to steer people away from doing something because somebody else is doing it. That doesn't necessarily work. You gotta go with what works for you. 
What are your favorite House of Harlow pieces? What do you find yourself wearing every day?Well, the kimono dresses, they mean a lot to me. I wear that style of dress all the time. So, flowy dresses are definitely some of my favorites. I love little sundresses, especially in the summer. That's just kind of my go-to.
The House of Harlow apparel collection features a lot of beautiful, vintage-inspired fabrics and patterns. Do you have a philosophy on how to approach patterns?I mean, I'm a print-on-print type of person. I love a double print, I love a clashing print... Those kind of things I find inspiring and exciting. I'm always going to dive head-first into prints because that's just what I'm drawn to.
Have you helped your sister Sofia find her style in any way?She has a totally different style, and she looks incredible. She doesn't need any advice from me. She's a perfect example of somebody who marches to the beat of their own drum and wears exactly whatever they want. If I tried to dress like somebody else, you would be able to see it, so it's important that you wear what makes you feel comfortable and what makes you feel good about [the look].
What are your tips for having colored hair and still looking like a grown-up?Do I look like a grown-up? I mean, I don't really know the answer. I guess that my color palette of clothing has definitely toned down since I've had colored hair. It's not a conscious decision, but I guess you have to pick what's going to be bright in your life.
What was the most valuable piece of advice that you were given by anyone who influenced your style?No one has ever given me advice. For me, I just watched people around me—mainly my mom, who was out every night with my dad in the '80s with lavender contacts and huge shoulder pads. She was just giving it to you head-to-toe, all the time. She was my first introduction to fashion at all. And I remember looking at her and thinking, "Oh, that's what I want to look like. That's what you do when you're a grown-up, and that's what I'm gonna look like." Now, granted, we have generation gaps, and we don't have similar style at all. Times have changed, and I've developed who I am on my own. But it's people like that who have really done whatever they wanted and that's something that I respect and remember.
What eras did you pull from for your latest collection?I mean, it's kind of all over the place, but mainly '60s and '70s. There were definitely some cool '20s and '30s statements in there, also. 
Did you grow up shopping at The Grove?I wish that I was that young that I would grow up shopping at The Grove. I was more of a Beverly Center generation type of person. I have been to The Grove many, many times.
Did you grow up going to vintage or vintage-inspired stores at all?I did. I mean, my mom is a huge shopper, so she always was pulling from different vintage stores, vintage antique stores. I got pretty familiar with that process pretty early.
What kind of new, never-before-seen merchandise can shoppers expect at the pop-up?Well, the apparel is going to be seen for the first time for this season. It's going to be seen for the first time at the store. I am showing my fine jewelry pieces, which have never been seen before. There will also be House of Harlow journals and stationary, which also have never been seen before. I have a vintage wall in the back. It's curated of five pieces at a time. It'll switch out every few days. But it definitely gives the customer a chance to not only understand my inspiration, because I've pulled so much of my inspiration from vintage, but to also have a piece of it to take home, as well.