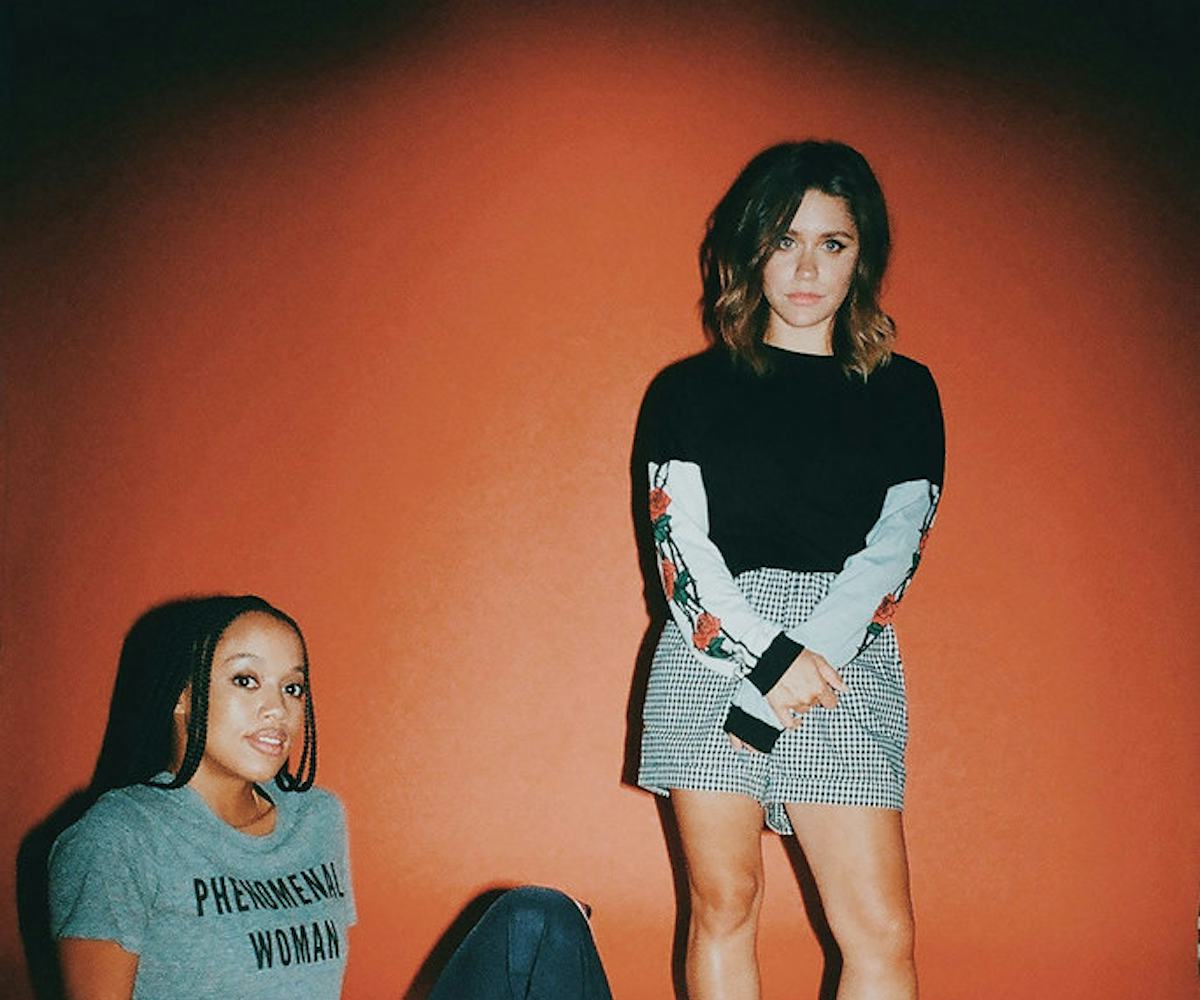 Photo by Hannah Sider; Styled by Marissa Smith; Hair by Lisa Caprio; Makeup by Alana Wright
The NYLON x NIKE Guide To Chicago Festival Season
It's all fun and games at music festivals until your feet burn out. The right pair of kicks is essential for living your festival fashion fantasy, and doing so comfortably. Some may opt for the sensible boot, but when said festival takes place smack-dab in downtown Chicago, you're going to need something that'll help you run the city.
Nike, what's good? This month, Nike debuts the ultimate music festival shoe: the freshly redesigned Air Max 97 Ultra. You wouldn't know it from glancing at it though. Nike made a point to honor the design's 20-year iconography, opting instead to lighten the shoe's weight and increase underfoot comfortability. (There's also a sleek metallic pink colorway that elevates the Air Max 97 Ultra to new, Instagram-worthy heights.) A staple in the underground music scene, the Air Max 97 Ultra maintains that cult appeal, making it not only the ideal shoe for exploring festival grounds but also the metropolis surrounding it.
Chicago is, after all, a destination in and of itself. It's New York without the jaded attitude. Lauren Ash and Anna Russett are two of Chi-Town's finest. Both embody the attitude of the Air Max 97 Ultra through bold adventures and a sleek and fast lifestyle. Ash, the founder and creative director of Black Girl in Om, dedicates her life to staying active and encouraging other women of color to find inner beauty through wellness. Russett, meanwhile, focuses on creative strategy and uses social media to empower her audience through all things fitness, beauty, art, and more. Not only do they know Chicago, they help run it—with style, no less. 
Ahead, both share their festival staples from around the city while showing us how to rock the re-engineered icon that is the Nike Air Max 97 Ultra (available August 5 at Nike). See you around town.
Photographer:Hannah SiderStylist:Marissa SmithHair:Lisa CaprioMakeup:Alana Wright
The Best Place For Fueling Up For A Festival Is...Anna Russett: Handlebar in Wicker Park is one of my go-to spots to get a healthy, delicious, vegan, or vegetarian meal before taking on the day or evening. They've got a gorgeous patio, gender-neutral bathrooms, and good music. Get the Chili Mac Attack or the Fried Avocado Tacos and thank me later.
Handlebar: 2311 W North Ave, Chicago, IL 60647
The Best Place For Fueling Up For A Festival Is...Lauren Ash: I recently went to True Food Kitchen in the Loop and loved their health-conscious meal options. Chicago has far too few plant-based-centered restaurants, so I'm glad this spot has popped up in the Midwest.
True Food Kitchen: 1 W Erie St, Chicago, IL 60654
The Best Place For Last-Minute Festival Gear Is...LA: Sir & Madame in Hyde Park. Owned by Chicago's own creative power couple, Autumn and Brian Merritt, this boutique has plenty of unique his and hers looks, like their current millennium pink boxing robe and "Sir" and "Madame" branded T-shirts, and they feature sought-after pieces from one of my favorite local cool-girl brands, Hero/Black. I'm going to pay Sir & Madame a visit to find something dope to pair with my new metallic pink Nike Air Max 97 Ultras for Lollapalooza!
Sir & Madame: 5225 S Harper Ct, Chicago, IL 60615
AR: The NordstromxNike sneakers boutique. Check out the unique sneakers, accessories, and clothes that will guarantee you won't be looking basic whatsoever at Lolla. I work right by this boutique and have spent too many lunch breaks trying on all the cute stuff.
Nordstrom: 55 E Grand Ave, Chicago, IL 60611
The Best Place For A Little Festival R&R Is...AR: First, try the Chicago Athletic Association right across from Grant Park and go to the second floor to hang in a comfy armchair and recharge your phone. Make sure you also check out the Game Room which offers food, drinks, and free games like pool, shuffleboard, and chess!
Chicago Athletic Association: 12 S Michigan Ave, Chicago, IL 60603
LA: Scratch Goods in the West Loop, Chicago's first, and only, mask bar. Its major perks include that it's woman-owned and offers non-toxic skin-care masks and foot soaks.
Scratch Goods: 1046 W Fulton Market, Chicago, IL 60607
The Best Place To Get Active Is...AR: Head over to Montrose Harbor. Run along the Lakefront Trail, play a game of volleyball on the beach, or find a quiet spot on the grass to do yoga. While you're there, take a little hike in the Bird and Butterfly Sanctuary. It feels like you've been transported outside of Chicago into in a field of flowers, courtesy of Mother Nature herself.
Montrose Harbor: 601 W Montrose Ave, Chicago, IL 60613
The Best Place To Get Active Is...LA: Healthy Hood Chicago. Community-driven and focused, this Pilsen pop-up offers $5 classes with amazing trainers, like Seobia Rivers who teaches cardio kickboxing with trap music twice a week. Yes, you read that correctly. Catch me there sweating like a boss!
Healthy Hood Chicago: 2242 S Damen Ave, Chicago, IL 60608
Nordstrom: 55 E Grand Ave, Chicago, IL 60611
The Best Place For Midnight Eats Is...LA: The chicken and waffles at Chicken Shop can't be beat. This sweet and savory dish makes me rethink my current part-time vegan cleanse. Get yourself a plate and pair it with one of their incredible cocktails. My favorite isn't on the menu: a mezcal old fashioned.
Chicken Shop: 113-125 N Green St, Chicago, IL 60607
AR: It's really hard to name just one place, but I'm a huge fan of Chicago Diner in Logan Square. Vegan brunch that could convince even the most hard-core carnivore to go vegan.
Chicago Diner: 2333 N Milwaukee Ave, Chicago, IL 60647