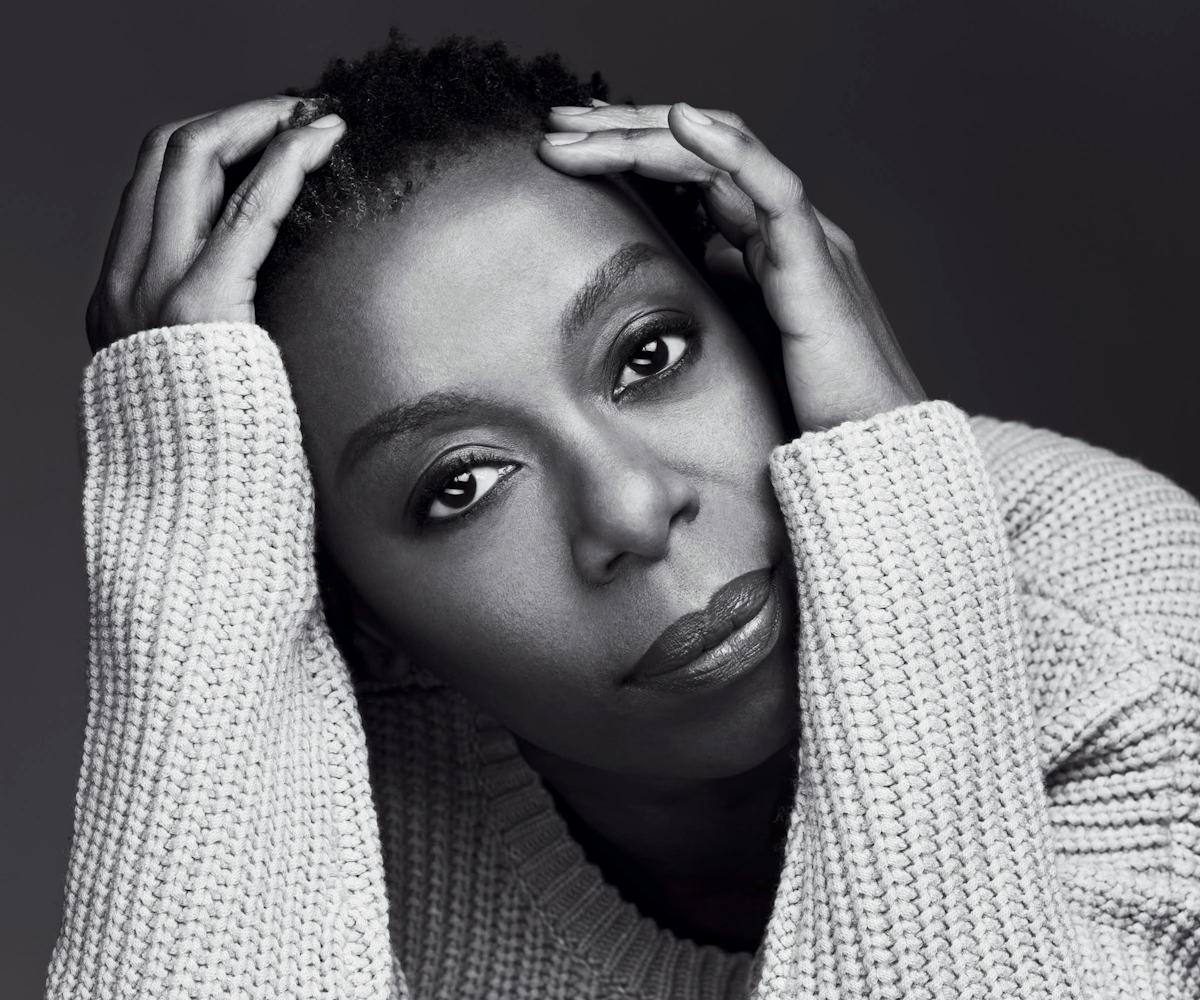 Photographed by Rachell Smith
Noma Dumezweni On Becoming Hermione Granger And Why Representation Matters
What it's like to reimagine an icon
It's not difficult to imagine Noma Dumezweni and Hermione Granger as the same person. In conversation, the veteran stage actress gives off the same air of intelligence and curiosity one would imagine from the Harry Potter character. Like her theatrical counterpart, Dumezweni has endured her own fish-out-of-water moments, arriving in Ipswich, England, from Africa at the age of eight and finding refuge from her sense of otherness at a local youth theater. Even still, she confesses that the opening night of her latest play, "Harry Potter and the Cursed Child," wasn't easy. Never in her wildest dreams had she imagined she'd star in a West End production—let alone as an iconic character like Hermione Granger. Until this, her most notable role had been understudying for Kim Cattrall in the Royal Court Theatre production of "Linda."
"Oh fuck me!" Dumezweni giggles, gesturing wildly at the memory of her first night performing in "The Cursed Child." "I'm doing this with my hands because the energy was connecting. It was through the entire building. All the people were coming because it was J. K. [Rowling]'s story. Hermione, Ron, and Harry, how's it going to be?"
"Harry Potter and the Cursed Child" begins 19 years after the final book. Harry Potter and the gang now have jobs in the Ministry of Magic and children of their own attending Hogwarts. But, to put it mildly, early retirement and peaceful family life might not be in the cards. After the play, spread across two nights, buttons were distributed to the audience encouraging them to #KeeptheSecrets… so let's just say situations escalate, stage craft becomes increasingly magical, and—much like the books—many moments may require a hankie or two. 
Dumezweni's association with the production began when friend and director John Tiffany asked her to participate in the play's workshop—a low-stakes series of rehearsals meant to work out staging and scripting on a technical level. The actress insists that she viewed the project as playtime, so much in fact, that she recounts the moment Tiffany offered her the role as more of a "sideswipe" than a victory lap.
"How would I have even known a year ago I'd be playing Hermione on the West End?" she yelps. The end of her hand-rolled cigarette bobs up and down as, once again, her emotion is transferred into every inch of her body. "Shut up! That's amazing."
Her casting touched off a minor internet firestorm, a clutch of fans complaining that their beloved character would be portrayed by a black woman. At its peak, Rowling even weighed in, tweeting a reminder to fans, "Canon: brown eyes, frizzy hair and very clever. White skin was never specified. Rowling loves black Hermione."
For her part, Dumezweni is pragmatic about the non-scandal, noting that what takes place outside the theater has little impact on how she does her job. She says matter-of-factly:
The thing about Hermione being black, being an actress of color—I am. I just am. This is how I was born. This is it. I'm an actress first, and I am black second. That is actually my gift. I realized as I was growing up, it's not good—I can't do that part, I can't do that part, I can't be seen as that! But actually, if you play into those stories, if you play into that paradigm of what people's assumptions are, then you don't do stuff. You do stay limited. It's always down to the work.
Although the show has only been in previews for a few weeks, with an official debut on July 30, Dumezweni has already felt ripples of her what her performance has meant to others. She recounts meeting a fan from Brazil at the stage door one night. There, she was breathlessly informed about a friend who had burst into tears upon hearing the "Black Hermione" news. As a woman of color, the woman could finally see herself in the iconic series.
"Representation matters, it's as simple as that," Dumezweni notes, pausing to collect herself: 
We don't see ourselves anywhere. The default is white. That's the way the world has been. History is told by the winners. That's as simple as that. In this day and age, we're all conversing. We're all in the same space. The more diverse an area, the more communication and ease. It's true. That's why I live in London. You can meet people as human beings. When you do not know people, they're other. They just become other. We're all human beings. But they become alien if you're poor, sad, and the system is not looking after you. You see someone else going, "Who are they?" Why would I care because I'm already struggling?
It's admittedly a lot to take in. Dumezweni is overjoyed that in her mid-40s she's experiencing a monumental career shift. And that for the first time she's able to pay her bills on time. But the idea that she could be considered a role model? That's a bit trickier to wrap her head around. She muses:
The words "role model" sit heavy on people. I wouldn't choose it myself. I would say I am a lightning rod; the universe has given me moments where I can be a lightning rod for a lot of conversations. I've only just stepped into that thought recently. Because I'm still living my life. I'm a single mom, co-parenting. Life is going on. But the joy is that I've got this job, and I'm so lucky. There's so much stuff happening in the world at the moment, and I'm part of many rods of conversation… with that energy, there will be resonance and dissidence. That's what will happen. Some people go "yes," other people go "no." But I'm going to hold on to that space because it's about the work. If you can find me as Hermione, then that's fine. I've done my work… So Hermione, fuck me! Never saw this coming. I am so grateful. It's really hit me what a privilege it is.