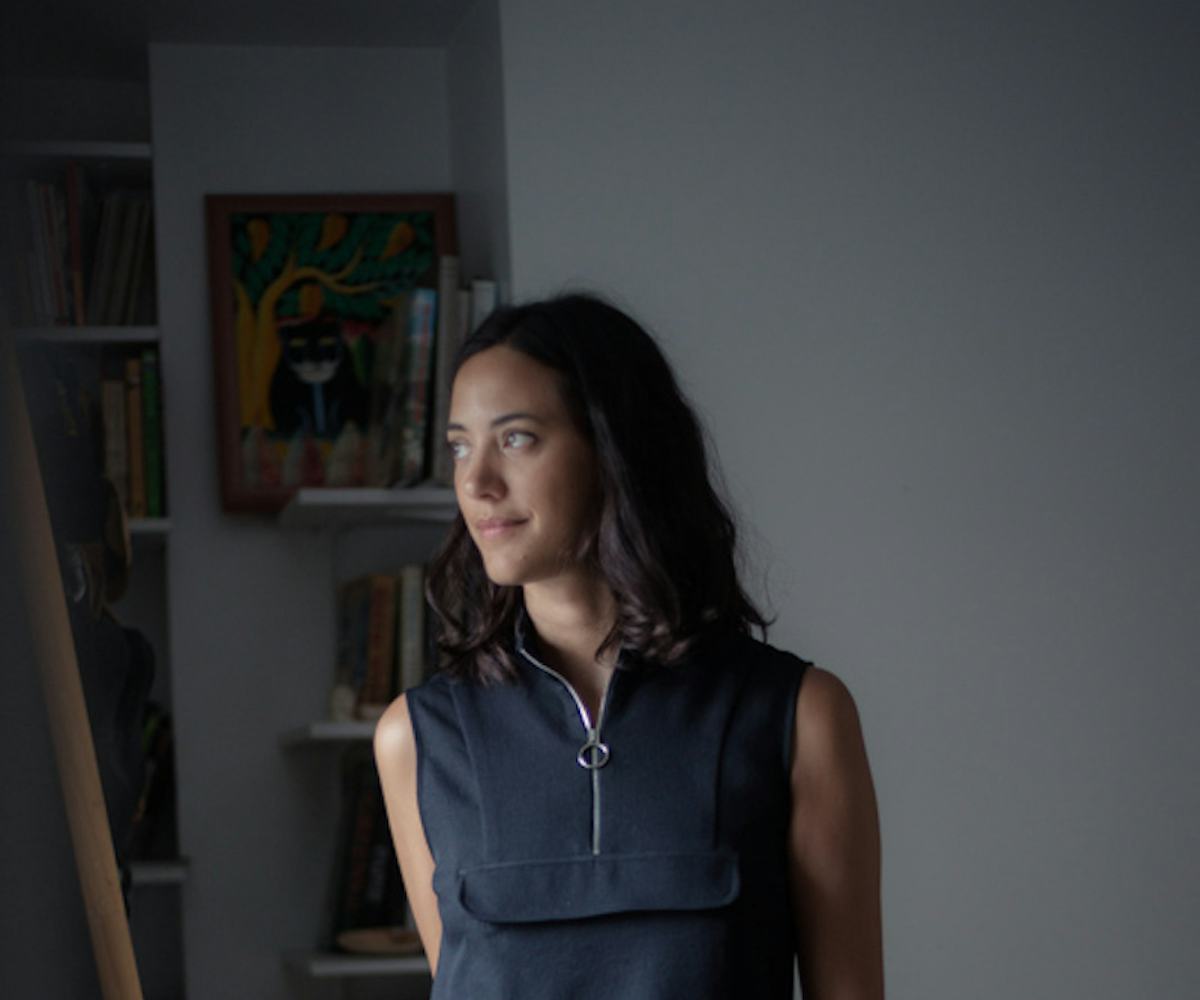 Photographed by Daniel Terna.
Inside Nomia Designer, Yara Flinn's Brooklyn Home
The designer's space is smart and simple
The following feature appears in the September 2016 issue of NYLON.
Those familiar with Yara Flinn's fashion brand Nomia won't be surprised that her one-bedroom apartment in Williamsburg, Brooklyn, is as minimal-chic as the collections for which she's known. "I make dresses for women who don't like dresses," says the longtime New York City dweller, sitting on a linear gray sofa in a sporty sleeveless anorak-style midi frock of her own design.
"It's so hard to find a dress that feels like jeans and a T-shirt—not only in terms of comfort, but also feeling casual and put-together." Her aesthetic, she says, "is really about juxtapositions: the tensions between masculine and feminine, between utilitarian and luxury. I like recontextualizing shapes into unexpected fabrics. Those are the things I find most exciting about design."
Click through the gallery to read the rest of the feature.
Translate that to the home, and you won't find ruffled curtains. Instead there are clean lines, unstained wood, two cats, art from friends, and a lot of herbs and plants. The coffee table, built by her husband, architect Drew Seskunas, is a Uline utility cart on locking casters that he cut down and topped with painted and varnished OSB (oriented strand board), the strong and cheap material commonly found at construction sites. "I love it, because you can move it and do your workout on the rug," she explains. Seskunas, whose design studio The Principals makes experimental architecture, objects, and furniture, also notes a pragmatic benefit of the table's wire base: "It helps to have something open so cat hair doesn't collect."
Flinn had lived in the apartment for a few years before Seskunas joined her (they got hitched in August), but aside from a few antique rugs from eBay, she hadn't directed much attention to the space. "I wasn't the best nest-maker," she concedes with a laugh. "I was at work for such long hours that I came home just to go to sleep. Once Drew moved in, he was like, 'So basically we're going to redo everything.'"
With his encouragement, Flinn got inspired. A lamp that had sat in its box for eight years finally went up, and now she's getting into tactile ceramics. "I used to covet shoes," she adds. "Now I covet housewares." Though they both have strong opinions about design, the marriage of their furnishings was pretty easy. "Luckily we have very similar tastes," says Flinn. She liked everything Seskunas contributed, particularly another OSB side table with triangular legs that he and his partner laboriously fit together and secured with dowels.
Other pieces include prototypes from a pop-up shop he built for Everlane: a tall mirror in light, unfinished wood, and a rack, similar to a ladder, on which they can hang things, like a wetsuit after a day of surfing.
But the emphasis on function doesn't mean that beauty is compromised. Flinn, influenced by the '80s classic The International Book of Lofts and other vintage interiors books that she buys off Amazon, describes her vision for the home as "warm minimal." A Wassily Chair by Marcel Breuer that she found on Craigslist—in tan leather, not the more popular black—is a perfect example. "When I found it, I was like, 'Oh my god, amazing,'" she says. "For me, chrome plus tan equals the perfect juxtaposition of materials. It's austere, but it's warm."
Her Instagram feed features more design inspiration from the '70s and '80s, like a monochromatic pale yellow living room with sling chairs, and a tonal carpeted floor with sunken seating areas. Pointing to a photo in the lofts book, she says, "I mean, these Mario Botta chairs are amazing, and for some reason I can still be inspired by them for clothing, because it's about the lines, or the finishes of the metal." And that only makes sense. When Flinn speaks about her home, she could just as easily be describing her mission for fashion. "There should be a lived-in aspect to it," she says. "It shouldn't be untouchable."