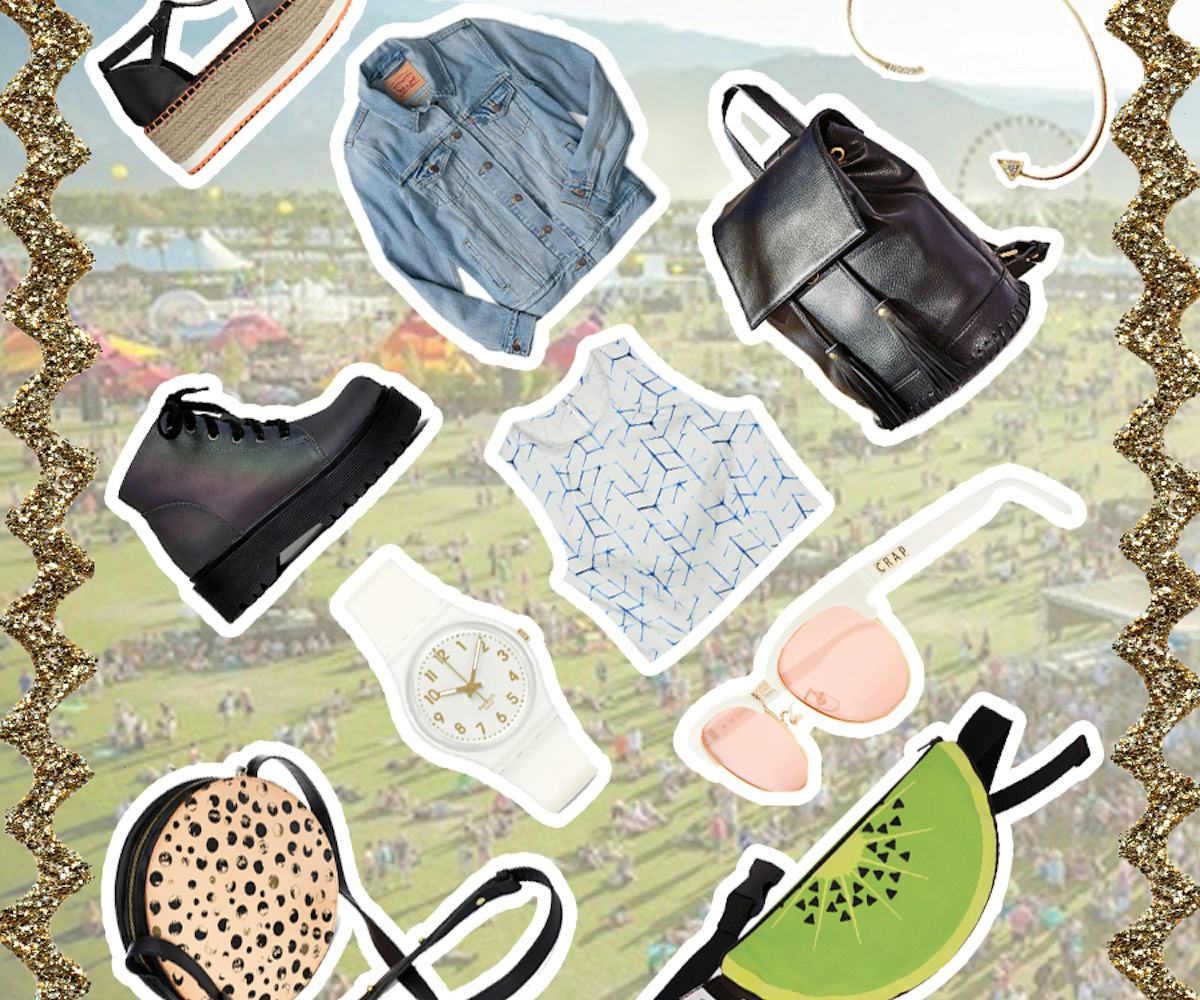 5 Non-Bohemian Looks To Wear To Coachella This Year
An outfit guide for the alt festivalgoer
Festival season is officially upon us. With the first weekend of Coachella just seven days away, it's time to start planning the perfect wardrobe to bring along for the festival.
Over the past couple of years, festival fashion has become almost as important as the music itself. Attendees pay close attention to detail in order to curate the most flawless looks (because everyone wants to be featured on a street style blog and post the best FOMO-inducing Instagram shot, obviously). While the bohemian look has pretty much become a festival staple—especially at Coachella—it's starting to feel a bit overdone. You don't have to dress like everyone else in order to stand out.
To help you with your packing dilemmas, we came up with five foolproof outfits that are bound to get you on a best-dressed list—all while shying away from the typical peasant blouse and intarsia prints we're used to seeing. These looks are guaranteed to satisfy all your style and weather needs, from the sweltering desert days to chillier nights.
Click through the gallery to see each look.
1. R13, Roadie Embroidered Satin Bomber Jacket, $595, available at Net-A-Porter; 2. Reformation, Ace Two Piece, $218, available at Reformation;  3. Jennie Kwon, Mini Dagger Ear Cuff, $634, available at Jennie Kwon;  4. Forever 21, Faux Leather Crossbody, $19.90, available at Forever 21;  5. H&M LOVES COACHELLA, Platform Sandals, $34.99, available at H&M;  6. Le Specs, Halfmoon Magic In Stone, $59, available at Need Supply Co.
1. Topshop, Cold Shoulder Bardot Blouse, $80, available at Topshop; 2. Rue Gembon, Kata Gold Choker, $50, available at Rue Gembon;  3. H&M LOVES COACHELLA, Denim Shorts, $24.99, available at H&M;  4. Karen Walker, One Splash in 'Dusty Pink,' $300, available at Karen Walker;  5. ASKA, Ellis Sandal, $275, available at ASKA;  6. MERRIMAKING, Kiwi Bumbag, $40, available at NYLONshop.
1. 3x1, Sleeveless Crop Top, $185, available at 3x1; 2. ASOS WHITE, Wide Leg Culottes, $94, available at ASOS;  3. Silence + Noise, Whipstitch Bucket Backpack, $69, available at Urban Outfitters; 4. Swatch, White Bishop, $60, available at Swatch; 5. Rebecca Minkoff, Greyson Sandal, $150, available at Rebecca Minkoff; 6. Thierry Lasry, Axxxexxxy $450, available at Thierry Lasry.
1. Tibi, Pieza Print On Silk Draped Slip Dress, $625, available at Tibi; 2. Levi's, Boyfriend Trucker Jacket in 'Desperado,' $70, available at Levi's; 3. Pamela Love, Large Arc Necklace, $185, available at Pamela Love; 4. Fjallraven, Kanken Backpack, $75, available at Fjallraven; 5. Axel Arigato, Low Sneaker, $195, available at Axel Arigato; 6. Crap Eyewear, The Nudie Club, $62, available at Crap Eyewear.
1. & Other Stories, Linen Tie-Dye Print Top/Mini Dress, $45, available at & Other Stories; 2. Minor Obsessions, Moon Studs, $205, available at Minor Obsessions; 3. Zara, Transparent Raincoat, $69.90, available at Zara; 4. Minor History, Full Moon, $155, available at Minor History; 5. YRU, Slayr Reflective Boot, $135, available at NYLONshop; 6. Illesteva, Capri White Tortoise With Blue Mirrored Lenses, $177, available at Illesteva.