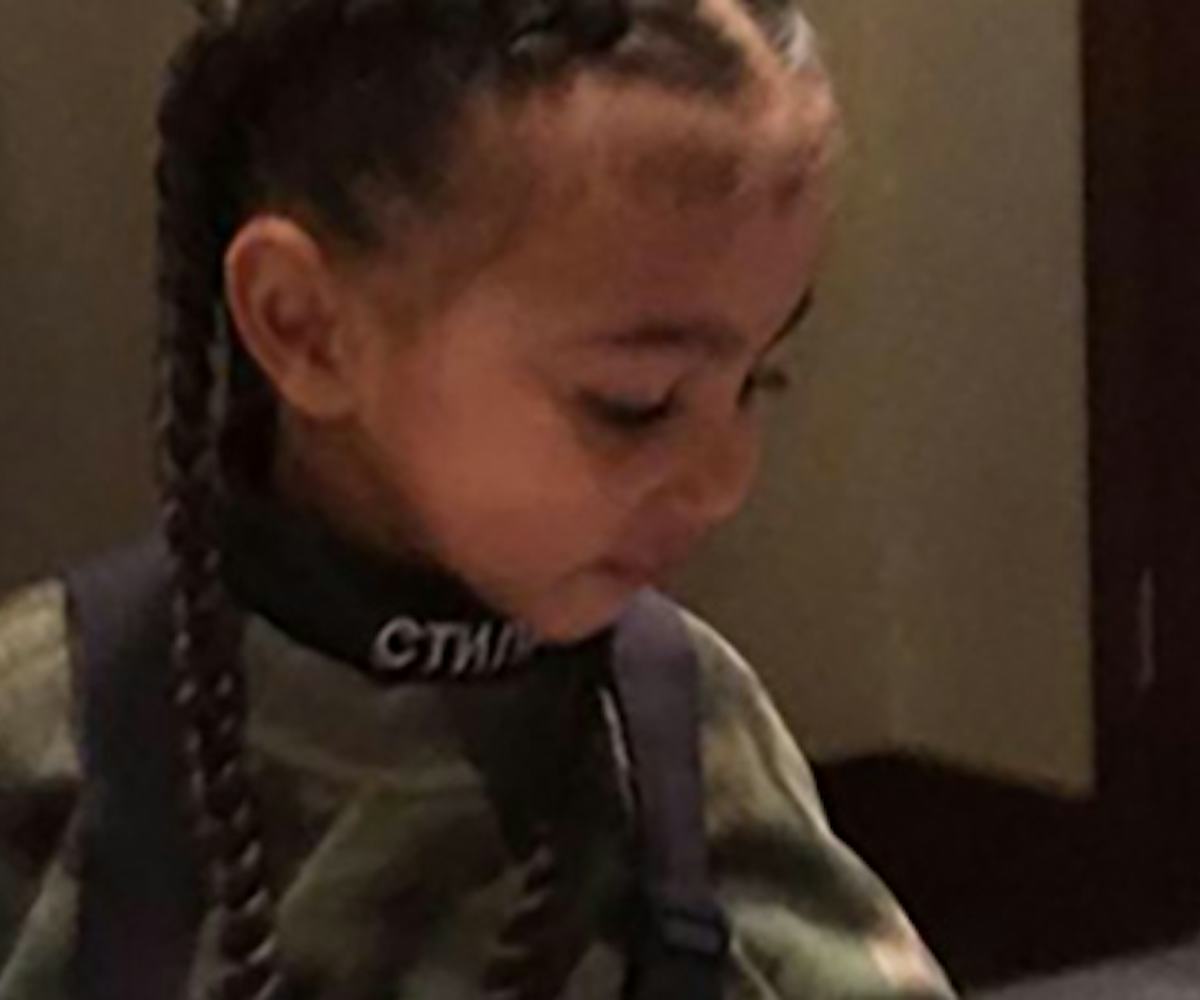 Photo courtsey of @kimmysnapchats/Instagram.
Is It Okay For North West To Have Hair Extensions?
We asked an expert to weigh in
The Kardashian-Jenner clan were enjoying a family ski trip in Vail, Colorado when Kim revealed little North's new 'do on her Snapchat—with some serious hair extensions. The two-year-old now has two waist-length braids.
However, she's not the only tot to rock the elongated extensions. Her older cousin Penelope, Kourtney's little one, also has matching braids.
Braids for days.
I mean, we know that North is a fan of the hairstyle from Snaps her mother has posted in the past. Remember the one where she attempted to recreate the style with her mother's hair, calling them "Anna braids"? If you've ever seen that adorable video of her in the airport, you know she's a fan of Frozen.
However, is it actually okay for a two-year-old to be wearing hair extensions? The Internet doesn't seem to think so. Amongst the comments describing the photo as "cute" and "adorable," was backlash from Kardashian's followers who were questioning Kardashian's mothering style. One use commented "Really the mother is nuts, she needs a slap for child abuse," while another said, "It doesn't matter that she is black. How many black 2 year olds do you know with extensions? It's so unnecessary, just further proves all Kim cares about is looks." The below Twitter user just wants to know "why?"
Is this actually safe or appropriate for a child of that age to have hair extensions? Or are we making a mountain out of a molehill and simply need to let her be? We decided it would be best to talk to an expert to weigh in on the matter. We reached out to Lisa Richards, co-founder of RPZL, a salon in New York that specializes in extensions.
Richards doesn't agree with Kardashian's decision due to how damaging it can be to a child's hair. She told us, "Little gorgeous girls should consider having fun with their hair! For example, a perfect option is using a lightweight pop of color. Beauty comes from the inside and all girls should be empowered to define their style without damaging their youthful hair. Similarly, we do not recommend for children and teens to have permanent extensions (tape or keratin bonded). Hair extensions require a consistent maintenance schedule that children and teens are unable to adhere to. Also, children's hair is very different from adult hair, with the strength of the child's hair being significantly weaker, causing potential trauma and damage to their hair."
Younger girls should be able to express themselves through their hair, but in a capacity that is safe. Although Richards does not support the extensions in question, it looks like a pop of pink could have gotten a pass, and how kawaii is that?