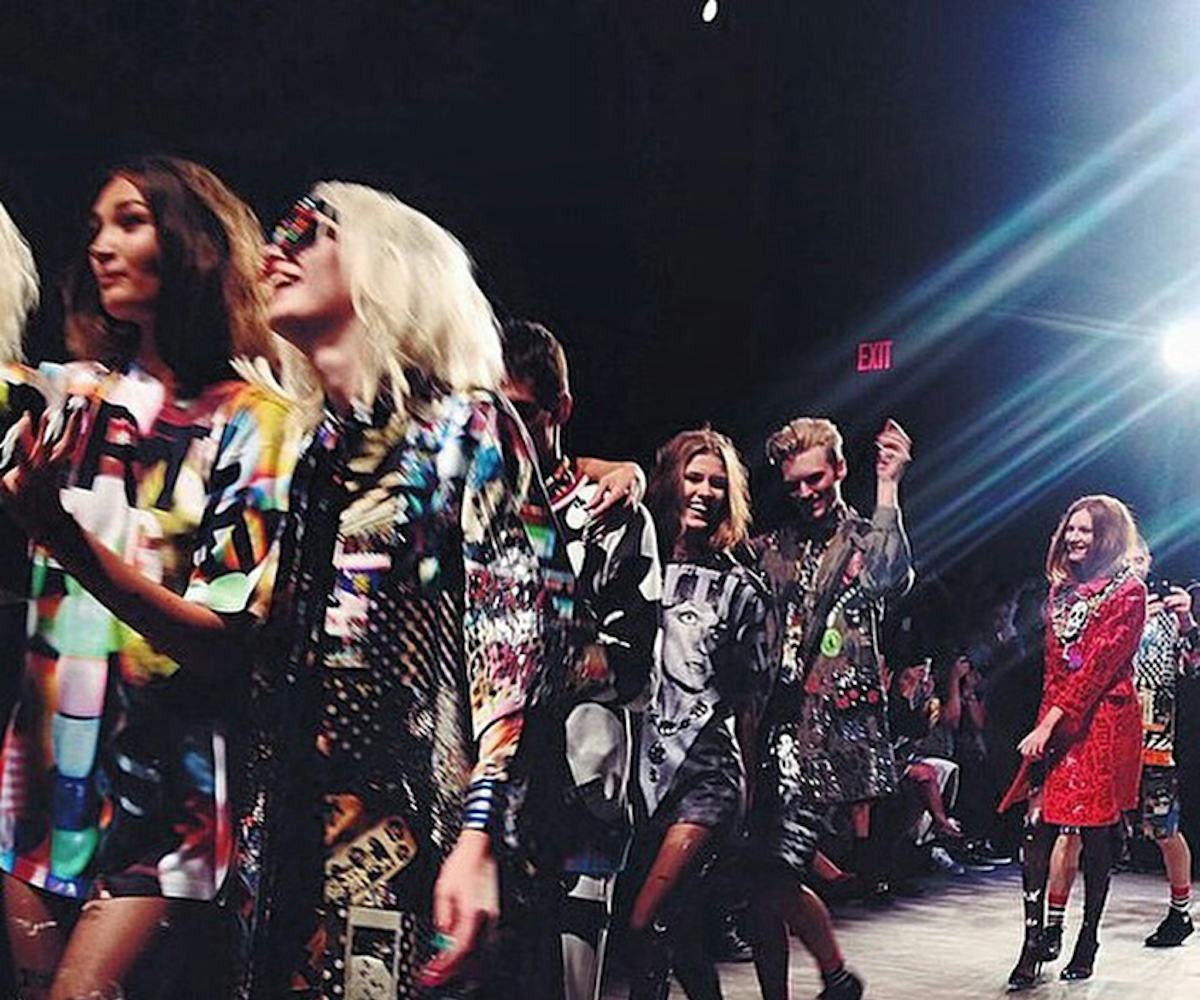 photo via @alinatatsiy on instagram
#nylonfw exclusive: libertine model selfies
an official gallery of runway snaps.
Even if you weren't at Libertine's spring/summer '15 runway show this year, chances are good that you still may have heard about the post-catwalk party that the models had on the runway--especially if you follow models like Lauren Kolodny, Paul Carrigan, and Paula Mulazzani, on Instagram.
As soon as the final lights turned down, the audience waited for the big finale. Then, the lights rose once again, and all of the models ran out onto the runway, jumping around, dancing, hopping on each other, and snapping selfies while they celebrated.
Libertine creator Johnson Hartig was also found amidst the wild rumpus--because what's a runway party without the designer himself making an appearance on the catwalk?
Lucky for you, we've got the exclusive official gallery of model selfies from the Libertine post-show party!
And, FYI, these party people weren't just any models--these models had major moxie.
"The idea that the audience leaves a Libertine show feeling better, more alive, and energized is an appealing one, we always try to do something to make this happen. I think we did this time"  - Johnson Hartig.
Yeah, Johnson, I'd definitely say you did.
"Absolutely mayhem on the runway yesterday" - @paulowenjcarrigan
"#officiallibertine" - @barronhough
"@kisser @officiallibertine #officiallibertine" - @honestlylauren
"Crazy #libertine show" - @kat_poly
"That's our girl! That sequined piggy-backer is none other than our superstar contributor @aineogorman, proof that our M/O/M's are always leading the pack. she's having so much fun on the runway at @officiallibertine, a designer we've always adored. YES!#fashionweekwinning #libertine #nyfw" - @mindovermodel
"Models #happy dancing and taking #selfies at the Libertine finale! #officiallibertine #mbfw #nyfw" - @neverwearblack
"@officiallibertine backstage selfies" - @paulowenjcarrigan
"@aineogorman and my silly self back stage at @officiallibertine" - @paulowenjcarrigan
"Yeeep!! Selfie at the catwalk during the show! Thanks @officiallibertine i had so much fun! #nyfw #officiallibertine" - @pmulazzani
"#libertine #NYFW #mensmodel #backstage" - @taiki_jp
"With Noma #libertine #NYFW #mensmodel #backstage" - @taiki_jp
"With James #libertine #NYFW #backstage #mensmodel #majornyfw15" - @taiki_jp
"Libertine" - @alinatatsiy