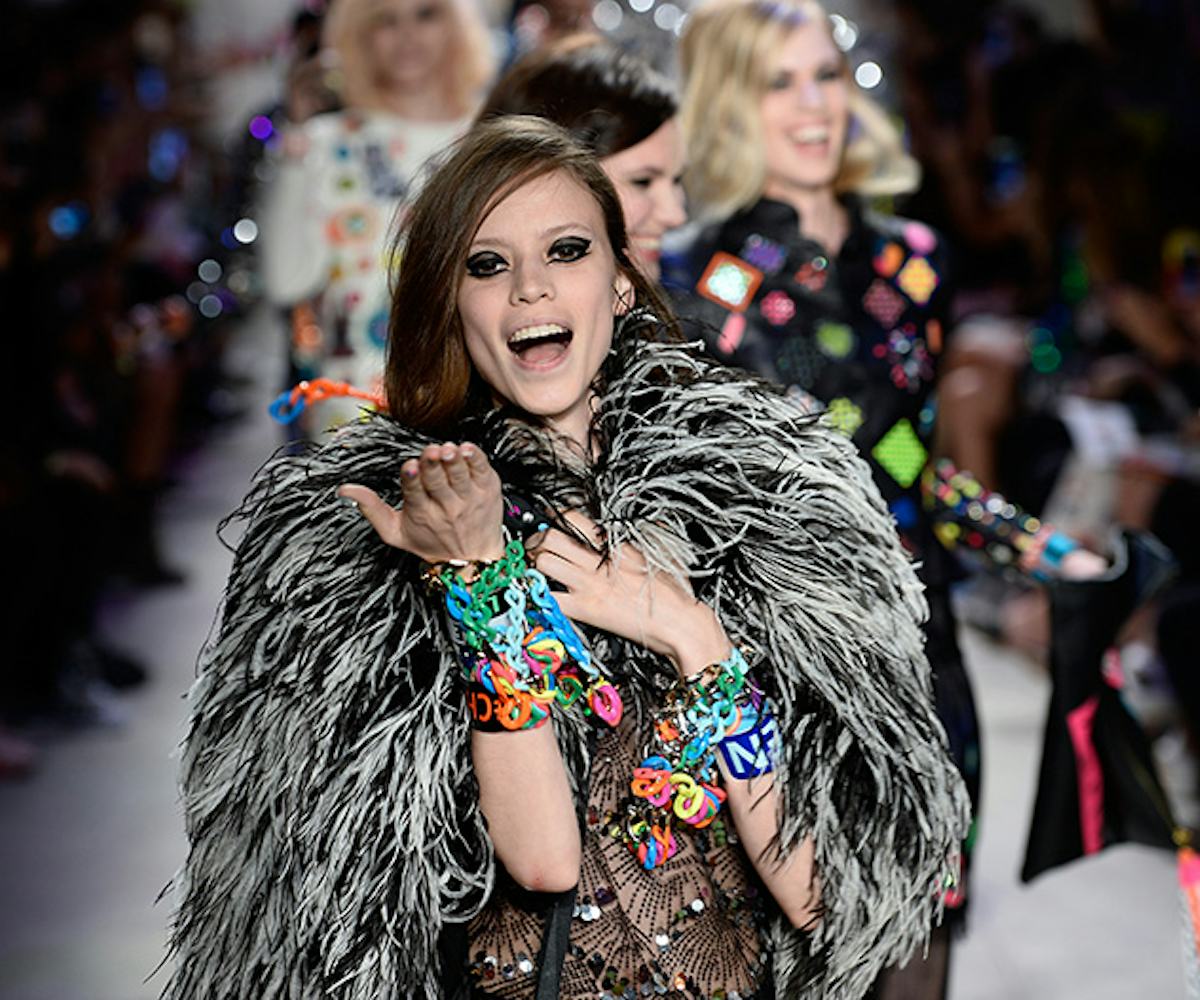 Photo by Fernanda Calfat/Getty Images for NYFW: The Shows
fuck yeah! nyfw's coolest rebels
Breaking the rules will never not be in fashion. It's how great style comes about and fabulous inspiration is found. Staying in the lines is not, by any means, what New York Fashion Week is about, either. True, there are designers and street-style stars who are Classic with a capital C. But then there are those who think way outside the box and give a polite middle finger to the system. While others celebrate the shows, we're all about celebrating those moments that challenged the system and shook the proverbial tents. They're the rebels of fashion week we'll be looking to for confidence when the going gets a little tough. Bolder is always better, after all.
The Libertine Show Must Go On
Johnson Hartig and his L.A. team lost one-third of Libertine's spring 2016 collection in the mail. Apparently, UPS lost some of the most key, handmade designs. "The fact that UPS have been totally un-empathetic without even holding themselves accountable to this situation is particularly frustrating,considering how much work has gone into producing these pieces," Hartig said in a press release. No matter, though. The Libertine show carried on as any Libertine show would: with stylish, reckless abandon.
Parsons' MFA Students Make It Work
Anyone who watched Project Runway knows that those who walk the halls of Parsons know how to make it work. Its MFA students sent out a variety of collections that used trash bags, intricate knits, a dress made of backpacks, and a poncho. Seriously, we never thought a poncho and umbrella could be high fashion, but here we are. This is the future, y'all. And it looks good.
Tumblr Gets Printed All Over
Tumblr's relationship with fashion dates back to the micro-blogging site's inception. For spring/summer 2016, the site unveiled a pop-up shop for its first-ever wearable art collection. Tumblr artists collaborated with Print All Over Me to create an eclectic mix of clothes that will make a pattern-lover out of anyone. It's possible to wear the Internet, guys. How cool.
Misha Nonoo Skips the Runway for Instagram"A fashion show is so location-specific and for a rarefied group," Misha said of her Instagram-only presentation during an interview with Business of Fashion. "I wanted to be more global and more inclusive by inviting the consumer to watch at the same time as press and buyers." Indeed, the designer opted out of the traditional show for one folks can like immediately. Did we tap? We double-tapped.
Eckhaus Latta Created a Collection for AllRunway diversity is always a tricky thing during Fashion Week. Thankfully, it has, over the past few seasons, become more inclusive. But progress still has to be made and more designers should turn to Mike Eckhaus and Zoe Latta of Eckhaus Latta for inspiration. Their runway was as diverse as they come: Models walked alongside your regular, 'ol Joe and Sue. There was a mix of ages and gender identities. It was so incredibly inclusive, it made you think anyone could wear the clothes. Talk about creating for the people.
VERGE Brings Necessary Queerness to NYFWThe largest queer New York Fashion Week show, ever, will close out the week on Thursday in Brooklyn. Eight designers that challenge gender noncomformity and how it affects race, culture, and ethnicity will unveil new collections. Anita Dolce Vita, Owner of dapperQ, said in a press release, "Queer style is not only the new frontier of fashion, it is also a social movement that is intrinsically tied to LGBTQ identities." Cannot wait.