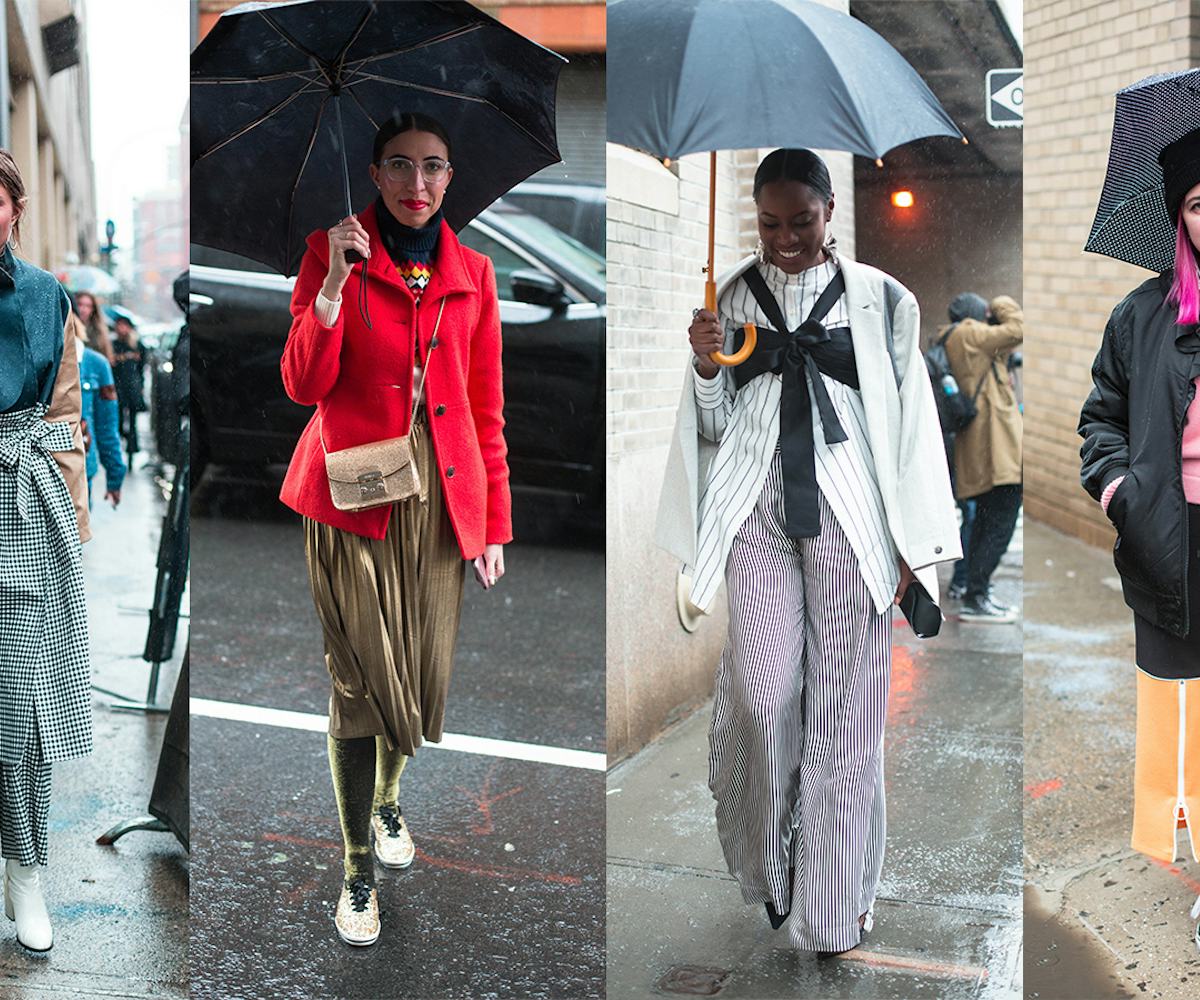 NYFW Street Style Day 4: Dodging The Storm And Staying Warm
NYC was blessed with yet another storm
Poor NYC and its residents were blessed with more inclement weather yesterday, though it wasn't as disruptive as Thursday's snowstorm. As street style stars woke up to begin their lengthy day of NYFW shows, they were greeted with a rainstorm that lasted all morning long. Despite the slippery roads and frigid conditions, showgoers did not fail to dress to impress. Everything from decorative umbrellas, killer coats, and even PVC pants protected attendees from the harsh (and straight-up miserable) weather conditions. We're feeling inspired to actually get out of bed the next time it rains…
How to dress for inclement weather: waterproof pants.
Welp, when you can wear a bag with your face on it, I guess that means you've made it.
This is how you stand out in a crowd.
How to stay warm during NYFW: throw velvet leggings under everything.
We're getting a total '70s babe vibe here.
A pinstriped pantsuit? A colorful puffer? Could this be any more perfect?
NYLON's senior fashion market editor Marissa Smith is single-handedly making the fanny pack cool again.
This is how you wear black-and-white.
Pretty in pink.
We're obsessed with this stripe story.
YES to literally everything about this look.
We've never seen a leather jacket look cozier than this.
Subtly manifesting spring weather with all those pops of floral prints.
Plaid pants, for the win!
Proof that you can wear your skirt over your pants and over your coat and slay the street style game.