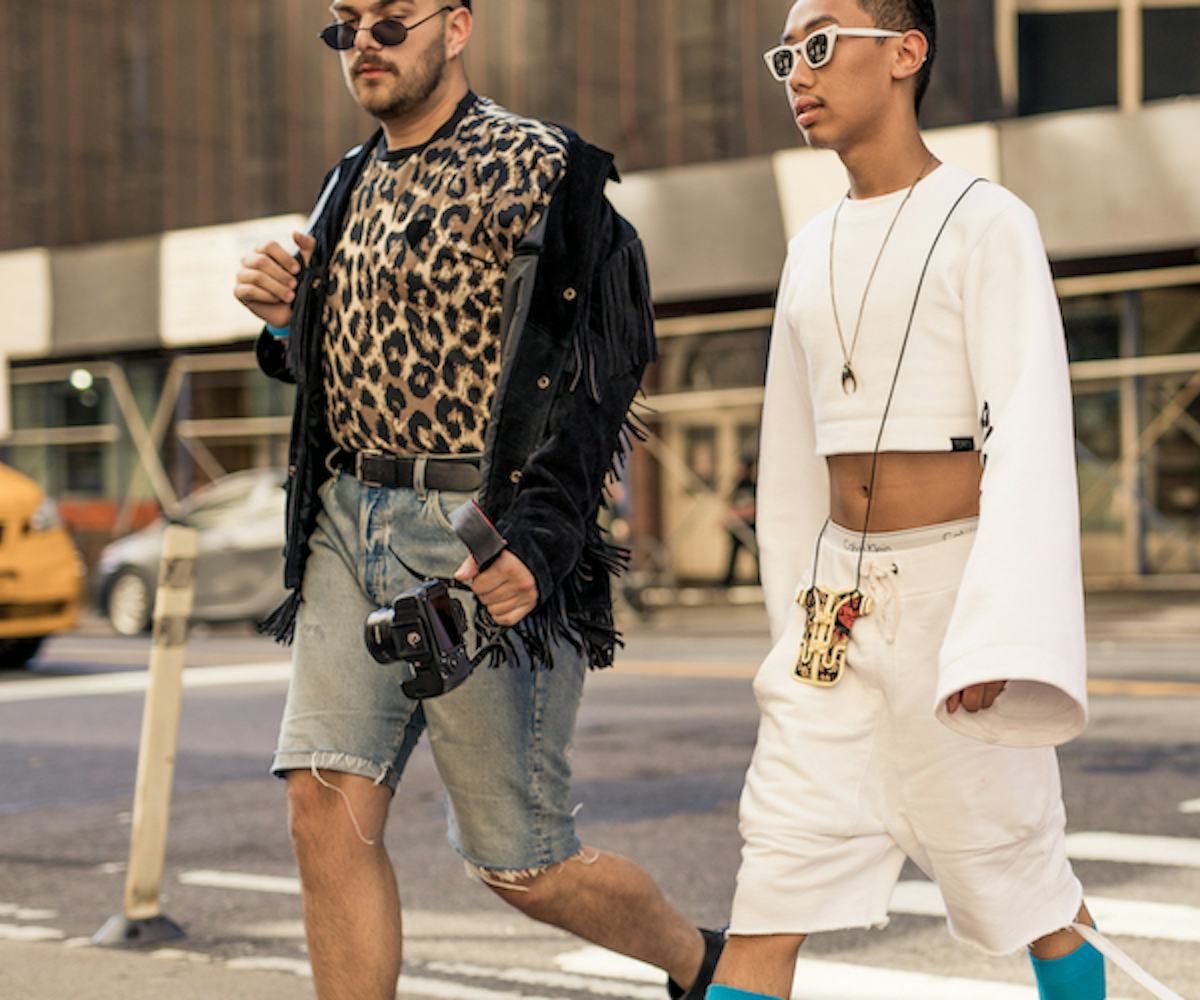 Photo by Matthew Sperzel
The Best Of NYFW: Men's Street Style
The weather is never in anyone's favor during New York's fashion weeks. During the shows in September and February, it's either absurdly hot or freezing (and, sometimes, blizzarding), making any sartorial decision pretty difficult. And with NYFW: Men's shows taking place smack-dab in the middle of July? Well, it's hotter than hell outside, which makes even thinking about getting dressed at all an excruciating task.
Still, even with temperatures in the 80s-plus all week long, the men's shows attendees still put their best (err, best-dressed) foot forward. Despite sweltering heat Monday through Wednesday, we saw plenty of excellent suiting, outerwear, and layering. Hell, we even saw long-sleeved corduroy and combat boots. Okay, maybe there were a couple in extreme crop tops, and some in no tops at all, but the effort was still there.
Below, check out our favorite looks of the week.
How to battle Fashion Week exhaustion: wear your pajamas to shows.
Why wear one harness when you can wear them all?
Power, Corruption & Lies is our favorite album, too.
Can't decide on a shirt? Wear 'em both.
One way to ensure you're spotted by street style photogs? Wear the brightest neons you can find.
Really though, we're here for this neon street style movement.
Mix and match your prints, and make it luxe.
Who needs sleeves, anyway?
PVC? Check. Mini bag? Check. Statement earrings? Check.
When you let your socks steal the spotlight.
How to dress down a work blazer? Pair it with your favorite pair of denim cutoffs.
Corduroy can be a summer thing, too.
When you have so much love for your team, you bring 'em to Fashion Week.
It's all in the (ruffled) details.
The proper way to wear a cardigan.
Distressed denim, leather, and chains—does a more perfect fashion duo exist?
Resort, but make it punk.
Behold the backpack-fanny pack.
Is it just us, or are bondage-inspired buckle belts having a moment?
Utilitarian harnesses, too.
Chains on chains, on chains.
Quite possibly the most perfect summer jumpsuit.
We've never seen a more accurate T-shirt.
We're all about this '90s raver look (and uni-lens glasses).
Who needs color when your look is this eye-catching?
If you're going to wear mismatched prints, you might as well make sure they're both pretty wild.
How to ensure you never miss a show due to traffic? Hop on your board instead.
Organza overlay adds a romantic vibe to a basic black suit.
How to dress like you're in Paris.
How to elongate your legs: short shorts + skinny heels.
The ultimate crop top.
More crop top magic.
Luxe, but laid-back.
We love an all-white boot, but an all-white combat boot? Yes, please!