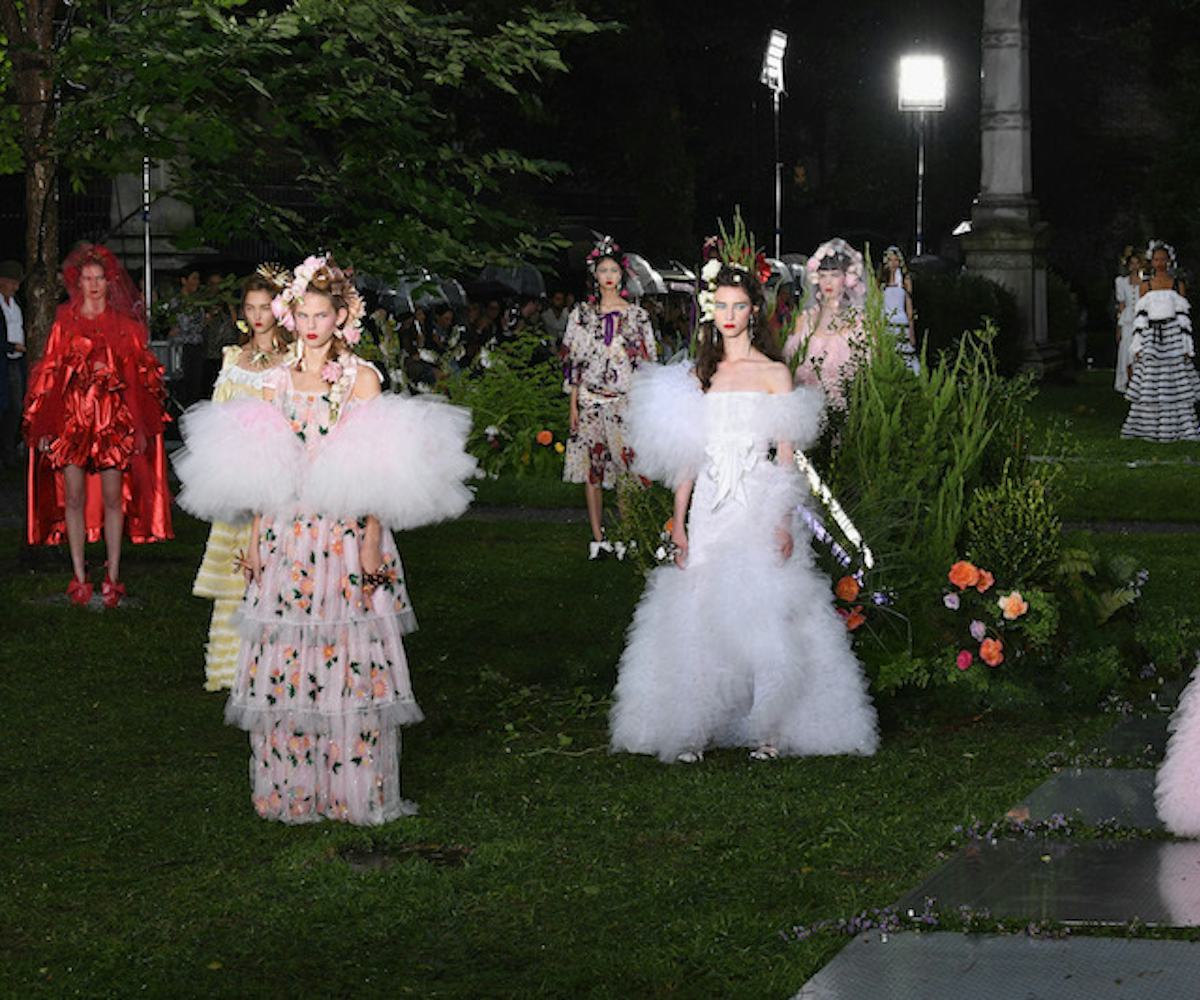 Photo by Slaven Vlasic/Getty Images
The Wildest, Most Important Moments Of NYFW
Everything you need to know that happened this past week
Let's face it, the fashion industry doesn't have the best reputation. In 2018, we still see cultural appropriation and a lack of diversity on the runways. Most models are still rail thin, while larger bodies are generally tokenized or are treated as "trendy," rather than accepted as the norm.
But, there are a handful of designers out there who are working to make fashion and Fashion Week a better place. Whether they're putting in the work to make the industry more inclusive or using their voices to take a powerful stance, the NYFW runways have become more than just an epic display of sartorial masterpieces, they've become a powerful political platform.
See what we mean, in our roundup of powerful NYFW moments, below.
Pyer Moss' celebration of black culture
Quite possibly the most important show of the week was Pyer Moss, which was held in Brooklyn's Weeksville neighborhood, one of the first free black communities in America. Designer Kerby Jean-Raymond decided to present his collection, which included collaborations with black artist Derrick Adams and clothing label FUBU, at the neighborhood's Heritage Center, which works to both preserve and celebrate black culture in the community.
Marco Marco's all-trans runway
Inclusivity is finally starting to become more of the norm on the runways, but there still is much work to be done. That's where designers like Marco Morante of label Marco Marco come in. For his latest runway show, he decided to present his collection on the first-ever all-trans cast to walk New York Fashion Week, featuring Pose star Dominique Jackson and male model Laith Ashley. Rather than tokenize trans models, his show served as a space to celebrate their bodies.
Christian Siriano's ode to Cynthia Nixon
As per usual, Christian Siriano's runway show was an epic display of gorgeous gowns and inclusive casting. However, this time around, it was also an epic display of love for Cynthia Nixon. Not only were "Cynthia for New York" flyers placed on each seat, but he also sent a model down the runway in a "Vote for Cynthia" tee and appeared in one for his bow. Nixon was also in attendance, seated front row amongst a handful of badass women like Danielle Brookes, Whoopi Goldberg, and Hayley Kiyoko. Um, how do we become a part of this girl crew?
Jeremy Scott's statement tee
And Siriano wasn't the only one to make his runway a political one. Jeremy Scott closed out the finale of his Spring 2019 runway show by protesting Trump's controversial Supreme Court nominee. The designer took his final bow clad in an anti-Brett Kavanaugh T-shirt. The designer's tee urged us to "tell your senator NO on Kavanaugh," followed by a phone number.
Claudia Li's all-Asian casting for her first runway show
While Claudia Li has been showing at NYFW for a few seasons now, Spring 2019 marks her first full-on runway show. For it, she decided to feature an all-Asian cast—another first for NYFW—including comedian-actress Awkwafina.
Chromat, because duh
Season after season, we look forward to the Chromat show. Why? Not only is it always a beautiful display of diversity and inclusivity, but it's also just the norm for the brand—it's never forced or trendy, which we can't say about many other labels claiming to champion inclusivity. This season, models of all shapes, race, sizes, genders, ages, and abilities walked the runway before being casually drenched in water for a pretty epic finale.
Rodarte's stunning return
Yes, the Mulleavy sisters have brought their gorgeous Rodarte show back to New York Fashion Week. And for their epic comeback? They hosted a show in a Lower East Side cemetery. But what else would you expect?
Laurence & Chico's epic first runway show
We're longtime fans of Laurence & Chico's wild designs and epic presentations, and for its very first runway show, it did not disappoint. On top of the wildly hued, sports-inspired athleisure and enormous tulle skirts, the show opened with the one and only Miss J, who led a full-on vogue-ing party.
Things took a spiritual turn
If there's one trend we noticed amongst the runways and presentations of New York, it's that things took a very spiritual turn. Collina Strada's runway show opened with a child-led sound bath, while another was quietly happening in the background of the Nanushka presentation. And we can't fail to mention the powerful opening to Gypsy Sport by spiritual healer Domonique Echeverria, who called for a moment of silence for 9/11 and for Mother Nature, asking the attendees to take a moment to pause, breathe, and be present.