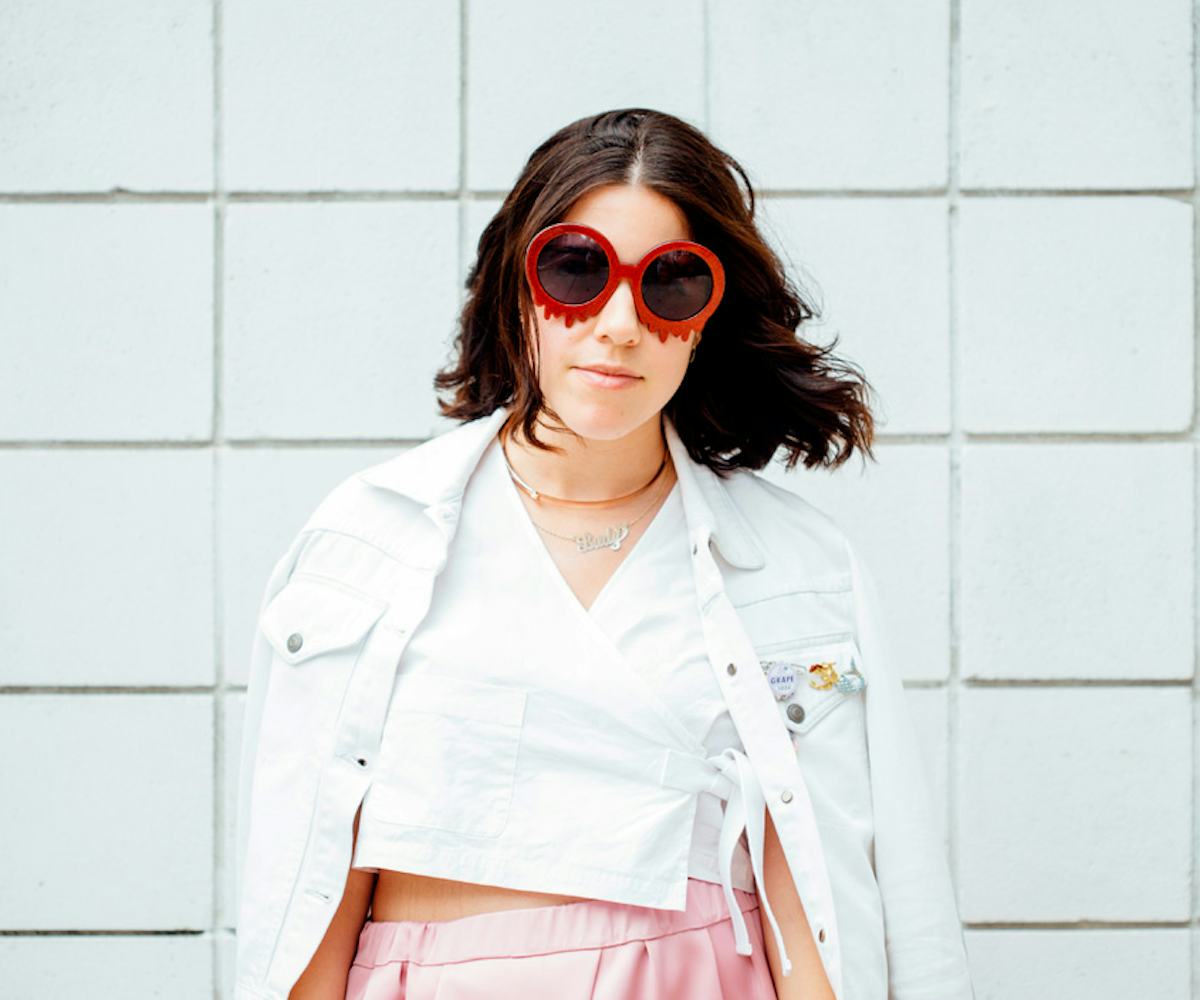 Photographed by Alexandra Gavillet
cool girl street style from nyfw day three
end-of-summer style perfection
New York Fashion Week can put editors, bloggers, and sartorial darlings in a bit of a conundrum: it's not quite autumn, but we're just aching to pull out our fall wardrobe. And at the same time, humidity levels and late summer temperatures make it difficult to pull off the cool layered styles and longer sleeves we want. Throw in some foreboding overcast skies, and things can get tricky. But unreliable weather has never stopped street style stars from making it work. On day three of NYFW we saw light jackets, chic handbags, and enough denim to inspire our casual wear for the next season. Fashion shows aside, these looks are what make fashion week truly unforgettable.
All photos by Alexandra Gavillet.
Crisp top, distressed jeans, can't go wrong.
Sporty chic!
Adding this outfit to our work wardrobe ASAP.
Culottes at their coolest.
This ain't your average Tumblr Health goth.
Orange is quickly becoming one of our new favorite colors.
Red Bull gives you wings, but this gal doesn't need that because she's a literal angel.
Give 'em the cold shoulder.
A bodysuit and a sheer skirt are effortlessly sexy.
Monochromatic mood.
Rainbow Brite's all grown up and chic as hell.
Leather always looks badass.
Need. That. Bag.
TK and Cipriana Quann are heart-stopping beauties!
Jacket envy.
R29's Annie Georgia Greenberg is simply romantic.
An actual ray of sunshine.
Casually chic.
A necklace that belongs in the MoMA—and also our closets.
Perfectly prim.
Fringe for days.
You can ring my bell (sleeves).
All black everything.
Greyscale squad goals.
Sheer magic.
Pinstripes go posh.
Note to self: buy a bandana ASAP.
A jumpsuit after our own hearts.
Straight out of The Virgin Suicides.
Sneakers and a white dress: our new go-to.
We can't tell what we love more: her hair, her bag, or that top. Emoji heart eyes!
Pajama chic vibes.
We will never get over these overalls.
Just a bit of fringe makes stripes go from preppy to edgy.
All American girl.
The best way to balance a prim, pastel look? According to NYLON's Fashion Market Editor Marissa Smith, it's creepy sunnies.
We'd like this jacket to be our fall staple. Thank you.
Mixed textures never looked so good.
White after Labor Day is fine in our book when it looks this chic.
We've never needed a sweatshirt in our lives more.
Just like the infamous denim Britney Spears VMA dress...but better.
A little suede looks sweet.
Orange separates are bold and beautiful.
Kiss this.
We have major overall envy.
Cool hair is a girl's best accessory.
Black and white and red all over.
And the winner for best mini dress goes to...
Eva Chen takes plaid to a whole new level.
These skirt and jacket duos are totally winning.
A structured watch gives this pretty dress some edge.
Rock n roll princess vibes from Susie Lau.
Leandra Medine's accessories are always on point.
This blouse is a work of art.
Button ups have never looked sexier.
This classic look never fails.