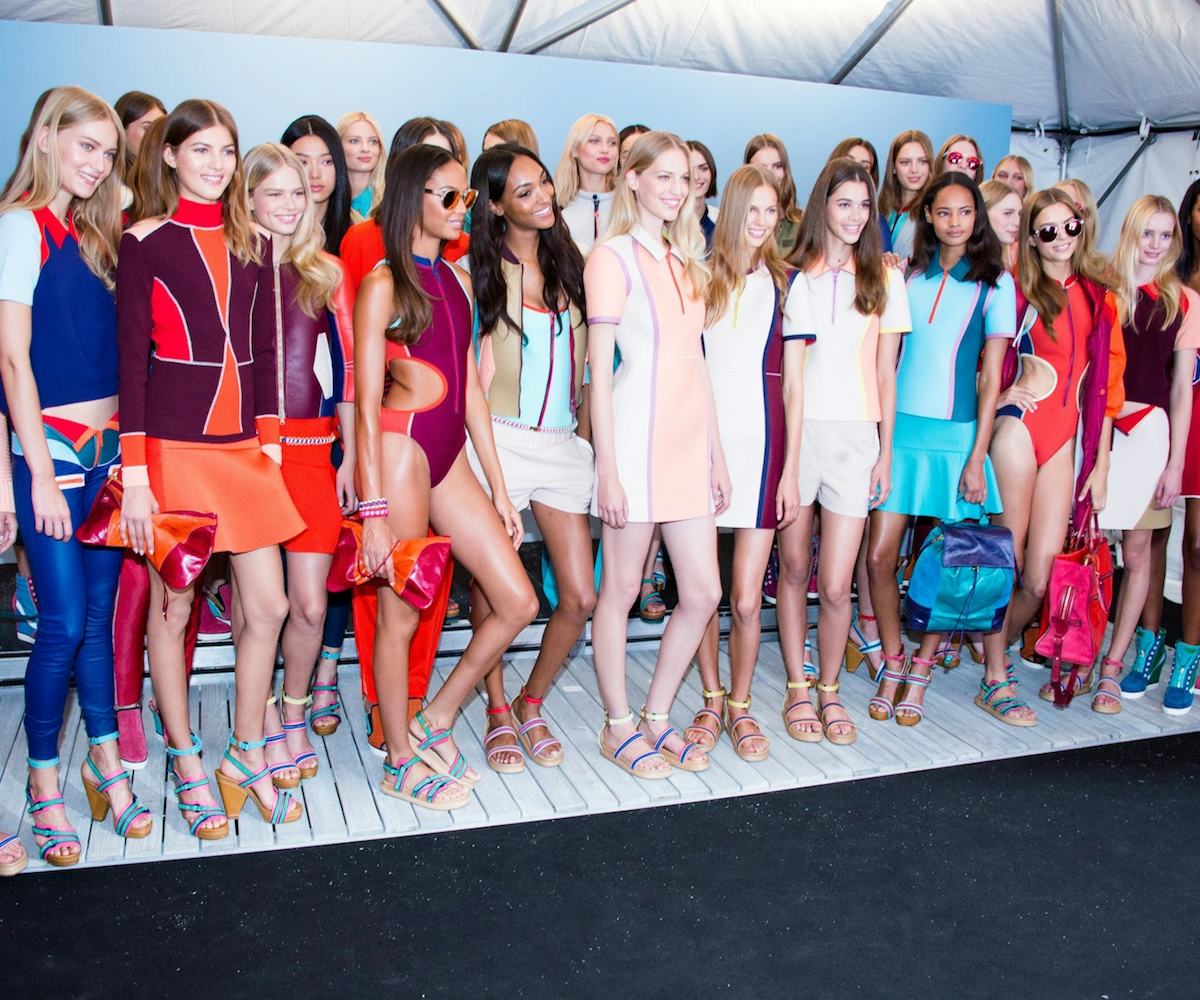 photo by bfanyc.com
nyfw now
get inspired by our favorite shows from fashion week.
New York Fashion Week is done! From the squiggly stripes at Marc by Marc Jacobs to the flat sandals at Suno, we saw a lot of items we love during the week.
Instead of waiting six months for our favorites items to hit stores, though, we're getting in on the spring '14 action now with the best songs, movies, beauty items, and clothing inspired by our favorite collections from the week. Consider a way to have springtime fun at fall temperatures. Plus, we'll take about any excuse to watch Clueless or listen to The Beatles we can get!
Check out our picks to get inspired from our favorite shows and tweet us your top NYFW picks. 
TOMMY HILFIGERDuuuuude, I would literally wear every single item sent down the surf-inspired Tommy Hilfiger spring '14 runway. Neoprene jackets? Yes please. Wetsuit-aping leather pants? Definitely. Brightly colored, beach-inspired mules? I'll take them in both colors. Surfing USA, indeed. -- REBECCA WILLA DAVIS
Listen to: "Locals Only" by Surf Punks
Watch: Blue Crush
Beautifywith:Bumble and Bumble Surf Spray
MARC JACOBSThe spring collection from MJ is just was the raddest, randomest assortment of trends and references smushed together with a Victorian punk Frat party vibe. It's like un-fashionable fashion... I am in love. -- STEFF YOTKA
Wear:Red Valentino Sequin and Lace Dress
Listen to: "The Queen is Dead" by The Smiths
Watch:The Fifth Element
Beautify with:Nars Larger Than Life Eyeliner in "Abbey Road"
DKNYDKNY was my most fun show of Fashion Week, hands down. It was the perfect mashup of old-meets-new, spanning the '90s spectrum (logos, overalls, and anoraks) while simultaneously keeping things sporty and fresh. The fact that Rita Ora ran down the runway and high-fived the front row was only the icing on an already-sweet cake.  -- LIZA DARWIN
Wear: DKNY for Opening CeremonyListen to: "How We Do (Party)" by Rita Ora
Watch: The Babysitters Club
Beautify with: Maybelline ColorSensational Vivids Lipcolor in "Electric Orange" and "Neon Red"
KAREN WALKERThis show was like the Beatles go to India with a preppy twist. Though I'd circle the globe for that Utopia jersey, the space-dye sweaters, gauzy pants, and beaded chokers should all give you good vibes come spring. -- RWD
Wear:Silence + Noise Space-Dye Sweater
Listen to: "Tomorrow Never Knows" by The Beatles
Watch: Wonderwall
Beautify with: Obsessive Compulsive Cosmetics Lip Tar in "Electric Grandma"
HELMUT LANGDear Helmut Lang, why are you so perfect? Proving that the '90s don't necessarily have to be all about grunge or even slinky slipdresses, designers Nicole and Michael Colovos riffed on the decade the Helmut way. They took the "less is more" motto to heart with minimalist separates (boxy shell tanks, wispy dresses, and yep, tons of leather) in a color palette of mostly black and white. Crisp, cohesive, and totally cool. -- LD
Wear: Zara VestListen to: "Northern Lights" by Kate Boy
Watch: Basic Instinct
Beautify with: Ellis Faas Lip Gloss in "Sheer Berry"
THEYSKENS' THEORYI am addicted to wearing white T-shirts under tanks and dresses, and this Theyskens' Theory show just opened my eyes to a whole new world of '90s-inspired layering potential. Short dresses over long dresses!? Sheer pants over shorts!? Genius! -- SY
Wear:Topshop Two-Piece Cami Top
Listen to: "Fake Plastic Trees" by Radiohead
Watch:Clueless
Beautify with: MAC Pro-Longwear Paint Pot in "Let's Skate"
Tommy Hilfiger spring '14
Neoprene can keep you warm year-round--I particularly love the color combo of this one. -- RWD
A Malibu punk band? Might sound like an oxy-moron, but yes Surf Punk existed and this '82 gem should get you in the mood, even if you're landlocked. -- RWD
If you're not yet onboard with boardshorts and bikinis, this movie will do the trick. -- RWD
Since beach season is over, might as well get some ocean in a bottle to keep your tresses looking like you just got out of the water. -- RWD
Marc Jacobs spring '14
This Red Valentino dress is exactly where Victorian meets punk. -- SY
Moody, rage-y, and good for practicing your runway walk to. -- SY
Milla Jovovich's hair in The Fifith Element has to be the inspiration behind those super-short bob wigs by Guido for Marc Jacobs. -- SY
A swipe of blue eyeliner on the lower lash line is just the random addition to your MJ look. -- SY
DKNY spring '14
Uh, is this cheating? Oh well. Considering OC's already stocking some super-similar pieces from DKNY in-shop now, we're going to go ahead and stock up. -- LD
After you've streamed the songs from the show itself (which you can do on our site!), crank up this Ora anthem--loud. -- LD
It might seem weird, but go with us here....just like the DKNY show, the girls in the BSC span all the '90s bases. You've got the jock in overalls and anoraks, the flower child in denim and florals, and the girly-girl in dresses. -- LD
Pro tip: mix the Electric Orange and Neon Red for the exact DKNY runway hue. -- LD
Karen Walker spring '14
Pair a space-dye sweater with some cords and layers of beads and you're ready to expand your mind. -- RWD
"Turn off your mind, relax, and float downstream." Enough said. -- RWD
This 1968 film features Jane Birkin (with a cameo by Anita Pallenberg), has a soundtrack written by George Harrison, and features a surreal, vaguely trippy plot. -- RWD
Backstage, this OCC Lip Tar was used on both the models' cheeks and lips--if you're going on a journey, might as well pack double-duty products. -- RWD
Helmut Lang spring '14
Can't wait to wear this vest with tons of layers now, and then with a tiny black camisole a la Helmut Lang when the temps heat back up again. -- LD
Slick minimalist pieces and icy electro pop go together like peanut butter and jelly. -- LD
Sharon Stone does the white-on-white thing here better than anyone else. -- LD
The deep hue works just as well--or better--in the fall as it does for summer. -- LD
Theyskens' Theory spring '14
Hello!? This is the perfect top to get Theyskens' Theory's look. Buy this Topshop tank now, wear it always. -- SY
Get your '90s on with Radiohead's track famously heard in Clueless... -- SY
...speaking of Clueless, Cher totally nailed the T-shirt-under-tank look a whole eighteen years ago. -- SY
Get the shimmery eyes from Theyskens' Theory with this Paint Pot from MAC. -- SY