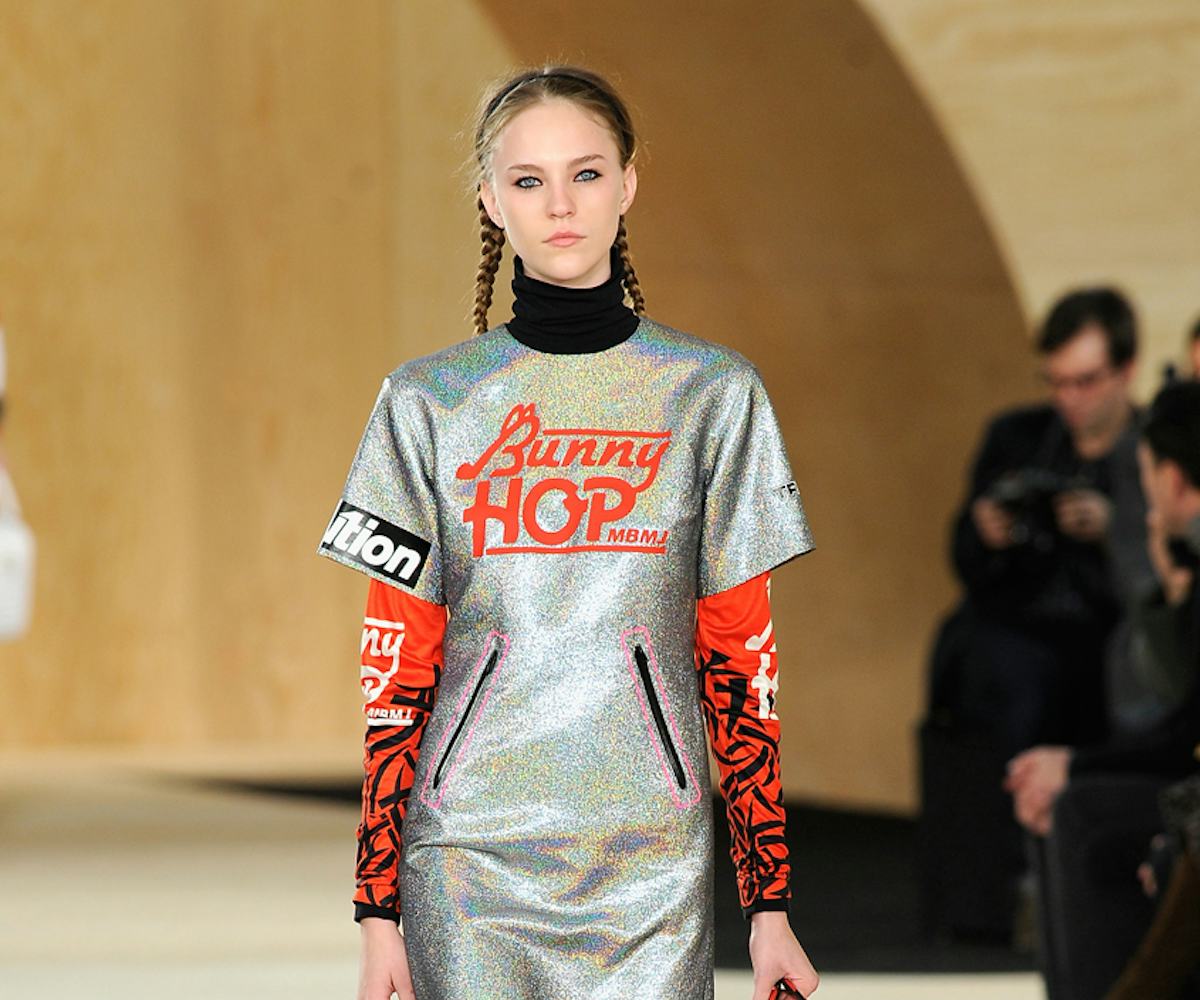 photo by getty images
#trend: turtlenecks
cover up in the coolest way possible.
By mid-February, I an done with chunky sweaters and thermal jeans and will do anything to make a dress and boots work, despite the cold weather. Luckily for me (and for you, I promise) the biggest trend to come our of New York Fashion Week, which concluded yesterday, was turtlenecks.
MBMJ, Marc Jacobs, Proenza Schouler, Opening Ceremony, Calvin Klein, and more showed turtlenecks of all forms, from ones layered under Dickensian sportswear (MBMJ), to printed ones worn with cocoon jackets (Proenza Schouler), to ones that even came up and covered part of the model's face (Calvin Klein). Now the reason that the turtleneck is such an awesome trend--other than the fact that it doubles as a scarf--is that it allows for reverse layering over it. Take the girls at Tommy Hilfiger's fall '14 show: With colorful and printed turtlenecks as a base, they could layer T-shirts, dresses, and light parkas on top. This is the good news for everyone part: With a turtleneck winter doesn't have to mean four months of sweaters and jeans, it can mean true sartorial freedom! (Insert air horn DJ sound here.)
So check out the coolest turtlenecks to hit the fall '14 runways in the slideshow, and then explain your layering philosophy on Twitter and Facebook. 
Elizabeth and James
Elizabeth and James
Elizabeth and James
Marc Jacobs
Marc Jacobs
Calvin Klein
Calvin Klein
Calvin Klein
Opening Ceremony
Opening Ceremony
3.1 Phillip Lim
Michael Kors
Michael Kors
Jason Wu
Jason Wu
MBMJ
MBMJ
MBMJ
MBMJ
Proenza Schouler
Proenza Schouler
Proenza Schouler
Alexander Wang
Tommy Hilfiger
Tommy Hilfiger
Tommy Hilfiger
Ralph Lauren
Rodarte
Rodarte
Rodarte