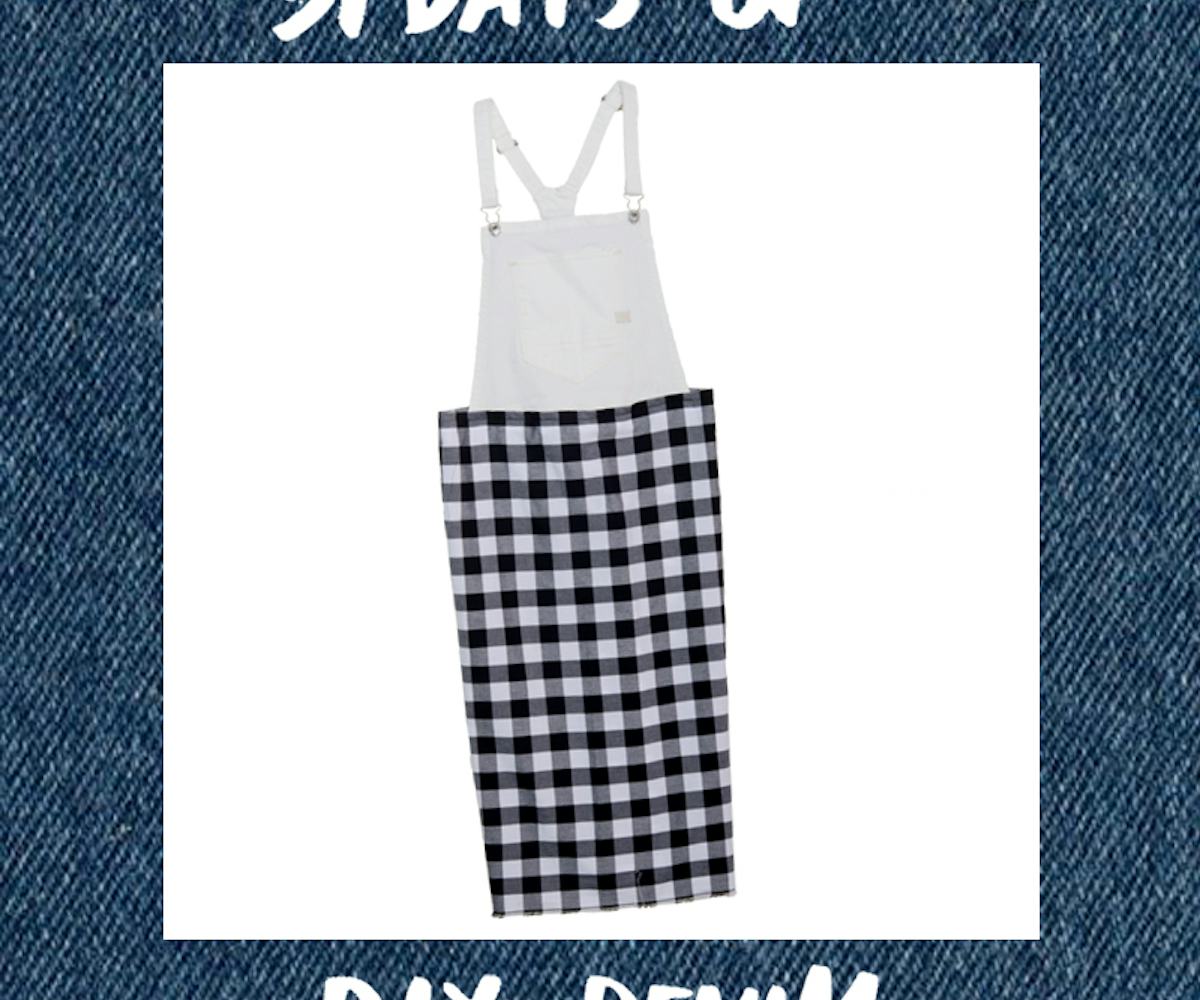 Photographed by Ricky Michiels
31 Days Of DIY Denim: Day 7, Dress With Overall Top
Check out today's DIY denim project
NYLON staffers created unique, DIY projects using denim in honor of our annual Denim Issue. Check back here every day of August to see a new project. 
What you'll need:
A pair of overalls
1 1/2 yards of a fabric of your choice
Seam ripper
Sewing machine
Thread in a color that matches the fabric/overalls
Pins
Chalk
Measuring tape
A friend! We could all use a friend...
Directions:
Step 1: Using a seam ripper, remove the top half of the overalls (the part that includes the straps) from bottoms. Side note: You can totally still use the bottoms as a pair of jeans.
Step 2: Keeping the separated overall top half on, take your fabric and hold it against you where the overall top stops. Fold to desired skirt length. I went for a midi but it's really up to you where you'd like the hem to hit.
Step 3: Mark off the desired skirt length on the fabric using chalk. Cut away excess fabric (leaving about 1 1/2 inches for sewing at the top and hemming at the bottom).
Step 4: Take fabric and hold it against you again (inside part facing out), this time pulling it around your waist and bottom half. Have a friend help mark off with chalk where the skirt should hit you widthwise (taking into account that you will need a little extra give at the hips/booty). You can take your measurements to be more precise.
Step 5: Pin the skirt fabric lengthwise where your friend marked off in chalk (make sure it's still inside out).
Step 6: Hem the top and bottom of the skirt and turn it right side out.
Step 7: Sew the overall top to the front and back of the skirt, and voila, you're done!