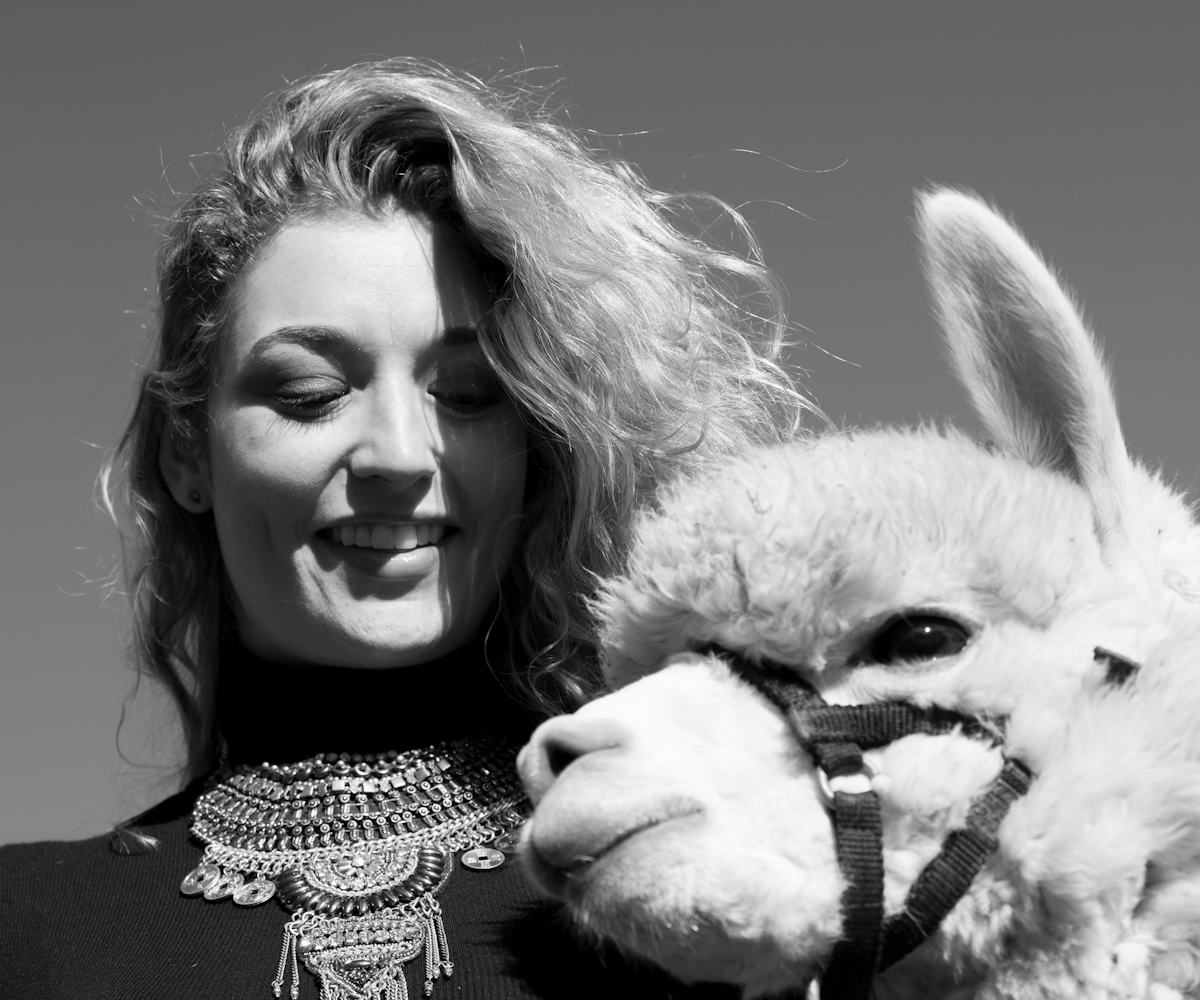 Photographed by Sonny Crockett
Alizé Carrère Has The Coolest Job Ever
Get to know this real-life explorer
The following feature appears in the February 2017 issue of NYLON.
It's a windy afternoon in New York's Hudson Valley, and Alizé Carrère is trying to figure out how best to feed a herd of hungry alpacas without losing grasp of her free-flowing tunic. Just a few hours ago, the 27-year-old explorer was at the ophthalmologist, getting her eye lasered in an attempt to mend a detached retina, but now, Carrère is taking on her first magazine photo shoot, albeit still somewhat blind. "I'm really sorry if I'm flashing anybody," she says with a laugh, before walking into the alpaca abyss.
When it comes to handling unconventional experiences, Carrère is a seasoned pro. In the past, she's trekked through the king penguin colonies of South Georgia Island, stood on the edge of a lava-spewing volcano in Vanuatu, and found herself in the middle of a Malagasy village in Madagascar during an outbreak of the bubonic plague.
But unpredictability is part of her job—or jobs, rather. As an expedition leader for Lindblad Expeditions, a company that has pioneered aquatic travels for over 50 years, and a National Geographic Explorer, Carrère divides her time by traveling the world as a cultural ecologist, excursion planner, climate researcher, and bona fide adventurer. Thus far, she's visited an impressive 37 countries, 17 in the last year alone, which naturally raises a more important question for the rest of us: How on earth does someone become an explorer?
Carrère overlooking Canyonlands National Park, Utah. Photographed by Taylor Marshall.
"I feel like I have the world's most amazing job, but the majority of people who follow me on social media don't know what I actually do," says Carrère. "They probably think, 'She's on ships a lot.'"
By "ships," Carrère is referring to one in particular—the National Geographic Orion, a 337-foot vessel from which she conducts most of her work for Lindblad Expeditions, crafting the ultimate travel itineraries and leading tour groups on excursions throughout coastal Europe. She is also responsible for personally vetting all of the interesting off-ship activities from which passengers can choose. (At the top of her list: A trip from Lisbon to Bordeaux, which slinks guests through cider houses in the French and Spanish Basque country.)
But if there's one message Carrère wants to emphasize, it's her lack of a linear path, despite having a childhood that essentially primed her for the work that she does today. "Growing up, my chores weren't things like laundry or dishes. It was like, 'OK, we're gonna hoist you up into the canopy and you're gonna clear the leaf debris from the gutters,'" she says, reminiscing on her childhood in Ithaca, New York. Raised in what she describes as a "quasi tree house," Carrère learned about the power of nature early on from her parents. Her French father—a former sailing captain turned eco-home builder—constructed their wooden house around a 100-year-old oak tree on the banks of Cayuga Lake. In the winters, her mother, a Philadelphia-raised graphic designer, former sailor, and onetime dolphin trainer, used to worry that the tree branches would freeze and crash through the living room. "I think part of the reason that I ended up going into this field is because, as a kid, I had such a close proximity to my natural surroundings," she says, then pauses. "It was literally in my house."
Carrère and a black-and-white ruffed lemur in Madagascar. Photographed by Sally Gee.
Unsurprisingly, in 2011 Carrère graduated from McGill University in Montreal, Canada, with a degree in environmental science and international development, and returned a year later to complete her masters in bioresource engineering. By that point, she'd lived in Panama, as well as along the contentious Israeli-Palestinian border, where she studied water resource management. Yet she was looking to turn her passion for the natural world and travel into a sustainable, long-term career.
That's when Carrère learned about National Geographic's Young Explorers grant program, an initiative that helps 18- to 25-year-olds fund their scientific fieldwork. In 2013, she put together a project proposal and was awarded $5,000 to research how people in Madagascar were responding to severe deforestation by using an innovative agricultural technique. She blogged about her experience online and soon noticed a trend. "I started getting emails from people all over the world—people I didn't know—saying, 'This reminds me of the adaptation strategy happening in my country,'" she says.
Driving on a desert road in Wadi Rum, Jordan. Photographed by Joe Comiskey.
Carrère then thought back to a lesson she learned in her youth while living in the tree house: When humans are confronted with forces outside of their control, they learn to adapt. However, in today's world, Carrère believes that our attention is consumed by doom and gloom. "So much of the scientific documentation of climate change is focusing on how we've messed up—what went wrong," she says. "But let's shift away from the doomsday narrative, because everybody is desensitized."
So, how do we confront the issue at hand? The first step is to define it. "People say 'adapt,'" she says. "But what does that actually mean? What does that look like? Who are the people doing it?"
Surfing with the locals in Fort Dauphin, Madagascar. Photograph courtesy of Carrère.
To answer those questions, Carrère is currently developing a digital documentary series on the topic of climate change adaptation for National Geographic. Thus far, she's traveled to Bangladesh to study the emergence of floating gardens, schools, and hospitals in response to worsening floods in the country. She's also traversed the Himalayan region of Ladakh, and profiled a man who has been working to build artificial glaciers that provide water to high-altitude villages in warm summer months.
"My whole life has been looking at what works—what are the ways I can inspire people to be reminded that we are an awesome, cool, creative species, and we will adapt and thrive?" she says. "I celebrate what we do well. It's the basis of my work."
So, where do we sign up?