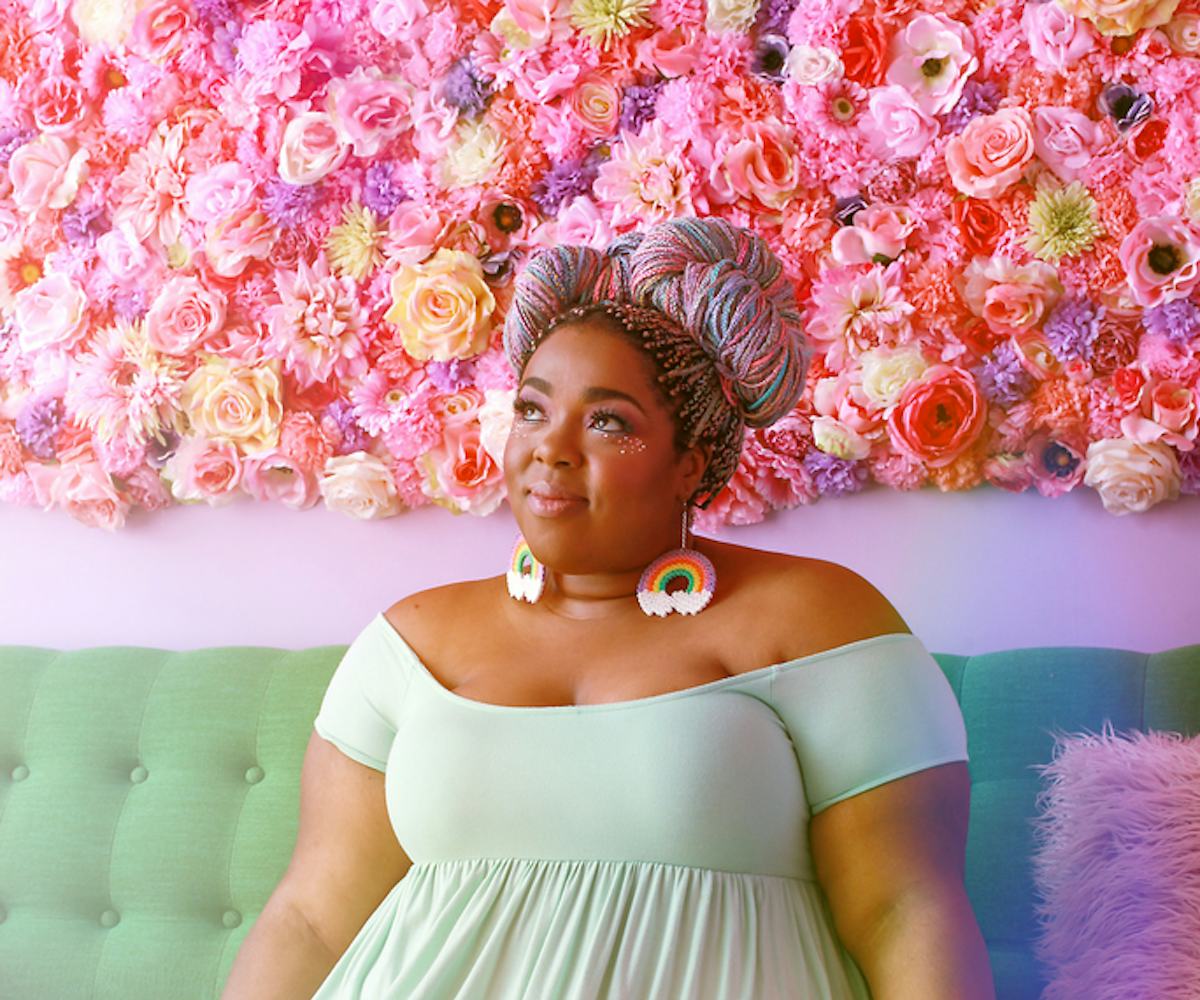 Photographed by Cherokee Neas. Makeup: Natasha Marcelina for NYX Cosmetics.
Amina Mucciolo's Quirky Apartment Shows Her True Colors
Peek inside the L.A. creative's dreamy pastel place
The following feature appears in the September 2017 issue of NYLON.
In the modern industrial hallway of a historic refurbished building in downtown Los Angeles's garment district, a wayward, rainbow-shaped Mylar balloon floats lazily against the ceiling above Amina Mucciolo's front door. It's a fitting, if unintended, marker: Behind that door, in the small 11th-floor studio loft that she shares with her husband, Salvatore, is a sherbet-hued paradise of pastels, glitter, and gold, where unicorns reign and only the polished concrete floor has been left untouched. Just call it Cloudland.
When the couple moved in about a year and a half ago, the space was a blank canvas. "Everything was oatmeal, beige, and gray. And it was hell," Mucciolo says with a laugh. But it wasn't until recently that the artist, product designer, and internet personality had the time to trick the place out. "I knew that I wanted to really do something magical," she explains. Now, the 650-square-foot space is an eye-popping extension of her personal aesthetic, and a testament to her DIY tenacity. "It's this idea of creating an oasis," a juxtaposition to the grit and grime of downtown, she says. "It's like our happy, soft, cloud heaven."
Spring is Mucciolo's favorite season ("because everything is just so beautiful and fresh and hopeful and happy"), and her inspiration for the living room, where the walls are lavender and a Kelly-green couch from Joybird sits below a gigantic flower installation she created using 1,200 faux blooms, hot glue, and canvas. Tiny origami paper cranes hang from the ceiling, and are as much a peek into Mucciolo's psyche as they are décor. "I'm a genuine crazy. I'm like Girl, Interrupted, the real thing. I have OCD and I was in treatment for bulimia, and also I have anxiety, so when I got out of treatment, I really needed something to help," she says. "A lot of people turn to drugs or drinking, but I'm too square for that, so I was like, 'I'm just gonna make some shit.' All of these crafts and tedious projects that would drive people crazy, they're actually really therapeutic for me. The paper cranes are one of those things."
Another one of those things is the masterpiece that is the small kitchen area. Mucciolo's covered each cupboard door in washi tape stripes, creating color-blocked cabinets inspired by the pastel hues of her childhood favorites, My Little Pony and Care Bears (her color-coordinated vintage toys are lined up along the top). But the loft's pièce de résistance is its main 20-foot wall, which she first coated in a pastel gradient, and then splatter-painted over. It connects the living room to the bedroom area, which Mucciolo calls her "crystal unicorn cave," inspired by the mural she's painted on the wall behind the bed. "I was really influenced by agate and crystal and marble and those natural kind of formations," she says. "And since there's no natural light in here, I was like, 'I'm just gonna lean in to the whole cave thing.'" Her closet doors feature another washi tape installation ("Washi tape's my jam!" she adds), and her collection of novelty bags hangs on the wall, doubling as art.
Mucciolo's décor vision is clearly singular, and not everyone gets her sense of style. "It takes confidence to do this kind of thing, because there are people who are like, 'This is crazy,'" she says-—including Kathie Lee Gifford and Hoda Kotb, who, after pics of Mucciolo's place made the internet rounds, showed some images on the Today show and "threw a little bit of shade." "You have to be able to deal with them calling your house a preschool in front of, like, millions of people," she says. "I wasn't always OK with that kind of thing. It was really after treatment in my mid-20s. Once I did that I was like, 'I've lived so long feeling like I can't be myself.' It's like, no way. I got a second chance at life so I decided I'm gonna go balls to the wall. Crazy hair, crazy house, whatever! It works—it works for me."
Even the books on display fit the apartment's color palette.
These three gold unicorns from White Faux Taxidermy are a new addition to Cloudland.
Mucciolo's novelty bag collection hangs on the wall of her bedroom, more an art installation than form of storage.
Cotton-candy pink details in the bedroom.
A little paint splatter goes a long way on the studio's main wall.
Mucciolo in front of her enormous, DIY faux-flower wall.
Mucciolo's impressive collection of vintage toys overlooks her kitchen.
Mucciolo covered every cupboard in the kitchen with color-coordinated washi tape; the dishwasher is a nod to "Cloudland," her home's nickname.
Mucciolo's crystal cave mural in the bedroom.
Origami paper cranes hang from the ceiling of Mucciolo's living room.