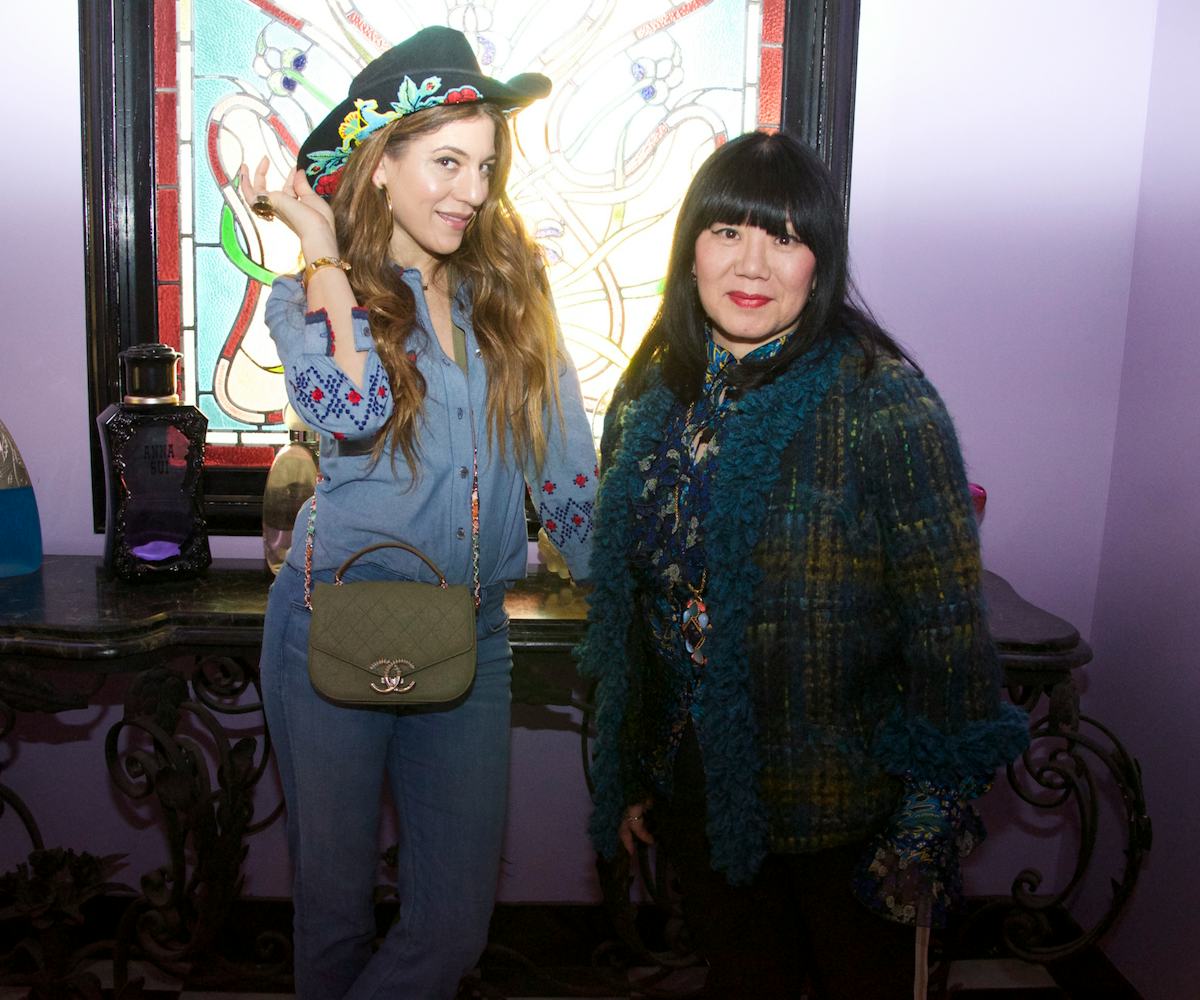 Photographed by Andrew Tess.
Dani Stahl Goes Behind The Scenes With Anna Sui
To craft a look from her Americana-tinged spring collection
The following feature appears in the March 2017 issue of NYLON. 
Endless rolls of fabric fill the walls of Anna Sui's atelier in the heart of New York City's Garment District. Handmade inspiration boards hang amid seamstresses busy at work on sewing machines. In an industry that's ever-modernizing, the setup feels like a sweet relic, so authentic to the process. It's just the kind of place this Factory Girl loves to be.
Since her debut runway show back in 1991, Anna Sui has become synonymous with a signature rock 'n' roll-meets-boho-hippie vibe, as seen on the likes of Naomi Campbell and Kate Moss. (Not to mention the trademark mix of black Victorian furniture, purple walls, and papier-mâché dollyheads at Sui's boutiques, which has also become a hallmark of the brand.) Growing up in the '90s, my personal love affair with the label dates back to the day I purchased an Anna Sui piece as my first-ever designer party dress. It was fluorescent pink with spaghetti straps and metallic gold appliqué. I'll never forget it.
This spring, Sui puts an American folk art spin on her line's aesthetic, inspired by the iconography from exhibits at the New-York Historical Society and American Folk Art Museum. The result is a collection that features the best of Americana, from cowboy vibes to cheerleader styles. One look in particular caught my eye: a skirt, crop top, and cardigan combo that riffs on Florida souvenir-shop fare. So here, with Ms. Sui herself, I'm going behind the scenes to see the making of this perfect spring outfit.
How Sui works hasn't really changed since the early '90s. (If it ain't broke, don't fix it!) The old-fashioned mood board is where everything starts to take shape. For this particular look, she shows me how she was guided by old images of Warhol muse Donna Jordan, who had an effortlessly quirky-chic manner of dress that flawlessly incorporated kitsch like souvenir tees from five-and-dime stores. But, as Sui demonstrates, it's the fabric that really becomes the crux of the design, from the colorways to how the garment takes shape to the compatibility of embellishments. "Fabric always tells the story," Sui says with a knowing smile. In this case, an amazing material printed with a map of Florida and abounding with red, yellow, and green becomes the driving force.
Using a pattern, we cut the fabric, before going over to the showroom for the assembly and sewing (lots of sewing!). Samples made in the showroom are becoming something of a lost art, because this is now often done by computer—but, according to Sui, with that you lose a certain touch. Admittedly, I have a little help from some more experienced sewers, but when the sample is assembled I try it on. And even this 100 percent New York girl can't get enough of her Florida look.
My favorite Cardigan à la Donna Jordan
Obsessed with these skirts
Fastening this fabulous little fascinator to my head
Sui shows me the ropes
Behind-the-scenes inspo
All hands on deck!
Sui, the legend herself
Ta-da!
"Pro" seamstress at work