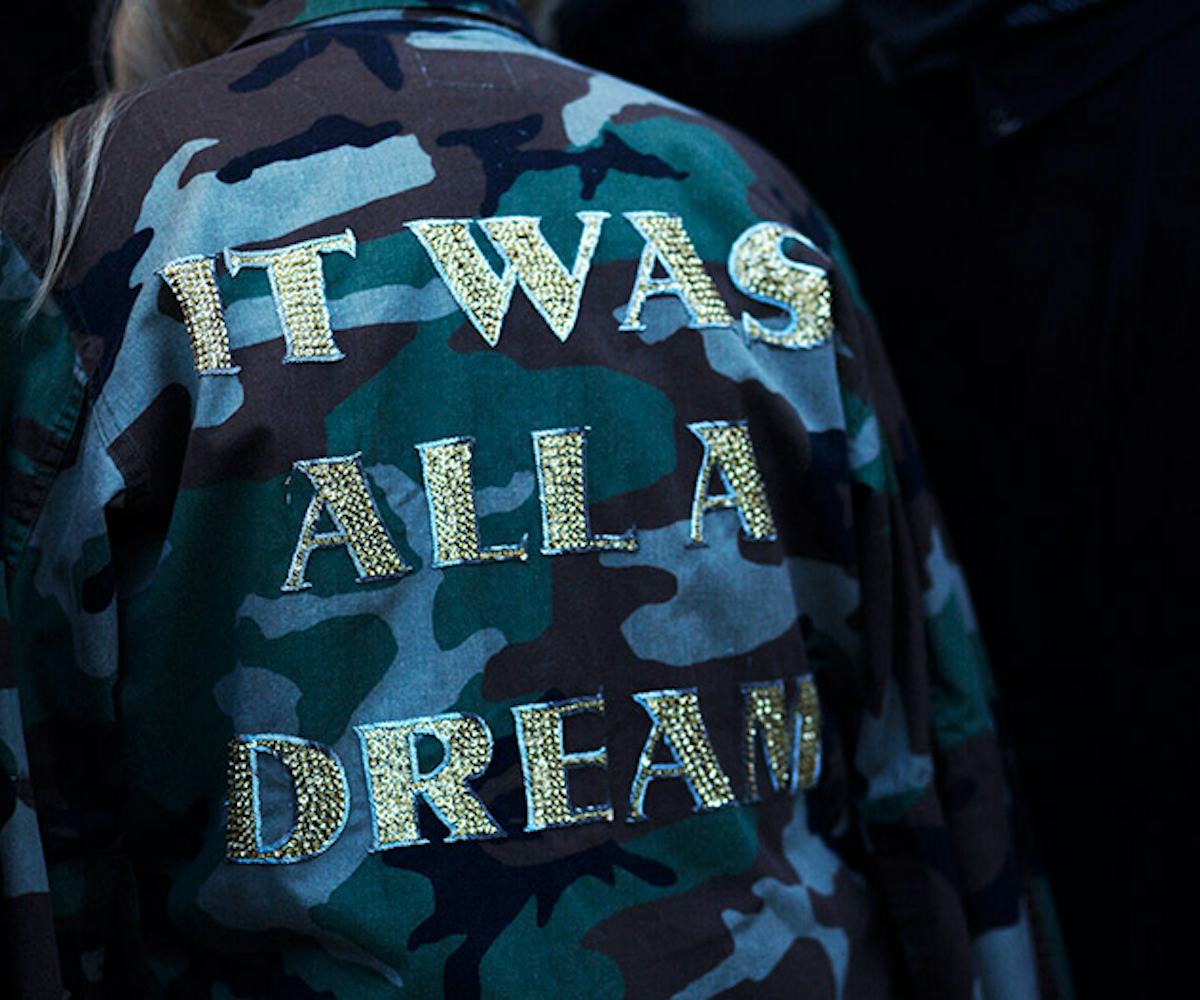 Photo by Jack Maffucci
The NYFW Moments That Changed Us
Do you even live for fashion, bro?
New York Fashion Week is hectic, thrilling, aggravating, and inspiring all at once. For many, it's a dream. For others, it's a job, and they're going to it no matter how much of their soul it sucks away. For all its stressors, though, it's a surreal privilege. At the end of the day, you can't help but feel pretty freakin' lucky to play witness to the cultural moments that will shape our wardrobes, music, and lifestyle in the seasons to come—even if you're just sneaking into a VIP section of some party you worked your way into. Ahead, a few NYLON staffers share the moments that have humbled and thrilled them, because fashion week is mostly fun. And, sometimes, reminding ourselves of that is necessary.
Keryce Henry, Associate Editor
New York Fashion Week somehow always coincides with my busiest work week of the month, so I've literally never been to a show or had a quintessential "fashion week" moment. The closest I have to such a thing happened at the G.O.O.D. Music celebration at Up&Down in February. It was dark, and the drinks were strong—I ordered a margarita but I think the bartender forgot to add the lime juice. And the triple sec. And the salt. Virgil Abloh was on the turntables, Lil Uzi Vert was standing on the DJ booth and performing, Kendall Jenner and Gigi Hadid were dancing in one of the booths, and Wale was pretending not to be hot in his full-length coat while standing beside A$AP Rocky in a roped-off area beside Virgil. I heard someone call my name, and it turned out to be one of my interns; she and her boyfriend had somehow swindled their way into the section and were acting as bodyguards for whatever reason, blocking people from entering. She gladly slid me and my friend in, though, most likely so I wouldn't give her a failing grade for her internship.
And that's when it happened: A$AP Rocky and I locked eyes, and my whole world changed. I realized that he is, in fact, not human, but rather a demigod that has graced Earth with sculpted cheekbones, stellar smile, and box braids that could only look good on him. (Seriously, what other grown man has successfully rocked box braids? I'll wait.) Everything started moving in slow motion but, again, I was inadvertently drinking tequila straight. Then he looked away.
Seven months have passed since that night and I'm still questioning how A$AP Rocky is so much prettier than me. If that's not a transformative fashion week moment, then I don't know what is.
Austen Tosone, Editorial Assistant
The first time I saw a designer present a collection at New York Fashion Week, I was in middle school. Okay, and I may have been sitting on my couch at home with my mom, watching the finale of Project Runway. But that didn't stop my determination from making it to the tents myself. When I would come to NYC in high school I would always stop by Bryant Park, even when it wasn't fashion week. In college, I would take the subway down to Lincoln Center and just hang out and take it all in. I wore sunglasses so people would at least wonder if I was famous, brought a friend to take pictures for my blog so I could document the experience, and got yelled at by security for trying to sneak into shows. Even though this year I'll be inside the tents, my first fashion week memories will always be of how in awe of the scale of the shows I was and the explosive creativity I felt, even from just being outside.
Taylor Bryant, Web Editor
As the old adage goes: A girl never forgets her first time, and that sentiment extends to my first fashion week experience. While freelancing for WWD back in 2012, I was #blessed with the chance to attend Suno's Spring/Summer 2013 show in place of my boss. The brand's duo were still very much up-and-comers at the time, but that didn't stop me from freaking the eff out during the entire, say, eight minutes the show lasted (while standing the entire time, at that). Things that added to the excitement: Spotting Solange, J.Crew's Jenna Lyons, and stylist June Ambrose front row.
I also attended the show during a time where I wasn't sure what the heck it is that I wanted to do with my life, let alone pursue as a career. It sounds corny, but the brief yet infectious high I experienced solidified that working in fashion—on some level—was what I truly wanted.
To top it off, I even got snapped by a street style photographer (Bill Cunningham it was not, but you can't win 'em all) in my very-contrived "fashun" outfit. Thinking back on it now, I don't think that photograph ever surfaced, but I'll forever hold onto that memory.
Hayden Manders, Staff Writer
I never dreamed I would attend fashion week. I mean, I did, but I, like, never believed it would happen. Somehow, though, I scammed my way into the world. Sitting front row at the privilege of my previous editors has been transformative, but I love the spectacle of fashion week's nightlife. It's both obscenely pretentious and oddly humbling—much like New York City's nightlife is anyway. You feel small and yet so big. It's nuts; sharing a room with people like the Jenners and their squad is surreal. Last NYFW, a few of my friends found ourselves at a Kylie Jenner party at Up&Down. Leonardo DiCaprio happened to be there. My good friend loves him and wanted to somehow sneak a picture without him looking. (As if he could see with that newsboy cap tipped way low.) Her phone was dying so I handed her mine. Turns out ol' Leo is keenly aware of his surroundings—even when surrounded by models—and put his hand to block my camera's lens on his way to the bar. The end result was a weirdly satisfying photo burst of Leonardo DiCaprio's brim-covered face getting closer to the camera and hand eventually blocking the whole thing. It didn't do much for her, but my photo stream on the other hand... it's basically Academy gold. If we want to talk about actual fashion moments, however, getting photographed on the street in an outfit you weren't too hyped about but others found to be special is pretty rewarding. Consider that a lesson in truly trusting your gut sartorial instincts.
Marissa Smith, Fashion Market Editor
The most memorable thing that happened during a season of New York Fashion Week was attending the Marc Jacobs Spring 2014 collection. It was my first season working with NYLON as the fashion assistant. I was stuck in the fashion closet organizing and sorting out the rest of the team's fashion week schedules. On the last day of shows, the day Marc is notorious for showing on, I get a call from our fashion director saying that one of our team members couldn't attend and I could take her ticket. It was a HUGE deal for me; Marc Jacobs will always be one of my favorite designers, and going to that show is a major fashion accomplishment. And, I was sitting third row! I mean, having been an assistant for only a couple of months back then, getting to do that was iconic. All my friends in the industry were so jealous. I was in the midst of fashion royalty everywhere I looked. I'll always remember feeling so accomplished in that moment. I had made it.