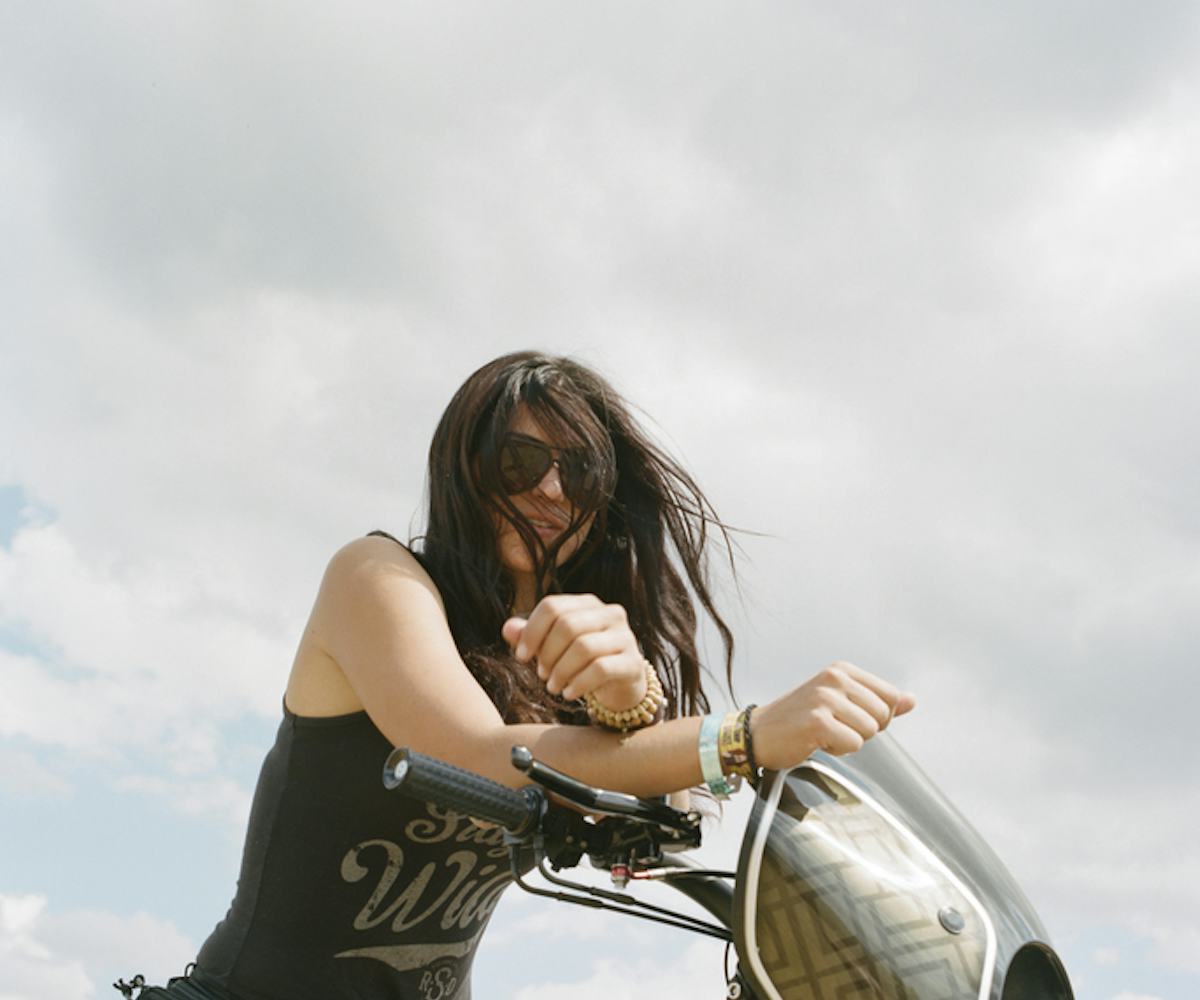 Photo by Beth Garrabrant
Get To Know The Fierce Women Dominating The Motorcycle Scene
In South Dakota's Buffalo Chip campground, women take the lead
The following feature appears in the October 2017 issue of NYLON.
Between a chorus of exhaust pipes and the faint hum of a drone overhead, it can be hard to know exactly what's unfolding down at the Buffalo Chip. A single file of personalized motorcycles begins to make its way past hazy pink banners and glorified micro-cabins. Nearby spectators stand in awe—not at the stream of souped-up bikes, but at their drivers. 
Helming these rides is a stylish stampede of women, donning everything from aviators and charcoal-toned Daisy Dukes to patched leather vests, bandannas, and a gallery of tattoos. "A lot of guys tell me, 'We knew this was gonna happen one day,'" says Kelly Yazdi, a 26-year-old motorcyclist from Los Angeles, while straddling the seat of an RSD Dyna Ripper. 
Yazdi is referring to her brainchild, The Wild Gypsy Tour, which just kicked off as the first-ever all-women's motorcycle festival at Buffalo Chip Campground, a mammoth 600-acre tract of land near the Black Hills of South Dakota. This places the "Gypsies" at the epicenter of the 77th annual Sturgis Motorcycle Rally, the world's largest event of its kind. Or, as Yazdi puts it, "You know how in Peter Pan there's a Mermaids' Lagoon? That's us." 
It's been said that women are the fastest-growing demographic in the motorcycling industry today. Not only is female ownership at an all-time high, according to 2016 data from the Motorcycle Industry Council, but some experts estimate that women now represent almost a quarter of all riders. And nationwide, while women's biker groups continue to increase in chapters, all-female overnight campouts like California's "Babes Ride Out" reign supreme. 
So to say that this is a pivotal time for women in motorcycling is rather an understatement. Just this June, Jessi Combs, also known as the "Fastest Woman on Four Wheels," was selected to be the first-ever female grand marshal of the Sturgis Mayor's Ride. The Wild Gypsy Tour continues in this vein, working to carve out a communal space for women within a male-dominated scene. 
The Buffalo Roam
Before there was The Wild Gypsy Tour, or even real talk of "women in motorcycling," there was the founding of the Sturgis Motorcycle Rally. The year was 1938, and its setting along the western edges of South Dakota made the Black Hills Motor Classic—as it was originally dubbed—a prime locale for two-wheeling stunts and Ford Model T races. (Think an old-timey The Fast & the Furious, and swap out Vin Diesel for a guy named J.C. "Pappy" Hoel.) 
It took decades for the rally to become synonymous with the bonfires, beer, and nude dalliances of the '70s, and a few more years for local Sturgis residents to propose abolishing the event altogether. Legend has it that the city's mayor sought to get the "riffraff out of town" in 1981, thereby preventing bikers from having a place to camp during the rally. 
That's when a man named Rod "Woody" Woodruff intervened, offering up his privately owned land to bikers from all over the nation. "The Legendary Buffalo Chip"—more commonly exalted as "Buffalo Chip," or simply, "The Chip"—was born. It would be years before Woodstock, Bonnaroo, or any other tent-city capital would spring up, making the site a true prototype of the campground-vendor-concert combo. 
"We all heard of this place—this mecca," says Cris Sommer-Simmons, 60, recounting her first trip to the Sturgis Rally over three decades ago. "I can still remember when I heard my first Harley. I ran out of the house and said, 'What's that sound?' I never heard anything so beautiful in my life." 
Today, Sommer-Simmons—one of the nation's pioneering female motorcyclists—holds the distinction of being the only woman to finish three "Cannonballs," a cross-country vintage motorcycle endurance race, and to get inducted into three motorcycle halls of fame. In 1985 she co-founded the publication Harley Women, and since then has seen the Buffalo Chip gradually host a wider range of female business owners, builders, and bikers.
"Now, every pack of bikes you see go by, there's maybe one or two women. It didn't used to be [like] that," she says, her cascading mane of honey-blonde hair wisping against her vintage Harley-Davidson jacket. "You find your tribe within your tribe." 
Spreading out over the Buffalo Chip, endless rows of RVs form tentacles around the campground's more notable attractions, like the half-mile track, which curves its way through the amphitheater, or the seven-story zip-line tower, which sends campgoers flying above motocross races. Most of the crowd is armed with pulled-pork sandwiches and domestic beer, and is wearing some version of leather chaps. And there are other fixtures, like free pancake breakfasts, midget bowling (not very PC), and the Miss Buffalo Chip Pageant. 
Walk past the wooden bowling stalls and the occasional go-go dancing paratrooper, and you'll come to a crossroads. On your left is Bikini Beach, a swimming hole and performance stage, home to whipped cream Twister and Slip 'N Slide relays. Curve further down the bend and arrowed signs lead to self-service laundry and a steakhouse. But the loudest sign is a rectangular pink poster which points riders in the direction of The Wild Gypsy Tour. "Everyone is so curious," says Yazdi, when we meet up at Gypsy HQ. "We've had women be like, 'Hey, can we relocate our camp to come hang out with you?' But for guys, it's almost like a filtration system."
To stay "women-oriented and focused," Yazdi explains the importance of knowing every man that enters their "safe space." As a structure, the camp is fenced o from other parts of Buffalo Chip. In the center of the grounds, there's a bar surrounded by a ring of glamping tents. Further back, there's a wooden barn composed of hay-bale pillow pallets and dream catchers, adding a Coachella aesthetic markedly different than the campsites next door. 
And that's partly the point. At its conception, The Wild Gypsy Tour was slated to be a trailblazing effort, a partnership with the Buffalo Chip to support women in the industry. Yazdi, who works as a project manager, was given free rein to craft the tour, and with that mission came accoutrements like sponsorships, hammocks, and karaoke. By the barn, there's even a bike wash, where men lather and detail the Gypsies' motorcycles after a long ride. 
Indeed, the Gypsy camp is the most explicit symbol of a changing tide, one that can be felt rising throughout the grounds, where female bikers are now finding themselves front and center and realizing the power their very presence holds. Nearby, for instance, motorcycle builder J Shia is posted up at a 7,000-square-foot exhibition hall where her work is on display as part of a "Motorcycles as Art" exhibit. "It's a 1971 BSA A65," she says, before switching to layman's terms. "We named the bike, 'The Manipulated,' because we manipulated the machine to function with very unconventional things, like antique tools, chainsaw oilers, and a Boston sewer drain." 
The 27-year-old Boston native gazes over her recent creation, which looks like it sprang from the mind of Mad Max. In reality, Shia is a single mother with an eight-year-old boy, and the proud owner of Madhouse Motors, a full-time service and repair shop. "I wake up every day, get in my tow truck, and drive to my shop. I work around guys and girls, and I don't factor in anyone's gender," she explains. "But here, women come up to me and say, 'Wow. You're really setting the path for builders,' and it's so flattering, but I feel a little jaded because where I'm at, I don't have to think about it every day." 
How The West Was Won
Enmeshed within South Dakota's history are Wild West tales of defiance, freedom, and the pursuit of something more. After gold was discovered in the Black Hills in 1874, hordes of visitors sought a piece of the hidden riches, most often in the mining town of Deadwood. (If you're familiar with the HBO series by the same name, you've got the right place in mind: a Western photograph come to life, complete with pistol-packed saloons and gambling dens, where folk hero "Wild Bill" Hickok met his demise during a poker game.)
So it's fitting that when many bikers come to experience Sturgis in all of its mythic glory, Deadwood is another popular place for them to take up residence. And maybe it's all the more perfect that the historic district was once the haunt of Martha Jane Canary, better known as "Calamity Jane," a sharpshooter skilled in the art of "unladylike" pursuits. 
Outside of a wood-paneled motel in Deadwood, a group of modern-day Calamity Janes linger. They're dressed in spotless fringe and distressed jeans, often adjusting motorcycle suspensions to t their long journeys ahead. On this Sunday morning, Val LeGentil, 55, has her sights set on Devils Tower, across the border in Wyoming, though she recently made a 2,200-mile trek to Sturgis from her home in British Columbia, Canada. "I prefer to ride my own bike. Then I have my destiny in my own hands," she says, climbing atop her newly purchased freewheeler. "Nobody else is going to be driving me into a ditch." 
Take one stroll along Main Street in Sturgis and you'll likely hear engines rumbling with the same desire. Lines of motorcycles cruise past old-school saloons, ammo shops, and scantily clad vendors. Veteran bikers get their boots shined, beers in hand, and suddenly the anything-goes festival feels tamer than years before.
After all, this is the place that once staged a bon re of foreign bikes in defense of American-made Harley-Davidsons. The same place where, in 2009, members of the Hells Angels and Iron Pigs motorcycle gangs brawled inside of the iconic Loud American Roadhouse, a night that ended in gunfire. Recent articles have posed the question of whether, after 77 years, the world's biggest motorcycle rally has lost its edge. But those declarations fail to perceive the undercurrent of female power players, many of whom are steadily redefining, and breathing new life into, decades-old boys' clubs. 
These are women like Jeanine, a scene-stealing motorcyclist from Tulsa, Oklahoma, who strides around in a sea of baby blue fringe. Or Barbie and Patti, a duo of bike-wielding sisters who recently surfaced in Sturgis, donning cutoff shirts emblazoned with the phrase SHHH..NOBODY CARES. Or Arlene Henry, a retired elementary school teacher, who has been cruising the country alongside her husband, Vern, since 1968. "I think men get lost in themselves from the day they're born," says Henry. "I think women belong up front, and men need to sit in the back." 
Not everyone is on board with this idea. While at Sturgis, I meet a former Marine who doesn't believe women should have their own bikes, and other riders who are indifferent. Back at the Buffalo Chip, Marjorie Kleiman, 64, opens up about the mansplaining that so often accompanies her passion. "Try going into a motorcycle shop with a guy. I'll go with my boyfriend—who doesn't ride—and they'll only talk to him," says Kleiman, who was recently named editor-in-chief of Thunder Press, a monthly magazine devoted to American motorcycle lifestyle and culture. "I can have an amazing conversation with a guy, talking about all of the mods on my bike, and at the end of it, he'll say, 'So, do you ride?'"
At present, Kleiman owns four Harleys: a Sportster ("Ruby"), an FXD ("Elvira the Black Beauty"), a vintage 1982 FXRS Shovelhead ("Foxy Lady"), and a 2017 Road King ("Badlands Betty"). She only began riding in her forties, but she's more than made up for the delay. 
"I didn't do it to prove anything, but it is a lot more work to get people to realize who I am, and to look past the gender," Kleiman says. "I hope that [one day] people don't talk about women in motorcycling anymore. It shouldn't be a thing. We're all motorcyclists. We're all people." 
Gypsy Rising
If a revolution is indeed underway, it's best to keep an eye on one obvious unifier: social media. That's how Mel Putland, a 30-year-old singer from Australia, found herself at Sturgis in the Wild Gypsy camp. "I'm blown away by the kind of hospitality Americans have for riding," she says, adding that her Harley-Davidson stayed home in Melbourne. "They're not scared of me dropping their bike or anything. They're like, 'Just take it!' I'm genuinely shocked."
Like many Gypsies, Putland connected with the tour on Instagram; she was a fellow rider with a "dark pop" music air, and the ability to perform live (which she did the night before we speak). Though it's difficult to discern how many converts have come to experience the Buffalo Chip for the first time, it's not hard to know who intends to return. "I can't wait to see what this evolves into," says 29-year-old Ashley Teriaca, who joined the tour with three friends from Milwaukee. 
Suggestions for next year's tour include things like hookah lounges, adding more Wi-Fi, and paintball races. That the Gypsies intend to push the limits of Buffalo Chip tradition is obvious, but Yazdi hopes such change will be what preserves The Wild Gypsy Tour, and cements a larger cultural shift worldwide. Like the elder bikers and industry pioneers who came before them, these riders are paving a new kind of road for themselves. "When you get women involved, more men get involved. It spreads like this beautiful ripple effect. Then you're supporting families. You're supporting mothers, daughters, and sisters," Yazdi says. "Women are the secret sauce to life—to everything."