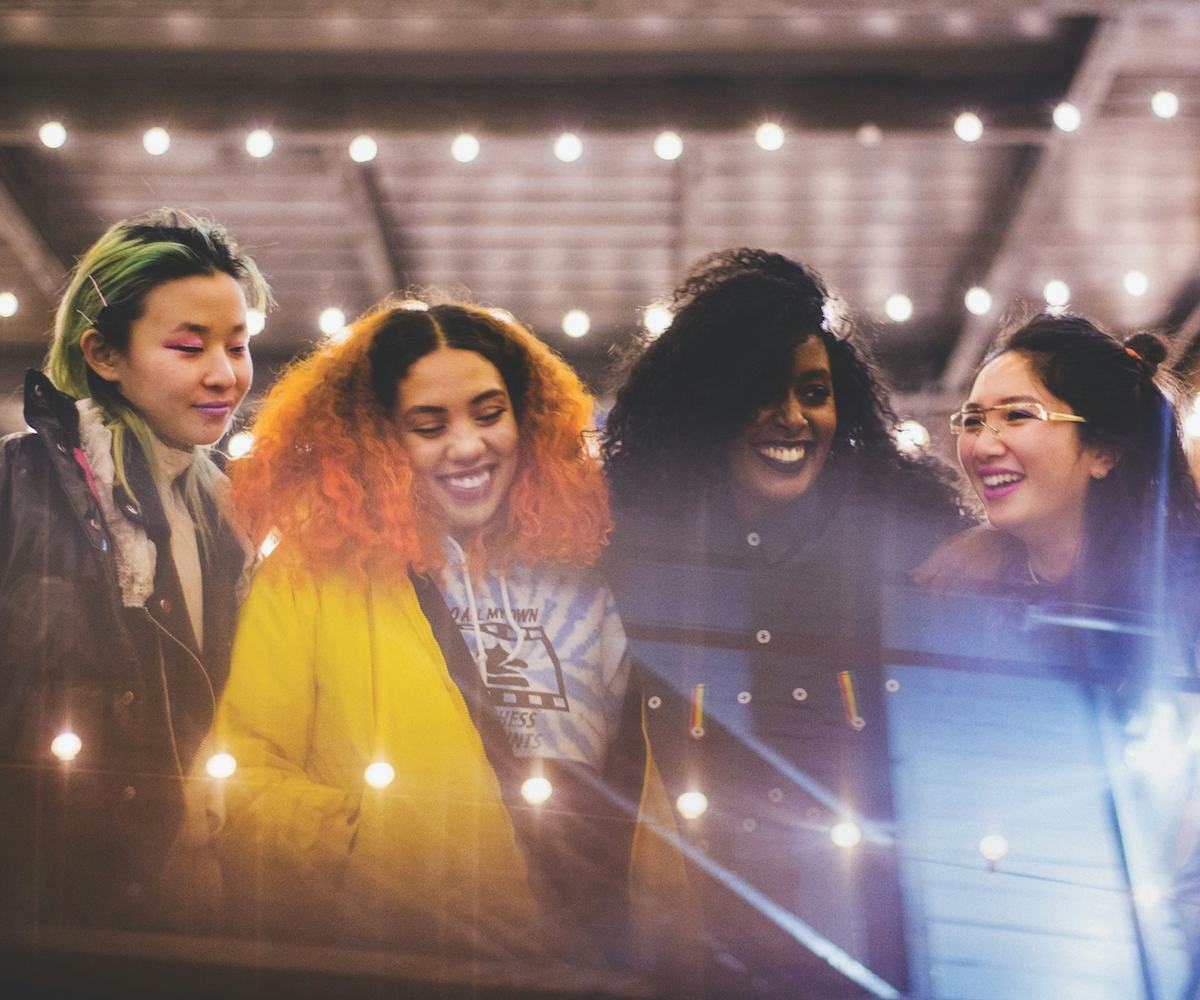 Photographed by Carla Tramullas. From left: Sonia Choi, Jazmin Jones, Tsige Tafesse, and Katherine Tom
The BUFU Collective Explores The Power Of Black And Asian Unity
Get to know the New York-based group
The following feature appears in the April 2017 issue of NYLON.
Hundreds of New Yorkers crowded into the Brooklyn Museum on the evening of November 10, 2016, to find safety and solace. Donald Trump had just been elected president, and the BUFU and Yellow Jackets collectives, along with other groups, did what they do best—activated. The event,  "Process/Mourn/Activate," converted the third-floor atrium into a space for organizing, and most importantly, healing.
BUFU (an acronym for "By Us, for Us") is a group that comprises Jazmin Jones, Tsige Tafesse, Katherine Tom, and Sonia Choi—four New York City artists and organizers facilitating the conversation on the sociopolitical relationship between black and Asian diasporas. They're here to foster solidarity by highlighting the lived experiences of these marginalized communities through telling their stories, on their terms. Much like their museum panel, BUFU itself is a reaction: "We're not whiz kids when it comes to promotion, outreach, research, or all the things that come with this project—we are not waiting to get degrees in this shit, or for someone to have permission to cover us," Jones says. "We also don't have anyone to answer to other than our own conscience or our own politics."
The collective's founding members—including the current roster plus a fifth, Jiun Kwon—first crossed paths in 2015 as college students with a shared interest in direct-action work, and decided to team up on a web documentary series project on the black-Asian discourse. One evening, Kwon had arranged for a screening of Mountains That Take Wing, a film featuring a conversation between black activist Angela Davis and Japanese-American activist Yuri Kochiyama. What happened afterward was one of the many revelations that fed into BUFU's vision. "I remember Jiun turning to me and being like, 'What do we ask, what do we do?'" Tafesse says. "It was a really challenging conversation, and from that we realized there's a need to develop a language around what was happening in that room. There are so many different barriers in terms of how we are racialized, and see each other, and connect to each other." Jones, Tafesse, Tom, Choi, and Kwon then began holding regular meetings that August. "We made the decision to not just whittle it down to a documentary," Jones recalls. So, the collective also began rooting their work in the community through events and gatherings. 
When Kwon passed away suddenly in October 2015, the group was unsure if the project would continue without one of its core members. But BUFU's work soldiers on, holding Kwon's legacy and impact close. "Her spirit remains among us and within the heart of the project," according to the collective's website, where they recall their hike up Namsan Mountain, in Kwon's honor, when they filmed part of their documentary in South Korea.
By spring 2016, BUFU was ready to take their work to the next level. They'd traveled to Austin, Seattle, Los Angeles, and Japan to collect footage for the first season of their documentary series, self-funding every step of the way (a large part of their travel was made possible by Kwon's memorial fund). In June 2016, Tafesse, Tom, Jones, and Choi held programming out of a warehouse in Brooklyn's Clinton Hill neighborhood, converting the space into a venue for artists and organizers of color for a "month for black and Asian futurity." BUFU held workshops on oral history, hair, music, and gentrification, conversations and dinners, tea and coffee ceremonies, and parties—all centered on community and dialogue. 
Their initiatives quickly gained recognition from various media outlets, but outside of these intimate moments, the work was, at times, overshadowed by the hype. "A lot of coverage of us in the media posits us as party girls," Jones explains. The group constantly struggles to navigate the commodification that comes with the double-edged sword of hypervisibility: "Sure, we're cute—but some of these stories single-handedly put us into a box," says Jones. 
On a snowy evening in mid-February, a few months after the Brooklyn Museum gathering and a multi-collective "Scamming the Patriarchy" summit the following weekend, the group is posted up at a café in Brooklyn. It's also been about two weeks since half of the members traveled to Ethiopia for filming. In light of China's increasing manufacturing presence and quest for cheap labor, BUFU toured Chinese factories and interviewed locals to better understand Ethiopia and China's complex relationship and its affected communities. (And as Tafesse notes, factory higher-ups didn't seem to take them very seriously: "They thought we were these little girls running around with cameras.")
The aim was to dissect and document this "neocolonial presence"—and the answers were as complicated as one would imagine. Tafesse recalls visiting one of Ethiopia's largest cultural houses, and witnessing a showcase of Chinese song and dance. "In the middle of this survey of Ethiopian culture, a woman [we met earlier] sang a love song, and a song for Chairman Mao," Tafesse says. "I thought we were just going to be like, dealing with this neocolonial power in Ethiopia—but [the woman] had this really intimate relationship with this country."
"So many moments, like this one, were awkward and beautiful, all at once," Jones adds. 
The documentary series, which is set to finish filming with visits to Jamaica and China (in the spring and summer of 2017, respectively), stresses BUFU's importance as a "pan-Asian, pan-black" movement. "We aren't just looking at East Asian and black American folks—this is what it means to zoom in and zoom out," Tom says. "Folks have also been doing this work for decades, around the world, and we want to acknowledge that. We don't want to be experts on what black-Asian solidarity is, but we're hoping, through our politics, to have an influence on what's going on globally. In light of what's happening politically in the world, how do we show up for each other in a way that extends beyond theory?"
The creators' own experiences often become part of their work's narrative—a subversive act in the conventional documentary world. "[Traditionally], the idea is to be behind the camera, to treat the subject like a spectacle," Jones, a filmmaker by craft, says. "Every step of this has been unlearning and questioning what it means to make a documentary series. And while we've even been hesitant, from the start, we've bled into it. We can't divorce ourselves from this. That's what it means to be an artist of color—the personal is political."
Now raising funds in preparation for a multi-collective summit in summer 2017 called "US," BUFU is doing impressive work, and on a large scale: "But when you step back and look at it, we're messy as fuck," Jones notes. "It's about learning how to take ownership of our own fuckups, but also making space for each other to be human." Tafesse offers the same advice to other queer femmes of color looking to organize. "This administration is certainly not waiting for us to figure it out, and they're moving very quickly," she says. "This is the moment to really figure this out and share tools. Don't wait for someone else to tell your story."