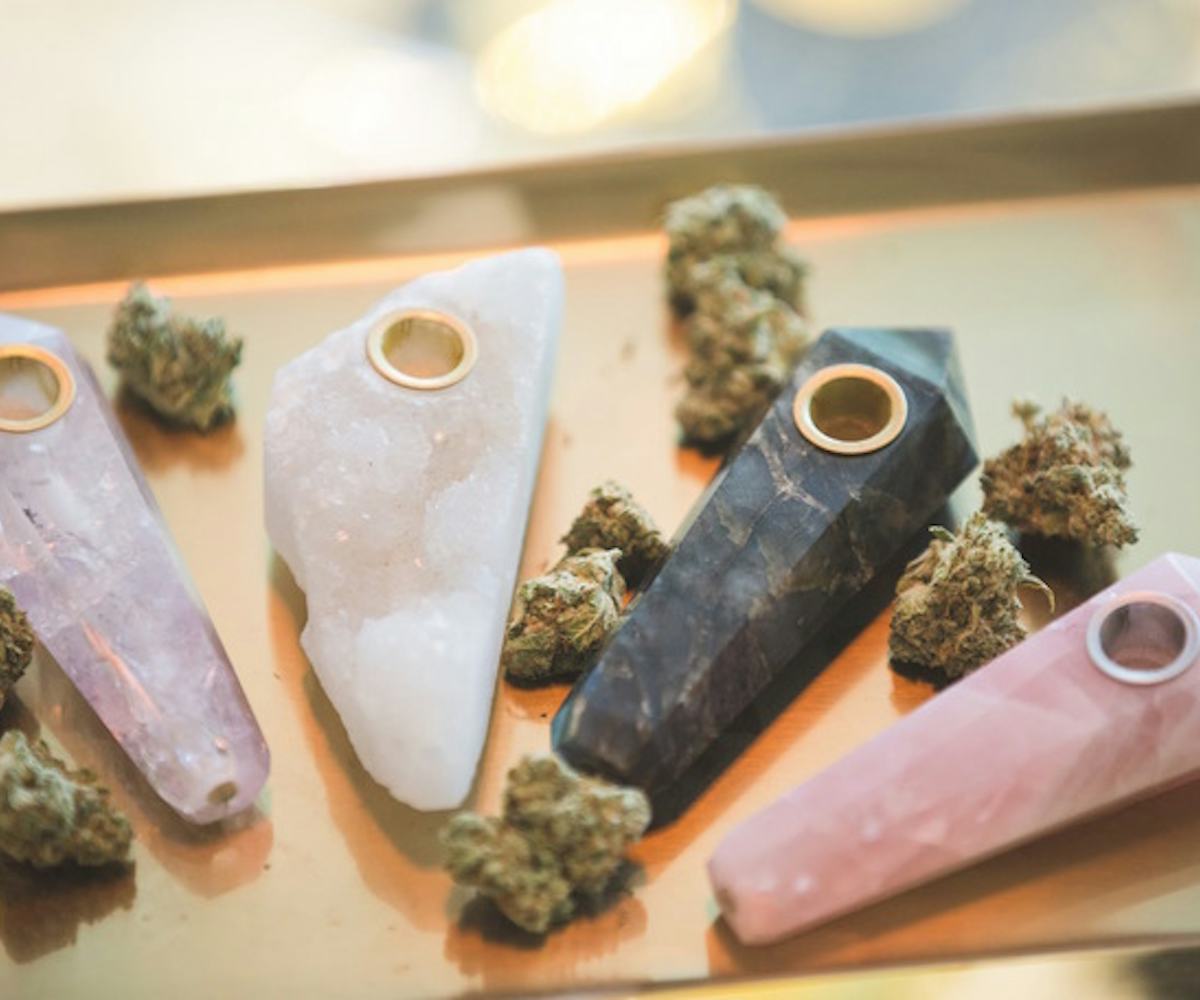 Photographed by Ori Raynai
An Exclusive Look Inside Toronto's Coolest Cannabis Dispensary
We tour 1066 and feel higher than ever
The following feature appears in the August 2017 issue of NYLON.
At the time of this writing, only seven states (California, Oregon, Washington, Nevada, Colorado, Maine, Massachusetts, and Alaska) and the District of Columbia have legalized marijuana for recreational use in the United States. In my opinion, this puts our country way behind in the global movement to legalize marijuana, and when (not if) it catches up, one of the many benefits will be the rise of well-curated dispensaries.
Case in point: On my most recent trip to Canada (which, FYI, just became one of the first G20 countries to legalize cannabis!), I felt like I was stepping into the future when I stumbled into 1066 Toronto. From the outside, it looked like any trendy apothecary shop I'd find in Brooklyn, but it wasn't until I ventured inside that I realized it was actually a marijuana dispensary. I was shocked. The only other dispensaries I've been to are in Los Angeles, and had intimidating security guards, white walls, no music playing, and girls selling marijuana behind glass counters while an old fan breezes back and forth. 1066 is nothing of the sort.
"When you take a look at 1066 from the outside, you don't know what it is," says the shop's co-founder, Smokey Robinson (not to be confused with the R&B singer-songwriter). "Is it an art gallery? Is it a boutique? It intrigues quite a few people." The shop is really more like a lifestyle brand incarnate, selling amethyst and rose quartz pipes, Boy Smells' Kush candles, artwork and jewelry designed by its staff, "budtime" stories with cheeky titles like Green Buds and Hash, and more.
When it comes to selling marijuana, 1066 Toronto has a pretty sophisticated approach. It has about 25 different strains displayed behind glass cases, with the name, type, and benefits listed beside each one. Plus, the store doesn't just carry marijuana in its raw-flower form: It's got CBD capsules (for pain relief), THC tinctures (for microdosing), vaginal and rectal THC suppositories (to help with menstrual cramps, IBS, Crohn's disease, and stomach cancers), and Alair pens, which were developed by Robinson and his team a few years ago for on-the-go use, and are arguably the coolest products in the shop.
"While formulating [Alair], we looked to correct two common problems out there," the co-founder says. "One was that a lot of the pens on the market have a very high defective rate, so we went through hundreds of different pens until we found the right manufacturer, and worked with them to make it specifically for cannabis. The second challenge was to have a product that goes inside the pen that was higher-level than anything out on the market, so we teamed up with a local university and used organic chemists to do the extractions." Unlike other pens on the market, the all-natural Alair uses CO2 as an extraction agent, and is USB-charged and beyond chic—truly revolutionary.
"We've developed a cultlike following," says Robinson. "Everyone from scientists to fashion designers, musicians, and models are huge fans because our brand is luxurious, sophisticated, and discreet. We do things a lot differently from most cannabis brands, like engaging in fashion week and music festivals. We show how Alair fits into a lifestyle—and not just a stereotypical 420 lifestyle. It's part of your everyday life, whether you're using the pen before a night out at a gala or you're using it casually with your friends at the park on a Sunday."
But in the words of Kermit the Frog, it's not easy being green. Even thriving dispensaries like 1066 Toronto are still fighting for their rights. "We engaged in the legalization movement because we needed a voice," Robinson says. "There have been great activists that have paved the way for us to get to where we are today, so we formed a group called the Cannabis Trade Alliance in Canada." Alongside different stakeholders in the marijuana industry, such as the Medical Dispensary Association and Women Grow, the alliance works with politicians at every level to ensure that "there's no fear about what a cannabis entrepreneur looks like or what this industry is," Robinson says.
To get real for a sec, my own personal relationship with marijuana has changed over time. When I was a teenager, I experimented with it in response to peer pressure, and as an escape from my daily life. Over a decade later, as an adult who suffers from mild-to-severe chronic anxiety, it's been an all-natural replacement for my anti-anxiety medication. It has drastically improved my life, and is something I truly believe is wrongfully tabooed in society. 1066 is an especially rad shop not only because of its knowledgeable staff and friendly environment, but because it's a step (or, puff) in the right direction for the cannabis industry. That said, I'm patiently awaiting the special day when 1066 opens up a sister store in Brooklyn.
Find them on Instagram @1066Toronto and AlairVaporizers.com, and click through the gallery, below, to see more photos of the space.