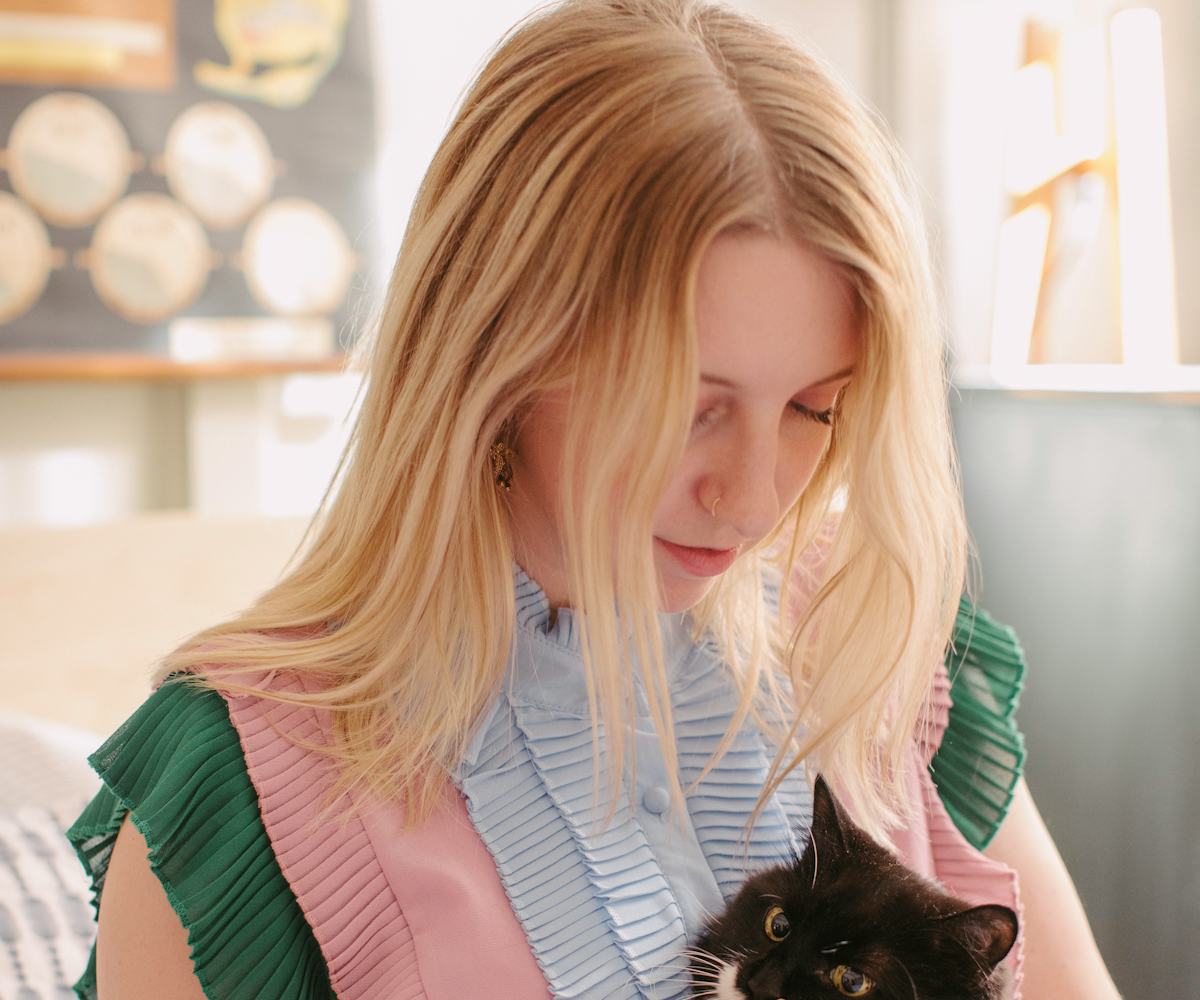 Photographed by Jaqueline Harriet.
Step Inside Casey Dienel's Brooklyn Home And Studio
And meet her cat, Cricket!
The following feature appears in the February 2017 issue of NYLON. 
Upon entering Casey Dienel's shell-pink Brooklyn living room, you'll experience a strong urge to cannonball into her oversize, putty-colored, marshmallowy sea of a sectional. Originally from CB2 but acquired secondhand from AptDeco, the couch takes up half of the sizable room and easily seats 12. This allows Dienel, a musician, producer, amateur cook, stylist, and natural host, to bring her community to her. "In New York, externally, there's just so much chaos and hustle, and it's nice for me to be able to invite people over to experience sanctuary in a safe place," she says. "I think that's the ultimate luxury here."
For Dienel, who has released three critically acclaimed LPs as White Hinterland and is working relentlessly on a new full-length under her given name, those restorative social hours are precious. Dienel has spent much of the past two years commuting between The Glades in her hometown of Scituate, Massachusetts, and Ursula B, her home studio in Brooklyn, building the follow-up to 2014's Baby while producing beats for others. The gear in Ursula B is a condensed mirror of her ocean-and-woods-adjacent Scituate setup, allowing her to flexibly work between the two. 
"I have Yamaha HS8 monitors that are wonderful for mixing. I love Akai products and I use their MIDI controllers. I program beats using Maschine MK2 and BKE Tech Beat Thang, which is my favorite thing right now because it's kind of old-school and portable," she explains. Her new work is wild, vicious, poetic, feminine, brash, and singular—all off-kilter beats, brazen textures, and feminist narratives. At Ursula B (which also happens to be in her bedroom), she writes and produces it all while seated on an elegant wooden Victorian chair clad in burgundy velvet. It's a queen's seat, and it's appropriate. 
That chair, like many other pieces in Dienel's apartment, belonged to someone else before she expertly picked it from a flea market—a process on which she waxes poetic with a conspiratorial twinkle in her eye: "I'm a total magpie. I hate shopping, but I love hunting. The idea that you can find some cracked, beat-up old thing, take it home, and salvage it in some way is really exciting. Also, I'm kind of a dick about negotiating and it really gets my rocks off. Everyone at the flea market comes to play, and everyone's into the conceit of the game." Her gorgeous art deco waterfall wardrobe was also hunted. "The haggling became this amazing back and forth where I threatened to walk away, and the seller just gave it to me. I think my face can throw people off, because they think I'm going to be really nice, and then…," she trails off with a wink and a smile. 
The lesson: Never underestimate Casey Dienel. She is a matryoshka doll of undeniable natural talents that are as disparate as they are interrelated. Down the hall from one of Dienel's expertly curated closets (packed with everything from a teal velveteen robe from the 1910s to an MM6 fringed camel coat) is her immaculate kitchen. It's good that it's a well-laid-out galley, because she's as likely to be making from-scratch duck confit or a complicated pastry as she is to be offering guests cocktails using liquor she's infused with some tangy, delicious thing. Although the place is a rental, Dienel's landlord fully recognizes her great taste and ease with power tools, and thus is enthusiastic about any upgrades she makes. This year, she painted a wall black, installed open shelving, and gave brackets and cabinet hardware a facelift with matte gold spray paint. Now, the space just works. "The way that songs come together for me, I think it's the same click that I need when I feel like an outfit works or the food is ready to put on the table," she explains. 
The fact that her home, all wainscoting, sea foam greens, shibori pillows, and designed-to-be-lived-in pieces, is a sanctum as well as a workspace really jibes for Dienel. It also creates a productive constraint: "I think it's impossible to know what areas of discipline you need to work within if you're not coming up against some sort of boundary," she notes. With all of her creative endeavors—but especially her music—Dienel loves to "set the GPS to Mars" and tinker. "I need to have a vanishing point with my work because if I don't step back once in a while, I will just obliterate everything in my path. I'll be like, 'Let's just delete all of this,'" she says. "That's the tricky part about being freelance and also working from home: knowing when to take your own foot off the pedal and get out of your goddamn house."
This art deco waterfall dresser was also hunted down at a flea market, and is full of dresses, delicate vintage robes, and show clothing.
Scored at a flea market, this striped director's chair references colors from Dienel's Pendleton Glacier Park blanket. The chair nods to her childhood spent on the beaches of Massachusetts, and the blanket was made in Oregon, where Dienel lived for much of her 20s.
This massive secondhand CB2 sofa serves as the apartment's community hub.
Dienel's nightstand is a treasure trove of books, crystals, vintage trinkets, and evening skin-care products.
Dienel spends countless hours in her home studio, programming beats and recording and producing her work.