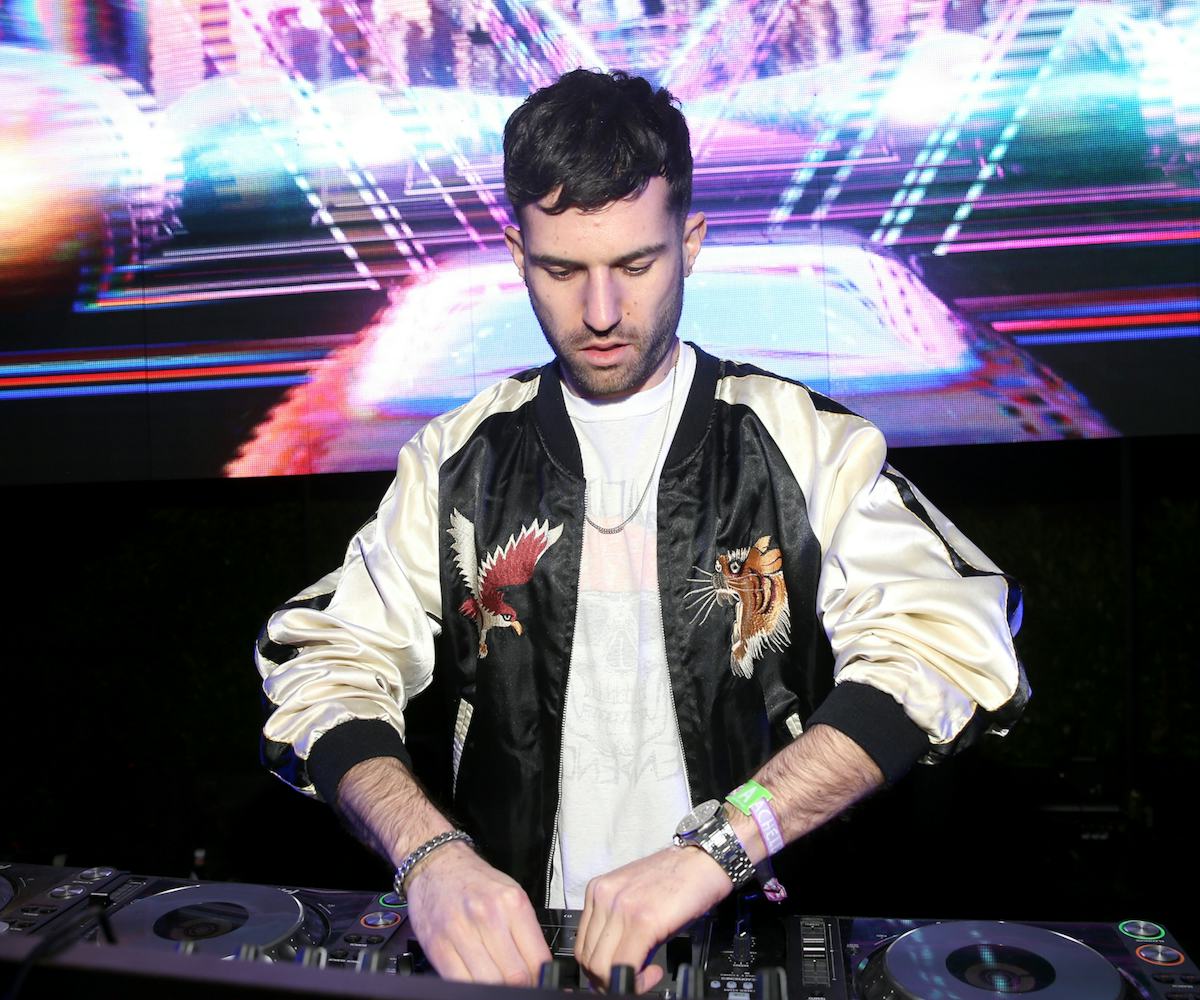 Photographed by Michael Bezjian/Getty Images for NYLON.
This Is How NYLON Does Coachella
coachella-ella-ella-eh-eh
Come April, hundreds of thousands of people descend upon California's Indio desert for one thing and one thing only: Coachella. Nowadays, though, Coachella means so much more than just the music festival. It means exclusive parties, luxury lounges, and a crazy-bright thing called Neon Carnival. This year, we carried on our tradition of throwing two blowouts: the Midnight Garden Party and Sunday Recovery Brunch. For one night and one sunny afternoon, we transformed a private estate in Bermuda Dunes into a NYLON haven, complete with braid and beauty stations, photo booths, special DJ guests, UMAMI burgers, feet painting, juices, hair tattoos, custom Silver Car pillows, and a Freeform bus bar located on an experiential campground, in celebration of its new show, Dead of Summer (premiering this summer). There, celebrities like Peyton List, Margaux Brooke and Brittany Furlan were spotted glamping. (Kristen Stewart, Leonardo DiCaprio, Hailey Baldwin, and Owen Wilson were also in attendance.) Oh, and there was an adult beverage for everyone. Tequila? Look no further than Tequila Avion. Beer? Heineken. Vodka? Absolut. And Cupcake Vineyards popped the bubbly. Sure, sure the festival was fun but there was magic to be made outside of the grounds and we provided it in full—glittery pink and all. So, while that jet lag begins to settle in, check out how we do Coachella, in the gallery ahead. See you next year.
You are now entering the pink-light district.
Freeform and Camp Stillwater brought the #DeadofSummer to the middle of the desert.
Don't let the tv-horror vibe creep you out. That Freeform bus has a full-stocked bar on the inside. Beep beep!
See what we mean? Absolut vodka drinks garnished with gummies. 
Blind Dragon and PacSun teamed up for some pretty swanky lounge areas.
Look who it is! Peyton List!
Melody Thornton wasn't afraid to step inside.
DNCE, y'all.
Mean muggin' with Parker Young and Scott Eastwood.
A little place to nap? Sure, but comfortable people watching sounds better.
Midnight Garden Party guests arrived via BW Rentals' NYLON-ized buses.
Coolhaus and Cuisinart joined forces for some epic ice cream sandwiches.
VIP guests got to hang in DREAM Downtown cabanas. 
Looks like Margaux Brooke found a comfy place to post-up at the campsite.
We found the posters of our '90s bedroom dreams inside Freeform's bus bar.
Gummie bear cocktails, anyone?
Gimme, gimme, gimme some NYX cosmetics after midnight.
Nyxie Minaj.
What did we tell ya about those BW Rentals buses?
label.m was on-site to glow-up guests' hair.
scünci brought the hair tattoos.
UMAMI Burger chips. The only necessary side dish.
Confirmed: Red Bull does give you wings.
It's important to follow your bubbly adult beverage with a bubbly non-alcoholic beverage, like Perrier.
Cheers, Heineken!
When Tequila Avion's at your party, you know you're about to turn up.
There those UMAMI burgers are!
Absolut to keep it cute.
A flower crown wall full of Flower Children Only, for a Camp Stillwater photo moment. How Coachella.
We'll be rocking this Dead of Summer bandana all summer long.
Can we make it a rule that all pools need custom Pool Room floaties?
SOKO!
Get your pose on.
Keeping it glam with beGlammed.
Hey Kittens, put a record on.
Hello from the dance floor.
You better work, Brittany Furlan.
So, Skrillex showed up for a surprise DJ set.
A-TRAK turned the crowd out, too.
Just like Kat Graham and Rocky Barnes, we were ready for a recovery brunch come Sunday.
And posing in the sun.
LION BABE worked some magic.
So did our girl Noodles.
Kate Nash has got the flower power.
Get a load of that collection. Very plush.
You never forget your first label.m braid job.
We may or may not have found inner peace with Playlist Yoga.
We'll all float on okay with our custom Pool Room floaties.
Absolut Hoppr helped us get the word out (and to find other cool Coachella parties!).
ShoeDazzle knows how to wow a crowd.
Lifehouse Tonics are actually miracle drinks.
Poppin' Cupcake Vineyards champagne, making it rain.
Mimosas or Bloody Marys? Might as well get both.
Oh yeah. Adult snow cones.
What's good, Lacoste?
How many UMAMI sliders is it socially acceptable to eat?
ShoeDazzle turned our Coachella painted looks up to a perfect 10.
Poppin' Cupcake Vineyards bubbly.
Gettin' fizzy with it—aka Perrier.
What's in those bags? Hot sauce Swag.
BRB dreaming of our next Silver Car road trip adventure.
Custom metallic GoldInk tattoos for everyone!
Lifehouse Tonics saved our lives and souls.
NYX touch-up stations should be mandatory party requirements.
AIRHORN! We have a Coachella beauty winner!
Been braided.
Heineken chill.
Alcoholic snow cones are our new summer must-haves.
It's been real, Coachella: Weekend 1. Hieu Cow's smile says it all. See you next year—ShoeDazzle shoes and all!