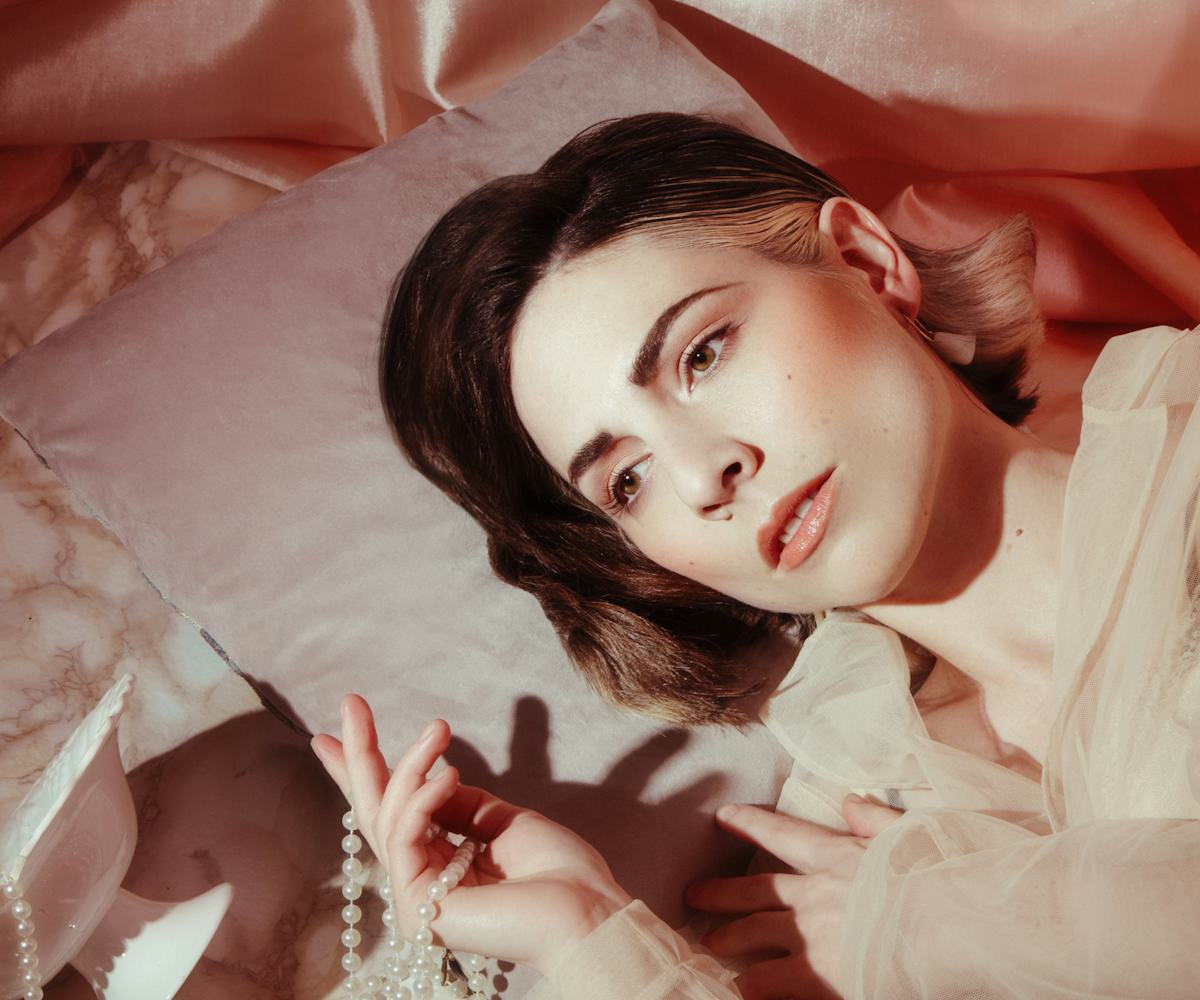 Photographed by Charlotte Rutherford. All clothing by Simone Rocha. Styled by Toni-Blaze. Hair: Jack Baker at Hare and Bone. Makeup: Rebecca Davenport. Set Design: Aidan Zamiri.
Cuckoolander's Chameleon-Like Voice Will Captivate You
Rostam chats with this artist about touring with Charli XCX and her forthcoming album
The following feature appears in the June/July issue of NYLON. Every year we scour the music scene to round up the best rising acts for our annual music issue. This time around, Charli XCX guest-edited the feature, hand-picking a crop of new musicians to be interviewed by veterans in the game who have been there and done that. To meet more up-and-coming artists on Charli's radar, click here. 
She was one of the first artists signed to Charli XCX's label, Vroom Vroom Recordings, and it's no wonder why: her chameleon-like voice can shift effortlessly from a breathy whisper to a soulful blare, and everywhere in between.
ROSTAM: You played drums in Charli XCX's band on tour for her Sucker record. What was that experience like for you?
CUCKOOLANDER: Having the opportunity to tour on such a breakthrough album was an incredible experience. It was amazing to lead a full-time career as a musician, something I had been relentlessly trying to pursue. Ultimately, I just loved being around Charli. She is so hardworking and talented. It was really inspiring to watch her run the show like a total boss! 
At some point she heard the music you make on your own. How did that happen? How did things change after that?
Long journeys on the tour bus! Everyone was constantly playing each other all kinds of music. I happened to get some mixes of my songs [while on tour], so Charli and her tour manager were probably the first people to hear it. Receiving their encouraging feedback was the ultimate appraisal. Since Charli has been on board with managing, it's been incredible the number of doors she has opened for me.
You have what I'd describe as a big voice. Was there a moment you realized that? Can you talk about that moment?
I don't think I've ever had that moment—maybe it's right now! However, working with you on "Beating Myself Up" [Rostam produced the track] was a vocal breakthrough for me. You encouraged me to do things even I didn't realize my voice could do. One thing for sure is that you brought out a confidence in me and that, paired with your ability to make everything sound insanely beautiful, was definitely a moment.
I know you've said singing is new for you, but it doesn't sound like it. Were you a closet singer?
I was never a confident singer. I felt more at home hidden behind a drum kit, so I put my heart into drumming with bands and just wrote songs in my bedroom when the inspiration struck.
Your mom sings in a bar band in England—has she been an influence on you?
One hundred percent. I guess I should also shout-out my two sisters; they had a band when they were like 10 and 12 and wrote their own songs. My family have always been my heroes and, being the youngest, I've always wanted to be as cool as them.
We're both huge fans of The Purple One. What is your favorite Prince song?
"Sexy MF," and the whole Purple Rain DVD, featuring Sheila E. and the best drum solo in the world.
You've been working on a full-length album. Is it all you can think about now?
Literally, all day and night. I have experienced so much with music leading up to this point, and I'm desperate to include everything on my debut. This makes it more challenging, but I've always found that you don't progress when you take the easy ride.
Now that you've played a bunch of shows as CuckooLander, do you feel like you become a different person when it's time to perform?
Not really. I'm just keen to play more shows and keep developing as a performer. Watching live music has been such a big part of my life. I love playing with a band, and the live journey is just beginning.
Your birth name, Holly Hardy, is alliterative, so it rolls off the tongue. What was it like growing up with such an easy-to-remember name? I can't relate. [Laughs]
I've got one word for you, Rostam Batmanglij: mellifluous.