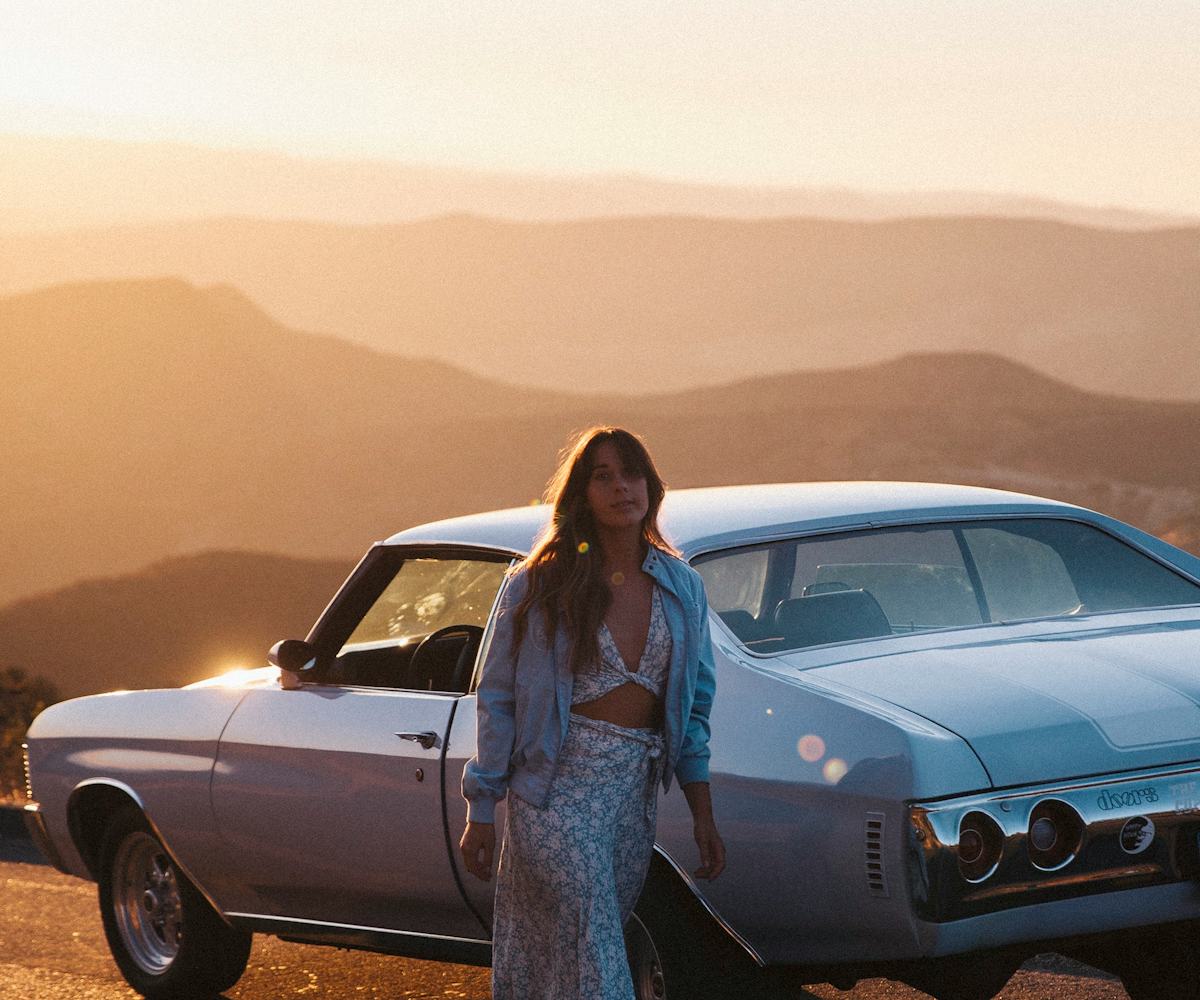 Photographed by Shayna Colvin.
Dana Trippe Takes Us For A Spin In Her 1972 Chevrolet Chevelle
Take a ride in her car, Daisy
The following feature appears in the March 2017 issue of NYLON.
"The best part about my car is the bench seat," Dana Trippe tells me as we glide down the Pacific Coast Highway in her light blue 1972 Chevy Chevelle. "If I'm going out with two girls, we don't have to leave anyone out—we can all sit up front!" It's a small detail that goes a long way for the photographer, filmmaker, and multimedia artist, who has owned her ride, dubbed Daisy Blue, since she started driving six years ago.
With a well-worn vintage leather interior and a dash decked out in Simpsons and Star Wars figurines, it's clear why Daisy has become the hangout of choice for Trippe's tight-knit group of friends in Oceanside, California. "My car is always full of people," she explains. "Whenever we need to go anywhere, I'm driving."
If you're familiar with Trippe's photography, you've probably seen her wheels: Daisy fits perfectly into Trippe's trippy '60s- and '70s-inspired vibe, and has co-starred in plenty of her nostalgia-fueled camera work. "She's more famous than me," Trippe says with a laugh as we pass through traffic, picking up speed. "She's more badass than me, too." A recent excursion to Yosemite with her friend and model Sierra Gilley comes to Trippe's mind.
"That shoot was definitely one of my favorites," she says, recalling the joy of mixing work with the freedom of the open road. The mini movie that resulted, made in collaboration with Australian hat brand Lack of Color, is an ode to girl power—a dreamy, light-leaked road trip montage starring Gilley as a gun-toting babe, set to the tune of Link Wray's "Fire and Brimstone."
Cruising smoothly alongside the ocean, Trippe pauses to wax poetic: "There are just so many options when you're out on the road."
Where did you get your car?My dad and I found it on Craigslist for next to nothing—I think it was under $5,000. It was a dark green-blue and really pretty. I wanted to paint it, but now I regret it all the time. Looking at pictures from back then is kind of like looking at photos of an old boyfriend. I get sad about it.
Did you name it immediately?No. It actually took me a while. I named it Daisy after I painted it, but I've always referred to the car as a "her."
What made you decide on light blue?I honestly researched the color for months and I could not decide. I found this color on some random picture online. It's called "Carolina Blue"—named after one of the Carolinas' state colors. I'm pretty sure she's one of a kind now.
We turn into the empty public parking lot alongside Huntington State Beach as the sun starts to set. There's next to no one on the sand, save for a few straggling joggers and seagulls.
When did you first get interested in photography?I've always taken photos. I used to have that little Lomography Diana F+ film camera and I would take pictures at parties and stuff like that. But it really started when the brand Lenni reached out to me. Since then, there's been a steady roll of people who have been interested in my stuff. It's been really nice.
What is it that fascinates you about the 1960s and '70s?I think it started with movies. I've always been into film and cinema and I think the '70s movies just really stuck with me. For modern stuff, Tarantino is my favorite—him and Wes Anderson. And I've always been into '70s rock 'n' roll. That was such a good era for music.
What are some of your favorite driving jams?Oh man, too many. James Gang, Roxy Music—I'm all across the board, though. I listen to metal, I listen to classical music. I used to have a tape player in my car. The last time I let my dad work on her, he took the tape player out and put in a stereo. I was so sad, because I had this whole tape collection. Now it has an aux cord, and I have a huge collection of music on my phone, so it works.
As we merge back onto the highway, Trippe turns on Nektar's "Fidgety Queen," which rips even with the ocean breeze whipping through the windows.
Do you have any favorite places to go driving?Me and my best friend would always go out to Joshua Tree in the desert for shoots and trips. We'd lie on the top of the car and watch the stars, or she'd stand on it for photos. I didn't realize until I got all the bodywork done years later, but the whole roof was caving in. So now I have rules: No more people on my car; no more ghost riding the whip.
Have you done that?I've done it with someone else driving. It was fun, but definitely not something I was going to do by myself!