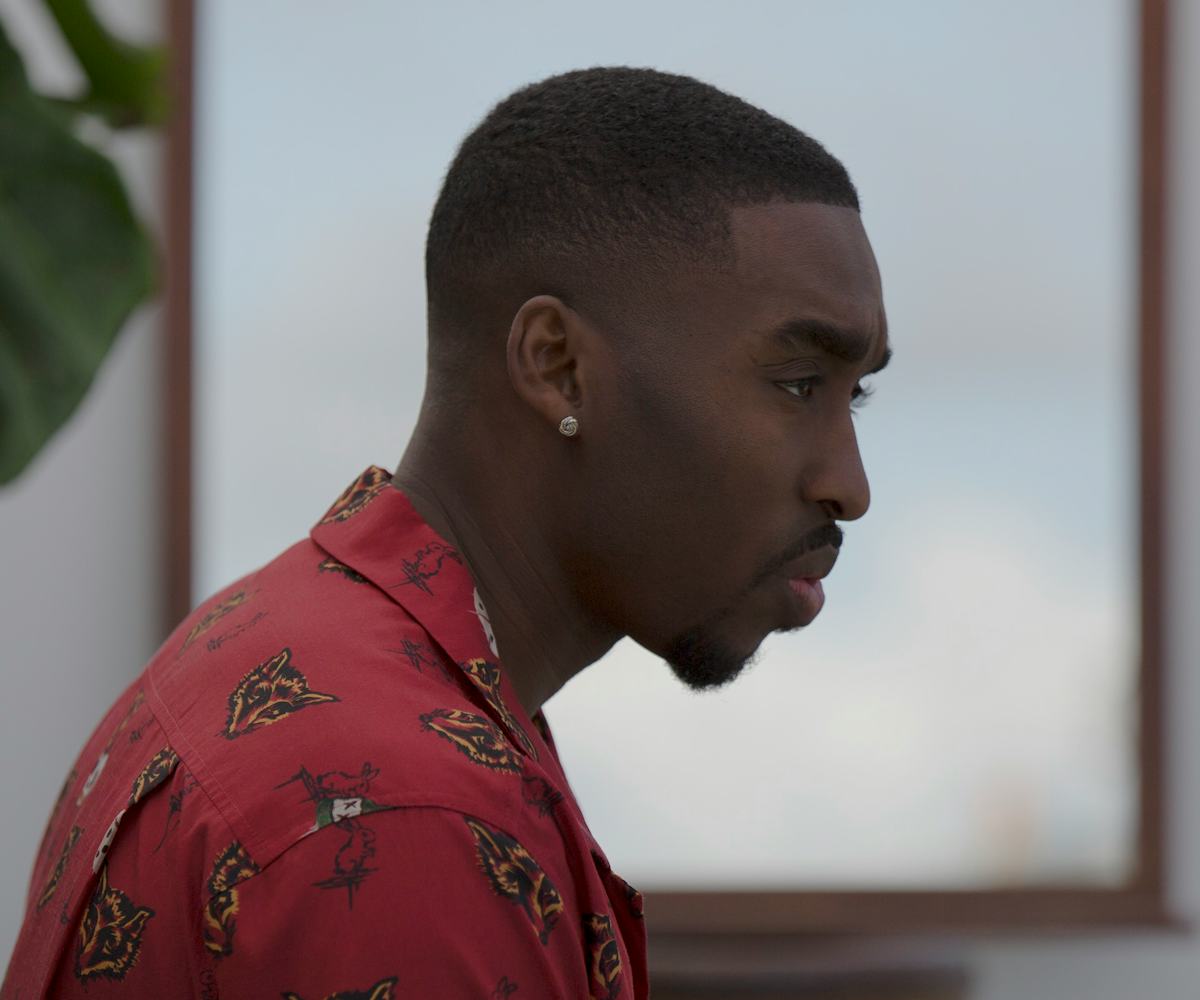 Photographed by Myles Pettengill. Styled by Wayman + Micah. Shirt by Coach 1941, Shipp Jr.'s own jewelry. Grooming: Autumn Moultrie at Exclusive Artists using Chanel Les Beiges.
Demetrius Shipp Jr. Has All Eyez On Him
The actor portraying Tupac tells us about his upcoming film
The following feature appears in the June/July issue of NYLON Guys.
On a November afternoon two years ago, Demetrius Shipp Jr. was standing outside his house in Los Angeles when his cell began to ring. It was producer David Robinson on the line, bearing good news that would instantly change the course of Shipp Jr.'s life. "They're going to give you the role," said Robinson. The part he was referring to was that of Tupac Shakur in All Eyez on Me, the definitive biopic on the hip-hop legend's tumultuous life. "I broke down," says Shipp Jr., recalling the tears of joy that cascaded down his face.
For the 28-year-old, the journey to becoming Shakur began in 2011, when his friend showed him an internet posting of the film's national casting call. Uninterested in acting, he was resistant at first. "I wanted to produce music," Shipp Jr. says. After battling through some procrastination, he uploaded his audition to Facebook at the last second. His father, a Death Row producer who worked on Shakur's song "Toss It Up," discovered Shipp Jr.'s monologue while scrolling through social media, and immediately shared it with one of the movie's producers. It took nearly five years of fits and starts—"They'd have me audition every year," he says—before director Benny Boom was ready to step behind the camera. Less than a month after receiving that fateful call from Robinson, All Eyez on Me—which is named after the last album Shakur released while alive—began principal shooting. Shipp Jr., a novice who had never acted before, was suddenly charged with carrying a big-budget studio picture, and he was ready for it. 
"I have to be honest, I was confident," he says. "You work your ass off and you believe in yourself and you say, 'I can do this. So let's get this shit done.'" Doubt was never part of the equation. When he needed counsel, he turned to his acting coach. "She gave me confidence that I hadn't had before to tackle things in life." He also had the support of E.D.I. Mean, the Outlawz rapper who was a close friend of Shakur's. "He gave me his input on what I was doing, and what Pac would do in a certain situation." 
The verisimilitude is evident in Shipp Jr.'s raw, electric performance. It's easy to imitate the West Coast icon (see: Anthony Mackie in Notorious); it's harder to disappear into the role. Although Shipp Jr. bares an uncanny resemblance to Shakur—"Ever since high school, classmates compared me to him," he says—he had to lose 15 pounds for the part. He also had to shave his head bald and get his nose pierced.
But the biggest challenge wasn't an aesthetic one. It was the rapping. "There was a freestyle scene and I wanted to get that down and I just wasn't into it," he says. Being that his only experience on the mic was spitting bars for fun as a teenager, he learned on the job. "It's one thing to rap," he says, "but it's another to rap and keep the cadence that Pac had." Dedicated to doing it right, he obsessively studied live performances and music videos, while listening to Tupac records on repeat. It was a steep learning curve, but Shipp Jr. considers himself a motivated student. When asked point-blank how he thought he did, he responds without a moment of hesitation. "I did great," he says with a smile. 
There's an impressive self-assuredness to how Shipp Jr. carries himself. A divorced father of two children, none of this seems to faze him. He's calm while maintaining perspective. "I feel most certainly satisfied, man. Just overjoyed and happy," he says. "I just want people to love the movie and hopefully that opens up more doors for me to help me into the next phase of my life."