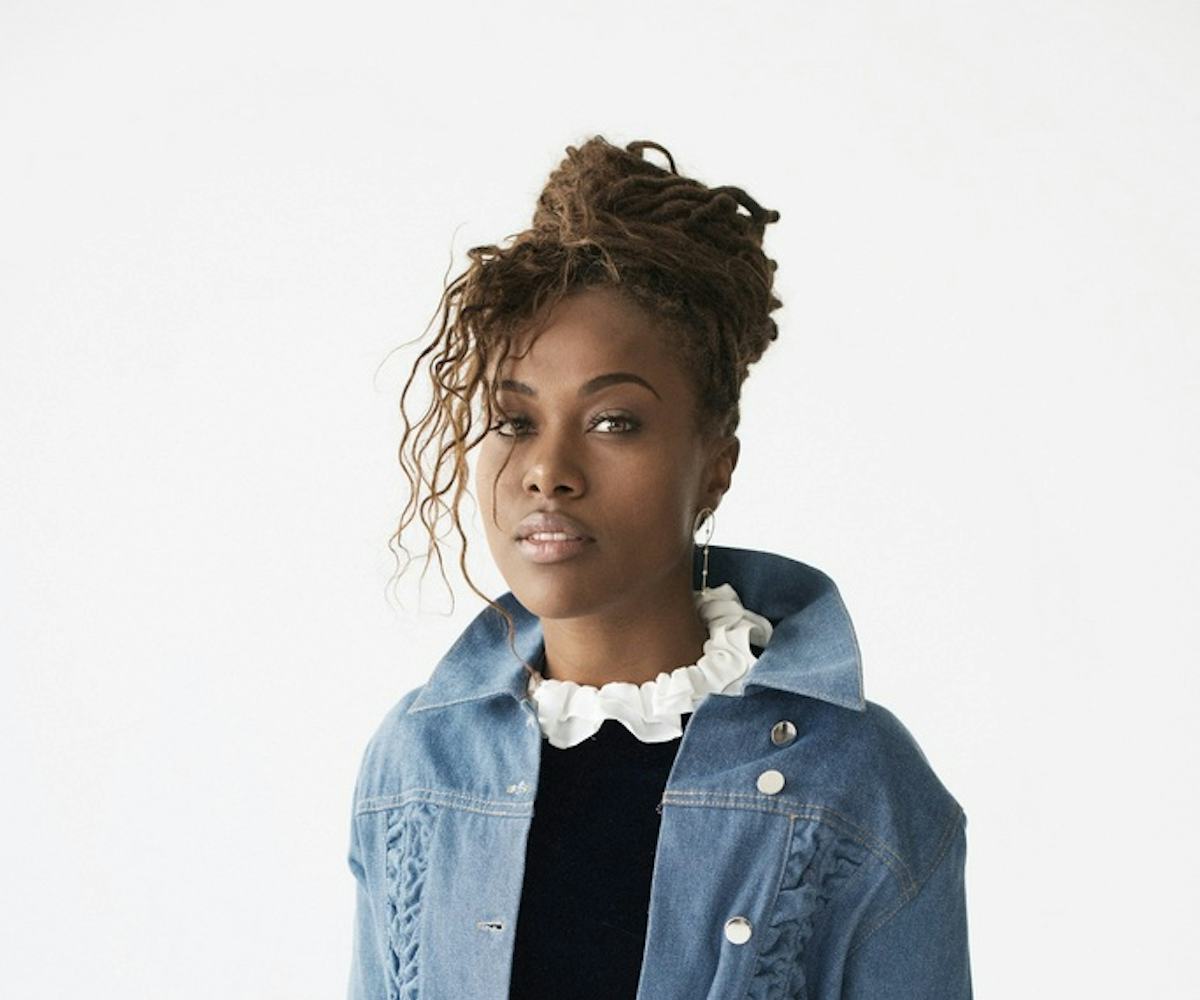 Jacket by Breelayne, dress by Sandro, earrings by Petit Moi. Photographed by Brian Higbee. Styled by Chris Horan. Hair: Randy Stodghill at Opus Beauty using Oribe. Makeup: Bethany Ingram for Epiphany Artist Group, Inc.
DeWanda Wise Leads Netflix's 'She's Gotta Have It' This Fall
The show is an adaptation of Spike Lee's classic film
The following feature appears in the September 2017 issue of NYLON. This fall, a slew of new and returning series are hitting the airwaves and popping up on streaming services. Here, we spotlight some of the breakout stars that make those shows must-see TV. To read more from this series, click here. 
DeWanda Wise is ready for her close-up. In the last decade, the seasoned actress has landed bit parts in little-seen shoestring indies like Knucklehead and How to Tell You're a Douchebag, and guest roles on mainstream TV shows like The Good Wife, The Mentalist, and Boardwalk Empire. In 2017 the Baltimore native is breaking out in the biggest way possible after she managed to convince Spike Lee—and Netflix—that she was right for the lead role of Nola, the provocative and fast-talking protagonist of She's Gotta Have It, an adaptation of Lee's seminal—and sensual—classic.
Origin Story: "I discovered acting when I was 15, doing The Music Man. That was it. I was taking a drama class and it was a very Dangerous Minds, 'Gangster's Paradise' situation. I was getting detention, and my teacher was like, 'OK, your detention is auditioning for The Music Man.' My mom wanted to be a singer, so this was a dream deferred come true for her. My dad always thought—and knew—I was a weirdo, so he was just happy that I found my calling. I was just always determined to not go back home."
Enter Spike Lee: "My first in-person interaction with him was when I went to a director's session. The show has a lot of these direct-address monologues, so I was doing one of those. Throughout it he kept being like, 'Cut!' I have a very athletic approach when it comes to working so I don't take that personally. We ended up sitting outside of 40 Acres [Lee's production company in New York] and he just turned to me and said, 'Do you want to do this?' I thought about it for a week. I'm married and it's a show about a woman who has three, maybe four lovers and I hadn't talked to my husband about it. There's copious sex scenes. Beyond that it was never my aspiration to be a series regular on a TV show. The thought of playing the same role is exhausting. But Nola is someone who evolves."
The Known Unknown: "Even though I was represented super early [in college], I always feel like I've dipped in and out of "Hollywood Proper." I think part of my strength and appeal now is that I have the constitution more of a filmmaker and a collaborator than an actor. But look, the more people feel like they know you, the less you can do, and they will always feel like they know you."