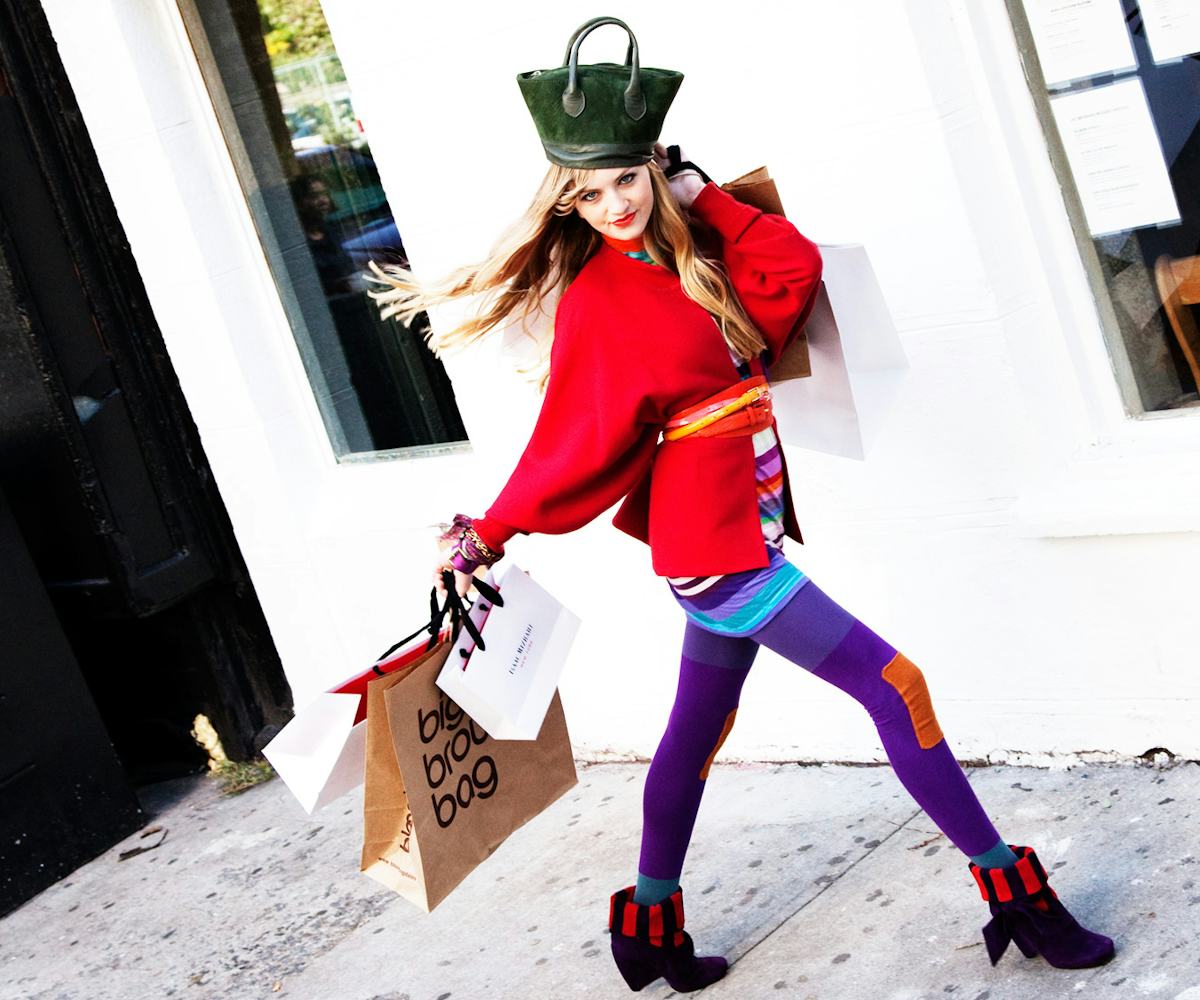 photographed by chris shonting
the best gifts in the world
at least, according to the nylon editors.
We've got all sorts of gift inspiration for you--whether you're looking to spend under $10 or need to find a present for your very-Margot Tenenbaum BFF.
But if you want to know what we truly, madly, deeply think is the best gift in the world? Well, you'll have to ask our editors. Because they've seen it all, tried most of it, and still have a few things on their wish list.
So we polled our team to find out what they're dying for. Take it as a hint to sent us loads of presents...or just use it as inspiration for pulling together your last-minute picks.
Check out our picks in the gallery. And if you really need help? Well, check out all of our other gift guides here:
The Cher Horowitz and Dionne Davenport Gift Guide
The Margot Tenenbaum Gift Guide
The Holly Golightly Gift Guide
Saint Laurent Signature Rangers Studded Leather Boots - $2,395
"They're studded.  They're black.  They're leather.  They're SL. They're perfection." --Tamar Levine, NYLON Associate Market and Accessories Editor
Sole Bicycles The Sandpiper - $399
"All I want for Christmas is to not be stuck waiting for the subway...and this Sandpiper bike is the coolest way to get around. This slick white bike only weighs 26 pounds, making it the most functional accessory all year round." --Liza Darwin, NYLON Senior Web Editor
"They're perfectly minimalist. They can go in the dishwasher(!!) They're black. And they come with cool stone cubes you keep in the freezer to keep your drink perfectly cold and never watered down. I'll need a few sets obviously. Thanks Santa!" --J. Errico, NYLON Fashion Director
Saint Laurent Classic Duffle 6 Bag in Navy Blue - $1,990
"I have a pre-Hedi version of this bag and my inability to part with it for even one day has resulted in some wear-and-tear. The updated duffle is sleeker and more versatile-- it has a top handle and cross-body strap. Also, I consider navy blue a neutral so this will go with everything!" --Katie Dickens, NYLON Beauty Director
Fuji X100S Digital Camera - $1,299
"I spent my whole life (OK, actually the past seven years) looking for a digi cam with the same nuance as my film one from the '70s, and have finally met my hi-tech photography soul mate. Santa, are you listening?!" --Steff Yotka, NYLON Associate Web Editor
Escape Haven Bali Surf Trip - $3,495
"Eat, surf, love--that would be my motto at this week-long all-girls surf camp in Bali. Oh, and there are daily yoga classes and massage sessions, so I might not ever leave. Um, what winter?!" --Rebecca Willa Davis, NYLON Online Executive Editor
Miu Miu Jaguar-Print Faux Fur Jacket - $1,295
"Leopard is my favorite color, and while I firmly believe you can never have too much of it in your closet, this slight variant--"jaguar"--is just as cool. My girl Kate is always wearing a slouchy, vintage-inspired jacket like this, which isn't the only reason I lust after it, but I gotta admit, the Moss factor does loom large." --Ashley Baker, NYLON Executive Editor
Crosley AV Room Portable USB Turntable - $160
"Um, hello--have you seen this thing? Not only is it beyond adorable, but it's the perfect gift to give yourself or that certain record-loving friend you have. Get ready to turn on, tune in, and drop out." --Jade Taylor, NYLON Beauty Assistant
8-Pair Shoe Organizer - $39.99
"I just moved to a new apartment with a 10' x 7' walk-in closet. I have many shoes so need 5 of these at least...." -- Mitsu Tsuchiya, NYLON Men's Market Editor
Floris Schoonderbeek Dutchtub Wood - Price upon request
"It's a portable, wood-fired hot tub! The perfect gift for a renter with roof access. I'm only slightly kidding." -- Melissa Giannini, NYLON Senior Editor
Leather Baggu Tote in Mahogany - $160
"It's the perfect tote bag that makes you look more put together than your normal canvas tote you schlep around. This is chic, and holds everything!" --Marissa Smith, NYLON Fashion Assistant
"You might not be familiar with Anjelica Houston's earlier roles (because, let's face it, her characters in Wes Anderson movies are that good). But the actress has been making flicks since the early 1960s--and I want to know everything about them. I imagine that reading her A Story Lately Told memoir will be a lot like finding an old shoe box in my mom's closet and being captivated by who she was when she was my age. Please, Santa!" --Jackie Yaeger, NYLON Newsletter Editor
Mongoose Program 20" - $181.99
"I love this Mongoose bike because I grew up on a BMX and I'm buying this for myself because it's been to long since I cruised one of these. Take it from me--buying a bike during the winter is a good look since they get marked down when it get's cold, and once spring 2014 hits these bad boys are going to be everywhere." --Josh Madden, NYLON Men's Content and Marketing Director
Star Alliance Round the World Fare - $TBD
"I want this--and the vacation days to use it!" --Rachael Wang, NYLON Market Director
Erdem Sunglasses - $375 "I'll desperately need a huge pair of sunglasses to cover my dark circles after all of these holiday parties. I love Erdem's modern take on the classic cat-eye." --Beth Garrabrant, NYLON Bookings Director