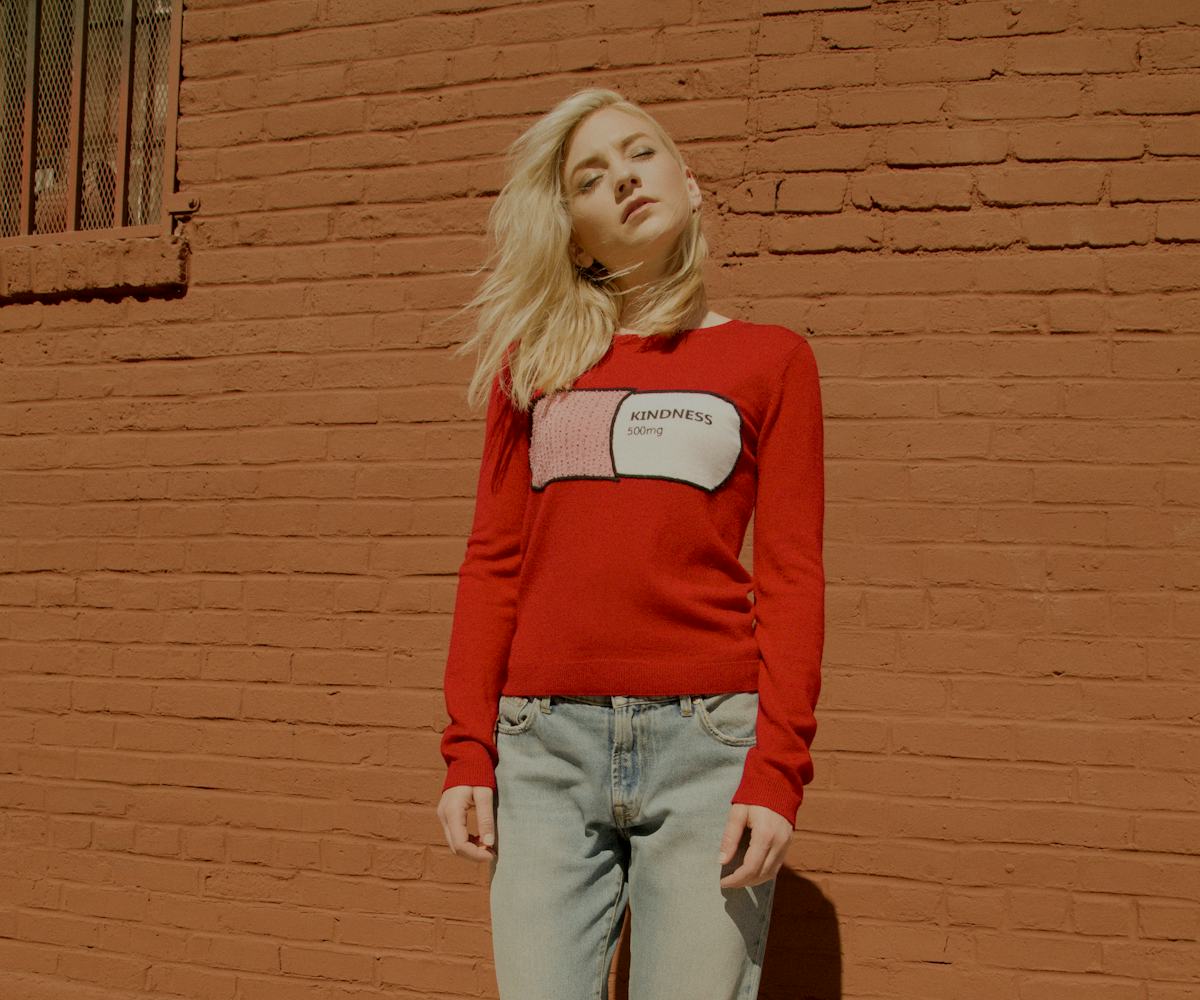 Photographed by Ellie Mclean. Styled by Tiffani Chynei.
'Walking Dead' Alum Emily Kinney Comes Back From The Dead For The Next Phase Of Her Career
Get to know the 31-year-old
The following feature appears in the October 2016 issue of NYLON.
Emily Kinney is very much alive. The last time most people saw the Nebraska native, Beth—her Southern belle-turned-postapocalyptic warrior—was zombie food, the latest in The Walking Dead's long list of casualties. Since leaving AMC's ratings juggernaut, the 31-year-old actress has appeared in The Flash, Arrow, Masters of Sex, and The Knick, while continuing to nurture her blossoming career as a singer-songwriter (her new tracks "Back on Love" and "Popsicle" will be available for download October 28). As she embarks on her latest role, playing an eager-beaver paralegal in ABC's fall legal drama Conviction, Kinney is a living reminder that it's possible to come back from the dead.
Get to know Kinney:
About: At 31 years old, Kinney is sure of her place in this world. "When you're young, you feel like there are fewer consequences," she says. "In my 20s, it was always 'On to the next thing.' I don't think I saw the passage of time the way I do now. I didn't hang on to the fact that there's limited time. In your 30s, there's more of an ownership. It's not 'Someday, I'm going to do this.' This is your thing, this is who you are." 
Favorite Quote: "It's from the essay 'Of Power and Time,' by my favorite poet Mary Oliver. She writes: 'I have wrestled with the angel and I am stained with light and I have no shame. Neither do I have guilt.' She's basically saying the saddest people in the world are those who feel a calling to creative work, and didn't give it the power or the time. This quote is about not feeling guilty for leaving your family, because you feel like you're onto something." 
Handle:  @emmykinney (Twitter). "It was always some variation of my name. I had Xanga, which was way before Myspace. I got it when I was 18 or 19. It was for blog posts, almost like Tumblr, but not as cool. It was actually super nerdy. I used to write little essays on it about life in college." 
Hometown: North Bend, Nebraska. "The idea of moving to New York City or Los Angeles and being an actor was very much a mystery," says Kinney. "It was not a part of our culture or the world I grew up in at all. Music and acting certainly were; there was a movie theater and a music teacher where I grew up, and that kind of stuff, but my parents are dreamers, and I feel like that was passed on to me."
Member since: 2006, when Kinney appeared in the Broadway smash Spring Awakening. "Even though I was excited to be in the show and on Broadway, my actual lifestyle didn't shift, except for doing the show every night," she says. "Especially in New York, actors will always have a sense of excitement, but you can't get too caught up or ahead of yourself. I wasn't like, 'I'm on Broadway now, here I am, world!'"
Occupation: Actress and singer-songwriter. "Acting is more of a job, and some days that's good, some days it's bad. What's cool about it is you audition, you get the part, you show up and do your work. As a songwriter or artist, it comes from you. You are the TV show," she says. 
Song: "This is so cheesy, but I love 'Imagine' by John Lennon. I remember listening to it in my dad's pickup truck and wondering what song it was, and I was like, 'That's it. That's my favorite song.' I can always come back to it; it's so simple, but it cuts through."
Top 8: "I went to NYU for a semester, and the two friends I met there are still among my very best girlfriends. My one friend Gladys is now an editor who won an Oscar, and my friend Hillary is a vice president at a major PR firm, and I don't see them as much as I'd like. My closest friends now are the people in my band; my friend Hayley, who plays bass for me; my boyfriend; and my little sister, who lives in L.A. now," she says.
Zodiac Sign: Leo. "People say Leos have to be the center of attention and I don't know if that's true for me. I have this stupid argument with my boyfriend, and he thinks I'm an extrovert, because I like performing," says Kinney. "The difference is when I'm around people, I start to get drained and lose myself and have to go be by myself to re-energize. I would call myself an introvert, but I'm a performer. It's an outlet." 
Sweater by Alice + Olivia by Stacey Bendet, jeans by MSGM, shoes by Giuseppe Zanotti Design, stylist's own tights. Hair: Bobby Eliot. Makeup: Molly Greenwald for Laura Mercier at The Wall Group.