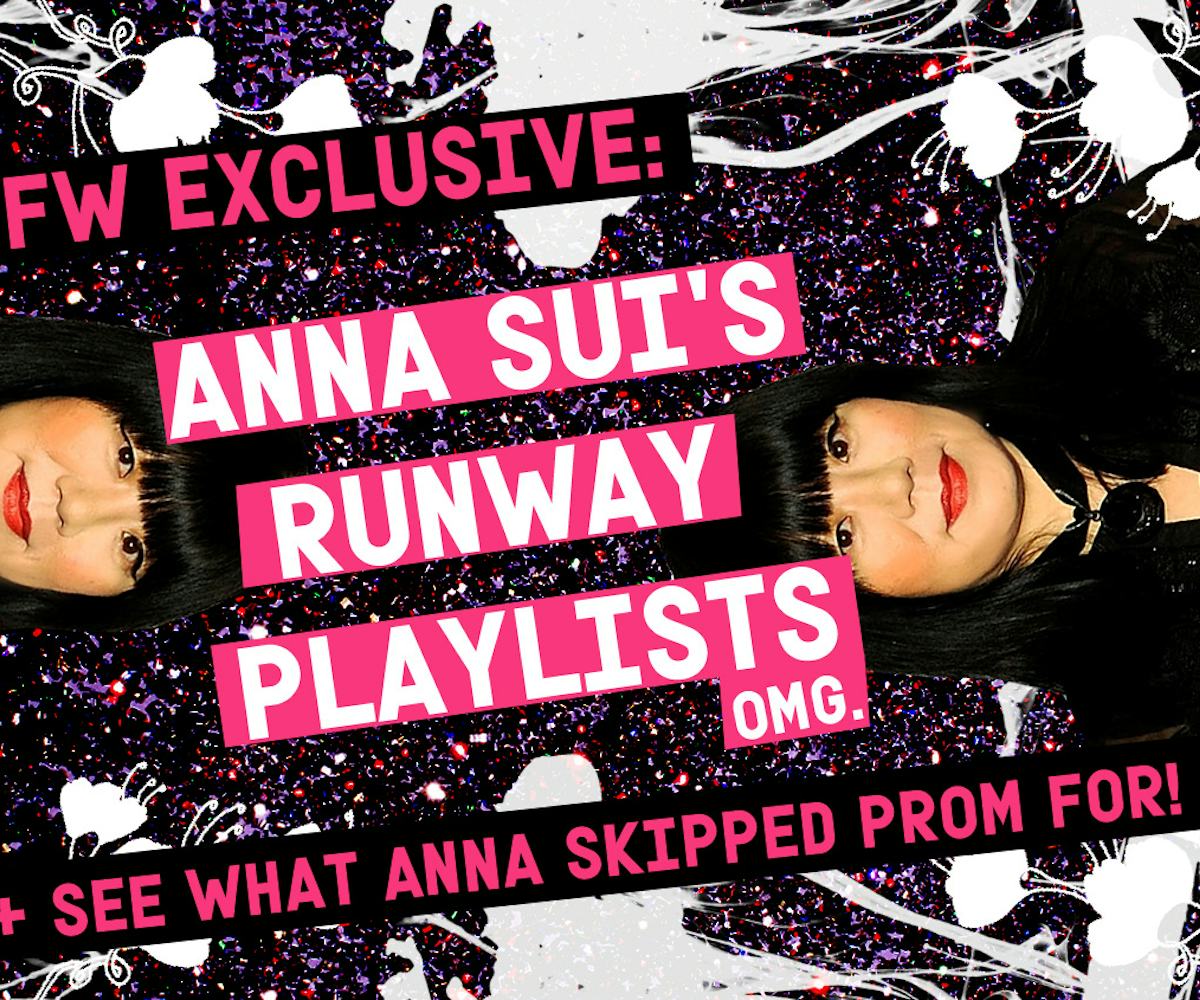 all photos via anna sui / final photo via style.com / featured image by liz riccardi
#nylonfw exclusive: anna sui's runway playlists
Last year was my first Fashion Week at NYLON. With all of our editors scrambling to go to the amazing shows, unreal parties, and seriously cool presentations, they needed a little help. So, I had the chance to attend Anna Sui's fall/winter '14 Ready-To-Wear runway show. I left completely in awe. From the red fur coat and tassled necklaces, to the the sleek bobs and vintage-inspired prints, Sui's world of prohibition-meets-'60s-psychedlia was one I want wanted--OK, needed--to live in. And like most runway shows, the entire feeling you get by watching your favorite models strut down the catwalk in the most unbelievable pieces is completed by an ultimate soundtrack. At Sui's show, I found myself hitting "Shazam" between each look that waltzed down the runway. If only I could have a section of own my record collection dedicated solely to Sui's playlists! I thought.
Lucky for you, we've got our hands exclusively on Anna Sui's runway show music catalogue from five seasons of Sui plus quotes from the designer herself about why she loves each track this year!!! Featuring Temples, Warpaint, The Beatles, Jean-Luc Goddard, and Jagwar Ma, these runway soundtracks take a fashion designer's love for the sounds of yesteryear, and mixes them with magic. Take a listen!
Playlists by Anna Sui and Frédéric Sanchez.
Anna Sui Spring/Summer '15
1. "Crystalized" - Melody's Echo Chamber (press play)
"I love the dreamy quality of the song." - Anna Sui
2. "Scenes of Dynasty" - Tyrannosaurus Rex (press play)"Marc Bolan – He was "Born to Boogie!" - Anna Sui
3. "Feels Like We Only Go Backwards" - Tame Impala (press play)
"Very trippy Beatles-esque, especially the swirling backgrounds." - Anna Sui
4. "She Slides" - Deux Filles (press play)"Totally girly – love all the childish sounds." - Anna Sui
5. "Ashes to Ashes" - Warpaint (press play)
"Who doesn't love 'Ashes to Ashes' by the ultimate rock star David Bowie?  Love this girl group version!" - Anna Sui
6. "Mambo Sun" - T. Rex (press play)"Marc Bolan at his rocking-est…T-Rexstacy!" - Anna Sui
7. "Cross Eyed Mary" - Jethro Tull (press play)"Haunting flute! I saw them instead of going to my senior prom!" - Anna Sui
8. "Colours to Life" - Temples (press play)"Love this band and their videos. The guys really look the part!" - Anna Sui
9. "Needle in the Camel's Eye" - Brian Eno (press play)
"Love this in the film, "Velvet Goldmine"… it captures the excitement and the thrill at the moment of discovery!" - Anna Sui
Anna Sui Fall/Winter '14
1. "Deng Zhe Ni Hui Lai" - Kwong Bai
2. "Mr Wu's A Window Cleaner Now" - George Fomby (press play)
3. "Time On My Hands"- Al Bowlly & Ray Noble Orchestra(press play)
4. "Rock n'Roll Station (Atmospheric Karaoke Version)" - Nurse With Wound (press play)
5. " Wandering"- People Like Us(press play)
6.  "Sri Sai Flora (The Time And Space Machine Version)" - The Sufis (press play)
7. "Cabin In The Sky" - Josephine Foster (press play)
8. " Light Tunnel" - People Like Us9. "Midnight The Stars And You" - Al Bowlly & Ray Noble Orchestra(press play)10. "Lemming Circle Dance"- The Sufis(press play)11. "Revolution 9" - The Beatles (press play)
12. "Shelter Song" - Temples (press play)
Anna Sui Spring/Summer '141.  "The Inner Light" - The Beatles (press play)
2. "Easy Ryder" - Ty Segall & White Fence (press play)
3. "Young Girl Sunday Blues" - Jefferson Airplane (press play)
4. " Panic In Babylon" - Brian Jonestown Massacre (press play)
5. "Man I Need 1" - JagwarMa (press play)
6. "2000 Light Years From Home" -  Prisoners Of Mars (press play)
7. "Elephant" - Tame Impala (press play)
Anna Sui Fall/Winter '13
1. "Locomotion" - Sylvie Vartan(press play)
2. "Poupee de cire, poupee de son" -  France Gall (press play)
3. "A bande à parte"- Jean-Luc Goddard(press play)
4. "Le temps de l'amour" - Francoise Hardy (press play)
5. "7 Heure du matin"-  Jacqueline Taïeb(press play)
6.  "Godard Talking" - Michel Legrand
7. "Comic Strip" - Serge Gainsbourg & Brigitte Bardot (press play)
8. "Tu m'as trop menti"- Chantal Goya(press play)
9. "Laisse-moi" - Chantal Goya(press play)
10. "Anna Karina - Roller Girl "- from the French TV Music Special, "Anna"(press play)
Anna Sui Spring/Summer '13
1.  "La Voix Humaine" - Francis Pulenc, Jean Cocteau
2. "Little Johnny Jewel" - Television (press play)
3. "Speed Queen" - Suicide (press play)
4. "Blank Generation" - Angel Corpus Christi (press play)
5. "Complainte D'Euridice" - C.W von Gluck
6. "Second Rater" -  Snatch
7. "I Wanna Be Sedated" - Ramones (press play)
8. " Blank Generation" -  Richard Hell & The Voidoids (press play)
9. "Land of Thousand Horses" - Patti Smith (press play)